Badwater 135 Race Day! It was like Christmas Day! I couldn't believe it was finally here. I was on the 8pm start.
Matthew (both husband & crew chief) and I flew out to Las Vegas on Tuesday 5th July and had two nights in Sin City. We picked up what turned out to be our super reliable crew van and the first day we spent getting all the last-minute supplies such as a big white golfing umbrella, fold up chairs and some extra white items of clothing. It was nice to get there 6 days before the race to start getting on to local time and spend more time in the heat – I did two training runs out in Vegas in 39ºC which went well, and I was feeling good.
I was so excited by now and the hotel car park was full of crew vehicles all adorned with runner's names, numbers, flags, sponsors and 'Caution runners on road signs'. It was all getting very real. We went to the General Store for our first of many ice purchases and loaded up the coolers with ice ready for the first part of the race. We saw Bob Becker and his crew stocking up on ice too and said hello. Bob is the most inspirational man in ultra running. He is the race director of the Keys 100 that I ran on May 21st this year and at 77 years young he was going for his 5th Badwater finish and aiming to be the oldest person to finish Badwater. Bob is simply the nicest guy! Team Laura Watts are his number 1 fans!
It was about a 25 minute drive down to the start line. The sun was just starting to touch the mountains and the light was starting to fade. The temperature however was not going down! Badwater Basin which is the lowest point in the United States, 282 ft below sea level is a very hot place with minimal humidity sitting on dried up and cracked salt flats. On the way down we had songs including AC/DCs 'Highway to Hell', Tramps 'Disco Inferno', 'Hot in Here' by Nelly and 'The Heat is On' by Glenn Frey pumping out of the car stereo! I was feeling pumped! I had to be weighed by the chief medic.
8pm was here and I was now setting off on the Badwater 135 start! The most Iconic race of my running career. It was finally happening! It was so surreal. I started running and bizarrely I didn't feel hot! It was 45ºC at Badwater Basin and yes it was warm, but I really wasn't hot. It was so bizarre. The first part of the race was so awesome.
My first focus was getting to time checkpoint 1 at Furnace Creek, 17 miles. I did this in 3.5 hours. I still wasn't hot. I relayed this to Matthew who was delighted. That heat training was working! Next stop was Stovepipe Wells, Mile 42. It was another 25 miles away. I broke this part down into four sections (as per Zwitty Ultra's Guide)
Reaching the marathon mark
Until the big hill at mile 30
Until the bend to the left at mile 34.5
The final 10k into "the pipe"
And the miles flew by.
I was running on my own for most of this first part of the race and that was fine by me. My crew soon got into a great rhythm of changing my water bottles with either water or electrolytes, spraying me with water and putting a cold Mission cooling towel on my back and providing me with lip balm and whichever food and drinks I wanted. They aimed to stop every 2 miles and estimate over the whole course of 135 miles they stopped 80-100 times .
For the first night I struggled to eat anything substantial due to feeling sick. Matthew was getting concerned that I wasn't eating enough calories to sustain myself for the whole race without crashing and the rest of the team tried their best to help me to eat but I just couldn't. I had developed a horrid pain in my chest which was like indigestion, but I couldn't clear it.
I was surprised at how slick my crew was from the beginning. Two of the crew would come across the road with the Pressurised Hozelock water spray gun which was filled with ice cold water and they would give me a complete spray down along with an ice cold wet towel which went on my head or back and a bandana filled with ice. Water bottles were exchanged and off I went again.
Mile 42, Stovepipe Wells is time checkpoint 2 and here I changed from my neon night colours to all white clothing to keep the sun off me. Jules applied my suntan lotion, and she went over and above by applying my lip balm too (which she did continually along the course). The aim was to keep my clothes wet all the time – if you are dry, you die!
At mile 42 runners were allowed a pacer so Darin adorned the pacers bib and started the 17 mile climb up to Townes Pass with me. This was where the walkie talkie came into play! As there is no mobile phone reception for the first 90 miles of the course, the walkie talkies were brilliant for the pacer to radio ahead to the Flying Lady (the crew van) with my demands for the next stop. We had Cobra ACXT645 Walkie Talkies and they were great!
After about 6 miles Darin switched with Scott and this was the start of a huge section for Scott in the hardest and hottest part of the course.
Another rule of the Badwater 135 is that you must pass the 2000' sign which is 50.8 miles by 10am on Tuesday morning, no matter what time you started the race. I reached this point at 8am and was delighted to have two hours in the bag as after this point the cuts off were a lot more achievable! I couldn't believe how well my race had started and I was feeling really good! As we had climbed to 4000' the temperature had cooled down a little and the crew's cooling technique was so efficient I still wasn't too hot.
Now it was the 9 mile descent into the Panamint Valley, also named by us the Valley of Death. Scott and I ran most of this section and the views are spectacular. As we descended into the valley the temperature started to get hotter and hotter and when we reached the valley floor the car thermometer read 51ºC. This is where we all boiled alive.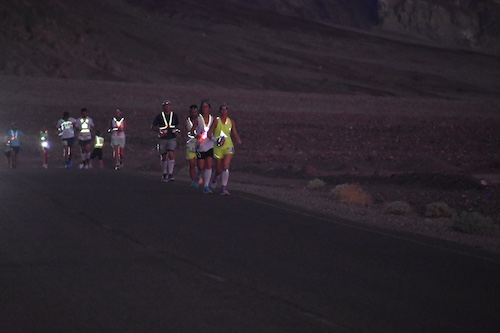 The heat combined with the strong sun and the wind made it like being in a furnace. It was oppressive. I have never known heat like it, let alone being part way through running an ultra marathon. As we crossed the valley, Scott carried the Hozelock water sprayer and literally sprayed me continually the whole way across the lake bed.
This crossing took approx. 4 hours from Townes Pass to Panamint Springs and Scott was incredible keeping me as cool as possible despite himself being absolutely cooked. After the race I found out how heavy the water sprayer was, and his arm was really aching (it weighed 2kgs full!). This was a brutal part of the course. It also seemed to go on and on and on. We could see the Panamint Springs Resort Mile 72 in the distance, but it just never came!
Next section – the Father Crowley climb – Mile 72 to 80. This is also the hardest section of the course. It was absurdly hot. Scott and I started power hiking up the climb but after about two miles I overheated and felt terrible. I got into the 'Flying Lady' for the first time and sat for ten minutes in the air conditioning. Bliss. I tried to sleep and think I managed 5 minutes. We then decided to walk a lot more slowly up the climb which was a lot better. Scott stayed with me for a couple more miles then his shift was done. As we were approaching the second night all the crew were feeling the sleep deprivation and this is where they all took turns at trying to have a power nap.
Going back to my eating… After the first night of not being able to eat much Jules suggested trying a Hawaiian roll which is a sweet bread roll. I managed to eat these and then she suggested adding a piece of cheese in it, I absolutely love cheese but have never eaten cheese in an ultra but OMG these little cheese rolls were divine and I was able to eat them quite easily! My electrolytes started to deplete quite quickly so Jules and Darin suggested I try theirs which is called 'Skratch'. This was another success. The Skratch drink was very inert and didn't have much taste and I was able to stomach this too.
The next section is quite a long one until time station 5 at Darwin, Mile 90.6 with another 1000' of climb. I ran / hiked this section on my own and saw the crew every 1-2 miles. Our support car was getting a lot of attention from other crew's and people told us that it was the envy of the other crew's.
As the sun had gone and I was at 5000' the temperature was now bearable again which was such a pleasure. I was now starting to feel really tired and as I ran along I started hallucinating – I thought rocks were moving and there were snakes on the road. I was really feeling the sleep deprivation. I asked the crew if I could try and have 20 mins sleep so they deployed our fold up sun lounger we had bought over from B and Q on the side of the road and gave me a towel for a pillow and I laid down on the side of the road. This was bliss however I couldn't sleep so I got up and had a handful of chocolate covered espresso beans and set off again.
I went through 100 miles in 29 and a half hours which bizarrely was exactly the same time that I ran the Keys 100 race in 6 weeks ago which was completely flat.
My memory is a bit of a blur now, I passed Keeler with a population of 50. The sun was starting to come up over my right hand side and I was bracing myself for the next savage furnace from the desert sun part 2.
Some of the sections were very long straight roads and all you could see was mile upon mile of flashing hazard lights of the crew support vehicles and runners head torches. At some points I was literally alone in the desert. Other times the same support vehicles leap frogged me and the same runners so it was always nice to share some conversations with them.
Once it was light Matthew joined me for a pacing section and it was lovely sharing some miles together. It was nice for him as he had been in the car for 33 hours crewing me and he kept calling me a hero which made me cry.
Matthew was with me for about 5 miles, then Jules took over for a few miles too until just before Lone Pine, Mile 122! I was getting there!! I could see the silhouette of the majestic Mount Whitney in front of me. I wasn't particularly looking forward to the last 13 miles and knew it was going to be a big slog up that mountain.
I turned right onto Highway 395, the main road into Lone Pine and my team were all out of the car clapping and cheering as well as some other people supporting the race. I was on a mission to finish and wanted to get this done.
Mile 122.8. Time Checkpoint 7. Here there was a big crowd of people all cheering and whooping me and again I was so emotional. I was getting this done. I ran up another block or two then turned left into Whitney Portal Road. This was it. I could see my route ahead up that mountain. The last mammoth climb of 4750ft up to Mount Whitney Portal, the last 13 miles. I started power hiking up the first part of the climb and asked why no one had mentioned how hard this last climb was!
On and on it went, slowly counting down the miles, I was getting hotter and hotter and the crew kept stopping to tend to me and take photos. I was on my way to victory. Mile 131 where there is the last timing checkpoint (8) was at the start of a series of switchbacks very steep in gradient – this was never ending. My legs were burning from the miles I had put on them and my body was burning from the intense heat.
I was now seriously crying. This was such a magical experience, and I was feeling so proud although wishing it was over.
Finally, I was nearly there – my crew had parked at the finish and come a few hundred yards down the course to bring me home. They had the Union Jack that Darin and Jules were holding behind me and we had a team run to the finish line in a V for victory formation. I stood on top of the finish line and through the Badwater banner to be greeted by a raptuous reception of cheering, cowbells and clapping.
I felt like an ultra running rock star! I had done it! I was a finisher of the world's toughest footrace. It was emotional stuff. I turned round and hugged Matthew and then the rest of my wonderful team. Chris presented me with my finishers buckle and three Finishers t shirts (two from the two races I couldn't get to in 2020 and 2021) and we had some team photos. Then I felt sick and vomited by a tree before we went to the Whitney Portal store for some champagne for me and beers for the crew.
We got back to the hotel and had a little sleep before dragging ourselves out of bed for the traditional Pizza Party Wednesday evening. Chris read out all the finishers' names and invited us all to the front of the room with everyone getting a great round of applause as we took our places. This was such a special thing to do. After this it was down to Jake's saloon for a drink before we crashed out in bed for a power sleep.
Some race stats: I was the 11th female to ever finish Badwater 135 from the UK and less than 1000 people have ever finished Badwater, more people have climbed Mount Everest! There were 94 starters on the start line 2022 and 78 people finished, I was 54th overall and 20th female.
I have left a piece of my heart in Death Valley and yes…. I will be back!
With special thanks to :
Chief Adventure officer and Badwater Race Director Chris Kostman for hosting Badwater and allowing us to achieve life changing things and for believing me in the first place and giving me a coveted place in the worlds toughest ultra marathon.
My support team – Matthew, Scott, Darin and Jules – the A Team.
My sponsors Mission Cooling and Nathan Sports Inc for providing me and team with all the gear to help us on this journey.
And to my husband Matthew who has selflessly supported and crewed me on my journey to be the best runner I can be and has lived my Badwater dream for the last two years and is my Number 1 fan.
Laura, Badwater 135 Finisher 2022