Every year, regardless of your social media platform of choice, the ultra running world heads off to Twitter; the only place to get updates on the Barkley Marathons.
The first hint we get is from @barkleycourse, who, after being completely dormant for the year, wakes up with a tweet in February. For a twitter account that tweets roughly 5 or 6 times annually, it has a massive following of 26.5k which illustrates how many people are invested in this race.
@keithdunn is the next person everyone watches like a hawk. Like Laz, I'm pretty sure Keith takes huge enjoyment sharing his run of the mill, kitten and food tweets to the ultra running world, who wait impatiently for the first Barkley Marathon tweet of the year.
And eventually it is. This year, the conch was blown at 08.54 on Tuesday 14th March, giving an hour's warning to the runners. The UK and Ireland were represented by 7 people: Damian Hall, Eoin Keith, Jasmin Paris, Katie Wright, Tom Hollins, Billy Reed and Nicky Spinks. All incredibly talented runners – surely we have a good chance at someone finishing this year? They toed the line alongside other runners from all nationalities; John Kelly, back on his home turf, Karel Sabbe, and Spine regular Pavel Paloncy are just a few that made up 46 runners in total.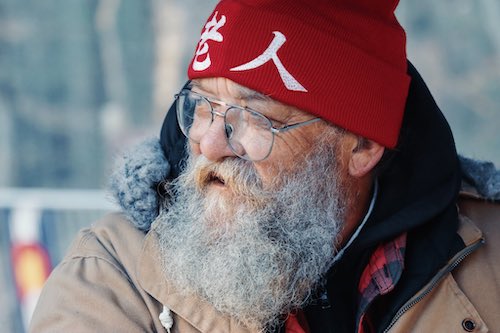 To add further mystery and intrigue, instead of sharing updates on the runners by name, Keith shared the nicknames given to them: guy with glasses, guy with funny pants, nondescript guy, a real big smiling guy, a tan guy, the guy with a big grin, small European woman, tall guy with Mohawk-ish hair, another guy, tall guy with black beard. This put Twitter in a maelstrom of anxiety, all furiously trying to work out who these runners were by their descriptions.
Many people also turn to @johnsug who, along with @taka_does_stuff, compiles the runners into a neat spreadsheet that they update along the way as each loop is completed or timed out. These spreadsheets are shared freely, which is incredibly generous given the amount of work they must put in to updating them frequently.
8 hours, 17 minutes in "tall guy with a beard, the guy with a Mohawk, the guy with glasses, and the other guy finished loop one". More frantic conversations as people try to work out these descriptions; the only obvious one is Damian Hall with the "Mohican" – that mid life crisis had a use after all Damian! 6 minutes later these four set off on loop two.
31 runners in total made it safely onto loop 2 and the top three runners, being John Kelly, Damian Hall and Albert Herrero Casas finished in just over 20 hours. Again, these three made a quick turn around and were off on loop 3 half an hour later. Jasmin Paris finished loop 2 in 21.20, followed shortly by Pavel Paloncy, and she went out onto Loop 3 after a 15 minute stop.
As you may have noticed, the turnarounds have been quick and this is something Keith Dunn observed. "This year runners seem to be taking the interloopal period more seriously – much quicker turnarounds than I have observed in the past and crew is focused on time. Smart, because that is the one element of the race that can be controlled."
30 hours in, the remaining runners on loop 3 were John Kelly, Albert Herrero Casas, Damian Hall, Christophe Nonorgue, nondescript guy (who turned out to be Jared Campbell), Karel Sabbe, Joe McConaughy, Aurélien Sanchez, Jasmin Paris, Pavel Paloncy, Guillaume Calmettes, Tomo Ihara, Aaron Bradner, Piotr Chadovich and Johan Steene. Two Brits still in there! Sadly Nicky Spinks, Eoin Keith, and Billy Reed returned from loop 2 well over the time limit and were timed out.
Albert Herrero Casas, John Kelly and Damian Hall continued as the top runners and they finished loop three in 32:03. John and Damian did another quick turnaround and left less than 30 minutes later, but Albert Herrera Casas stayed for a longer break and Karel Sabbe came in and left again before Albert and Aurélien Sanchez join him on loop 4. Jared Campbell chose not to continue and was tapped out. 
After a 13 minute break, Jasmin Paris left on loop 4 at 35 hours 53 minutes. She became only the second woman to start a fourth loop, after Sue Johnston in 2001, and her departure following the other runners meant history was being made by 6 runners starting loop 4. Tomo Ihara joined her to make it 7 runners on loop 4 and after the 36 hour cut off, no one else would join them.
John Kelly returned first from loop 4 in 45 hours and 50 minutes; a faster split than he did in his in 2017 finish. The first person to start loop 5 decides whether to go clockwise or counter-clockwise; thereafter each arrival is set off in the opposite direction. Thus it was now a race between John and the second arrival back Aurélien to see who would start the 5th loop first and get to choose the direction. John was first out and chose clockwise, apparently the preferred direction for loop 5. Aurélien followed John out 5 minutes later, going counter-clockwise.
48 hours is the cut off to start loop 5 and only 4 runners made it through; Karel Sabbe followed John on the clockwise rotation and Damian just squeezed out at 47 hours and 49 minutes, forced to go in the counter-clockwise direction.
Damian Hall returned to camp 4 hours later, without any pages, from loop 5. Keith Dunn reported that he'd got lost, but Damian replied later that it was the book that was lost, not him. After Aurélien returned it turned out one of the books had been removed by someone, so what happened here?
After much anticipation, the rest of the 3 runners on loop 5 finished. Aurélien Sanchez  came in at 58.23.12, John Kelly in  58:42:23. And Karel Sabbe just squeezed in 59.53.33.
An historic Barkleys for sure. John Kelly is only the third person to complete the Barkleys more than once; Aurélien completed on his first attempt and Karel Sabbe broke the record for the slowest Barkleys. I imagine Laz Lake is simultaneously delighted at the result, but also working out how to make it harder for 2024!
David Miller was at the Barkley Marathons this year and you can see his superb photographs on his instagram page here and his shop here.
Watch our interview with Jasmin Paris after her successful Fun Run in 2022 here
Read Alice Morrison's interview with Lazarus Lake here.