Some say 200 is the new 100, maybe it's 240! The Moab 240 mile footrace is a non-stop race through some of Utah's most stunning and challenging terrain. Traversing canyons, two mountain ranges and stunning red rock mesas with temperature fluctuations between 80f (26C) during some days, with rain or sunshine, to below freezing at night and snow storms wreaking havoc on the back of the pack during the final 24 hours of the race.
Having completed Bigfoot 200 in August of the same year you would be mistaken for thinking this would give me the confidence that I can complete 200+ miles, but I was still daunted. Moab had different elements that are typically not my strong point such as long flat miles for sections that would go on forever. I'm more at home in the mountains where there are opportunities for long uphill hikes, but not here, although there was still a total elevation gain of 30,000 feet made up in the 2 major climbs of the route. And would I still feel the fatigue in my legs from Bigfoot only 8 weeks prior?
I had the unwavering support of a full crew and pacing team for Moab consisting of husband Dion and friends Rob Steger, Amanda Asher, Kate Norton and Emily Lasater to whom I am forever grateful to for making Moab FUN and AWESOME! Each person had their own challenges in getting to Moab but the most eventful challenge was Kate and Emily having to catch an Uber from Salt Lake City to Moab ($240!!!) due to flight delays and missing their only flight to Moab. Seriously where do I find friends like this? Truly amazing.
Starting in the dark early morning of Friday 8th October, 217 eager runners lined up in the Moab RV Park. 43 women made up the field and we were ushered to the front for a photo to show our force, small in number but mighty in heart! Off we set into the (still dry) darkness, each of us contemplating our own thoughts of what was to come. The first couple of miles are through the dark streets of Moab town and I was joined by Brandon, who I had run the 3rd night with at Bigfoot earlier this year and we ran and chatted to the 1st checkpoint at Hidden Valley (9 miles). From here daybreak was on and the first short climb of the day was upon us. As I reached the top the rain started. I had hoped this wouldn't start until later in the day, but here it was. The temperature was still warm and although runners around me were donning waterproof jackets to stay dry I opted to stay in skort and shirt, which I stayed in throughout the entire day of drizzly rain until the night closed in. Heading into the 2nd checkpoint, Amasa Back (18 miles), I got to see hubby Dion, Gobi and friend Rob, who would be joining me to pace at mile 71. A quick tasty donut from the most amazing donut shop in the world, Doughbird, was enough to put a smile on my face before heading back out into the rain.
The red rocks leaving Amasa Back were fairly slippy underfoot and after a precarious descent down Jacksons Ladder, at about 22miles, I hooked up with the only other Brits in the field Ian Saunders and Scott Jenkins, along with our honorary US runner Jon Steinhibel who later told me he couldn't keep up with our conversation with our accents. It was nice to share some miles and chat along this long 26.5mile section with no checkpoints, only a water stop at 4 miles in. The moody skies added to the stunning beauty of this section through the canyon, with the rain intermittent but not yet subsiding.
It was well and truly night by the time I reached Indian Creek (71 miles) where Rob was waiting to start pacing, I was still on track for my finishing goal that I'd set out for 85-90 hours. It was during this section the enormity of the task ahead of me really dawned and I tried to put it out of my mind that I still had 170 miles to go! The key to these distances I have found is to not think so far ahead, you can only think one checkpoint to the next or your mind will struggle with trying to comprehend the task at hand. Some of the checkpoint sections are long enough! Approaching each checkpoint is a rollercoaster of emotions; there is relief, brief as you know that here you get the chance to sit, eat and relax for a minute, but knowing that all too soon you will be back out in the elements pushing forward to that next moment of respite.
I'd started to get the sleepy's along the last section so opted for a 25 minute nap, hoping that would be enough to restart my system as I didn't want to take any longer when I had Rob waiting. Had I been on my own I think I would have opted for slightly longer. This was apparent a few miles into the following section with Rob and I was bobbing and weaving along the road section like I was drunk. We decided together that I needed a 15min trail nap after taking a caffeine gel that did absolutely nothing to reboot me. The nap did it though! It was the reboot I needed to get me through until sunrise which hit us at The Island at 87 miles.
The next goal was to get to Shay mountain, 121 miles, before the sunset. On the way I hit a personal best for the 100 mile distance getting that done just shy of 29 hours which was a great little confidence boost at the Bridger Jack checkpoint. This was a long section with Rob, 51 miles of not being able to see my crew, although there were two checkpoints along the way manned by saints; I mean volunteers. These races are just not possible without the tireless efforts of the volunteers at the checkpoints, these saints of ultra running are out in some of the remotest areas of these races for 4-5 days and nights in all sorts of weather looking after runners that come in all sorts of states of being; getting us fed, filling our water bottles, massaging legs, dealing with feet issues and tucking us into cots for naps at all times of the day or night. 
The 2nd day was hot, we hit some exposed sections and the sun beat down on my tired body, both Rob and I were running out of water and contemplated filtering the cow manure streams but decided against it to push through on minimal supplies. I was already struggling with diarrhoea at this point, serious stomach cramping alongside popping into the bushes one too many times. Luckily Rob was able to get a text message out to the crew to bring supplies.Imodium and granny pants was the order. I'd envisaged that Dion would find my full briefs (Victoria Secrets) from my underwear drawer but he stated all he could find was strings, beads and lace which wasn't going to hold back anything, so I ended up being gifted a pack of literal granny pants from the dollar store. After all my moaning and groaning that they would cause me indescribable chafing; one pair sufficed for the remaining 120miles with no issues, apart from a further 4 rounds of Imodium to finally sort that issue out.
A tough climb up Shay mountain which felt like I was in slow motion throughout finally ended with an aromatic descent through the golden and pink leaves of the aspen trees. The smell was heaven and combined with the coloured leaf show for my eyes it felt like a magical moment that needed to be savoured. That was until a 2 mile never ending switch back trail up to the checkpoint, where we were met by Dion and Gobi which certainly lifted my spirits when Gobi ran towards me all smiles.
The sun was setting but we made it just as the air got dramatically cooler and I knew there was a cold night beckoning. I was feeling like I was beyond exhaustion at this point and I was adamant that I would take 2hr nap here in the back of the car. I had my girls here ready to pace, Kate was joining me from this point, but they already knew I would be taking a nap. Dion had set the girls up to tell me what I needed to hear and agreed that I would get a 2hr nap, however they sneakily woke me up after 45mins knowing I wasn't watching the clock (trusting them) and got me on the road with Kate. This trick truly worked as in my head I'd had a 2hr nap which I was adding up to my total sleep throughout the race and only found out post race that this was a big white lie!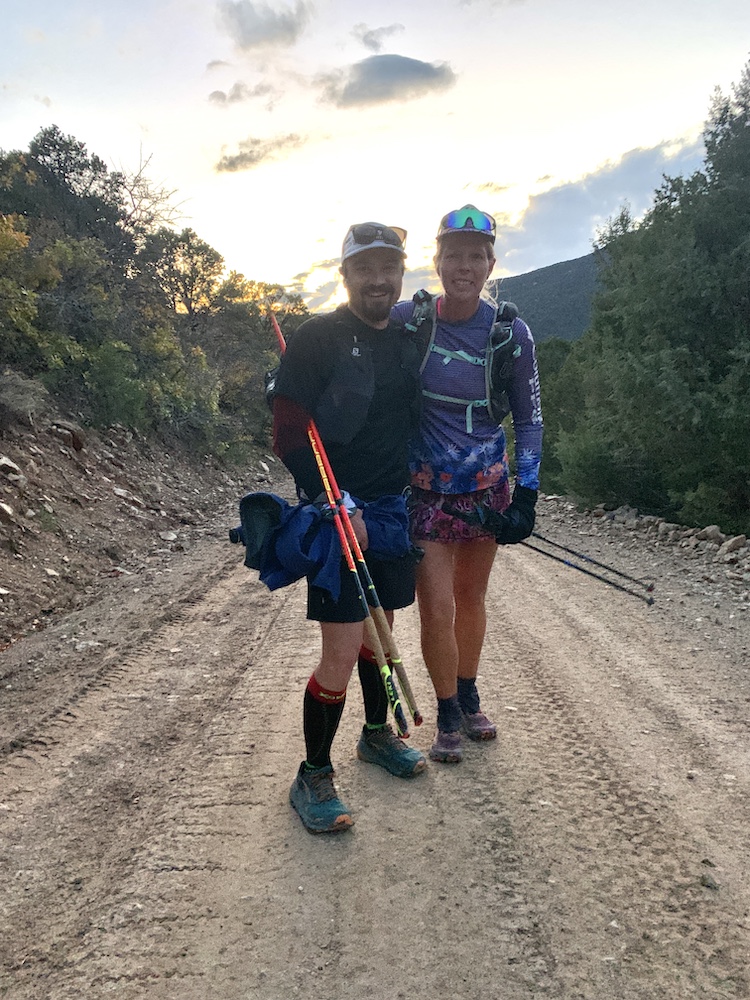 The night was cold, we later found out it had dropped to 22f (-5C) during the night which explained why the cattle grids we crossed were sparkling like diamonds. The night was powered by women. Kate did a tough shift taking me through a 18.5 mile section completely in the dark to Dry Valley where Amanda joined me. Dry Valley was so cold, the checkpoint was inside a white tent with a campfire and the circle around the campfire was littered with runners wrapped in blankets and huddled together keeping warm. We all knew this was dangerous and there was an urgency to get going before I too got comfortable. I must have overtaken at least 10-15 people here just by simply getting going. Dion's words from Bigfoot rang in my head again 'Move with purpose' and sitting around a campfire at 3am in the morning was not moving with purpose.
Amanda had a game of 2 halves for her 28 mile section. 14 miles in the dark to the next checkpoint, Wind Whistle, where I again struggled to stay awake and had to take 3x9min trail naps, we kept them so short because it was so cold that this is all I could muster before the cold would wake me like an alarm, but Amanda assured me I was sleeping soundly as she stood waiting listening to my snoring (I don't normally snore by the way, it's definitely a 200 mile thing!). Daybreak was like heaven, with the warm glow of the sun immediately making me feel more alive, though the 2 cups of strong coffee at Wind Whistle may have helped somewhat, and finally being able to peel off some layers. The next 14 mile section to Rd 46 (checkpoint 167 miles) flew by. The coffee had hit my veins, the sun warmed my body and the 90's dance tunes we were playing had us both dancing our way past a few runners all the way to the checkpoint. I felt high coming into the checkpoint and I so wish I could have captured that adrenaline for the remaining 80 miles.
I had a loose plan to get some sleep at this checkpoint as I knew I'd be heading out to THE biggest and toughest climb of the race with forecasts of sub-zero temperatures and snow on the way and a bit of rest might do me good. But try as I might, laying in a warm tent on a cot for 10mins I just couldn't sleep. Maybe it was because it was 3 in the afternoon, or I was so hyped from the last section but I tossed and turned and I caught Dion's eye from outside the tent. I knew what his look was telling me, if I wasn't sleeping then I was just wasting time so I sat up, got myself sorted with a load of extra warm gear to survive the night, grabbed Emily and off we went.
It was an 18 mile section to Pole Canyon which started off pleasant enough but soon became a messy jumble of rocks that had us questioning if we were still on the route. Seriously this was not a trail anymore! The goal was to get to Pole Canyon before the sunset, I find setting these mini goals during the race really helps me to focus on the segment at hand and it feels like a small win when you achieve it. There was a 3 mile out and back to get to the checkpoint so we saw a couple of runners coming back which was always a nice boost to the mood. The views up here were stunning, the leaves had all changed colours and we were up high to relish in the views of the setting sun. 
The temperature was dropping ridiculously quick as the sun set and as much as I didn't want to stop to add layers it had to be done to stay warm enough even though we reached the checkpoint just on sunset. Emily and I were the only runners in the checkpoint tent so we had superb service from the volunteers, serving us delicious burritos and hot coffee and used the space to layer up before heading out into the now freezing darkness. I had everything on at this point which included leggings with waterproof trousers over the top to insulate me, 2 long sleeve base layers followed by a windproof jacket and a fluffy down jacket, gloves with hotties hand warmers and a head warmer. It took the 3 miles back on the out and back to regulate the body temperature again.
It was another 17 miles before we would reach an unmanned water station where we were able to change out Emily for Amanda but not receive any aid, there was even race officials sat there in a car to make sure no aid was given. These 17 miles were brutal, if I thought the route up was not a trail, this was NOT a trail to go back down. The route was a mess of rocks and there was no opportunity to ever have your feet flat, they were always bending and kicking over rocks, occasionally I would hit a section of sand for 2 or 3 footsteps which felt like heaven! Sleep delirium was setting in and although it was below freezing I got to a point where I just had to lay down. 
Emily helped me get into my emergency bivvy bag and I got my head down for a 15min sleep. She woke me a few minutes short as she could see a couple of runners coming and thought we should hook up with them to do the final miles, it was Jon and his pacer. We had been playing tag since before the 2nd checkpoint so had seen a lot of each other. All four of us got a lot out of being together, the advantage of a group of people is the boost it gives to the overall morale, and misery loves company right! This section was pushing everyone's limits with its unrelenting suffering. Finally, we hit a dirt road and made it to the unmanned station. I was exhausted beyond belief and dived into my bivvy bag again in a ditch by the side of the carpark. Glamorous! A 30min nap sufficed.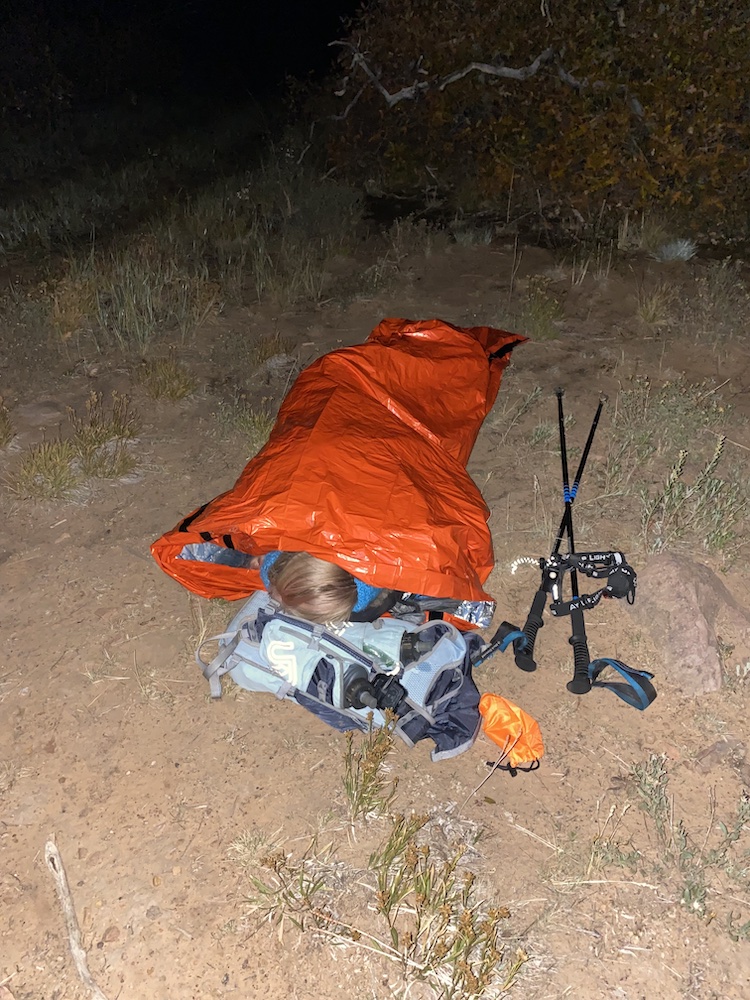 Amanda led me for the 7 mile climb up a switch back road with 2,200ft of ascent in the pitch dark. She knew I was struggling as the conversation was just not flowing so she stayed a respectable distance ahead of me, literally pulling me up by me following her footsteps. It was a slow, boring and unrelenting climb but it was on road, so in some ways I was grateful to have a smooth surface but every step was so painful. It was like I was stepping on razor blades combined with someone hitting my feet with a sledgehammer. We reached Horse Creek checkpoint, 209 miles at daybreak and it was freezing! It was so cold that any food that was served up was cold before it reached my lips, I was tired, grumpy, in pain and hungry but all I wanted was 'hot' food. 
I managed to get some lukewarm ramen into me and knocked back a couple of now cold coffees and the girls told me I was 5th female. We had one more checkpoint and I was in 5th! This was enough to relight my fire and I headed out into the rising sun with Kate for a 12 mile section on the modified snow route that had been implemented due to the oncoming snow storm, which meant we were on the road instead of the trail. There was a short, felt much longer, climb out of there before a descent on a relatively smooth dirt road to the final checkpoint. Here I spotted Jon again ahead of me and with my new found fire we overtook him and it felt like we flew to the final checkpoint.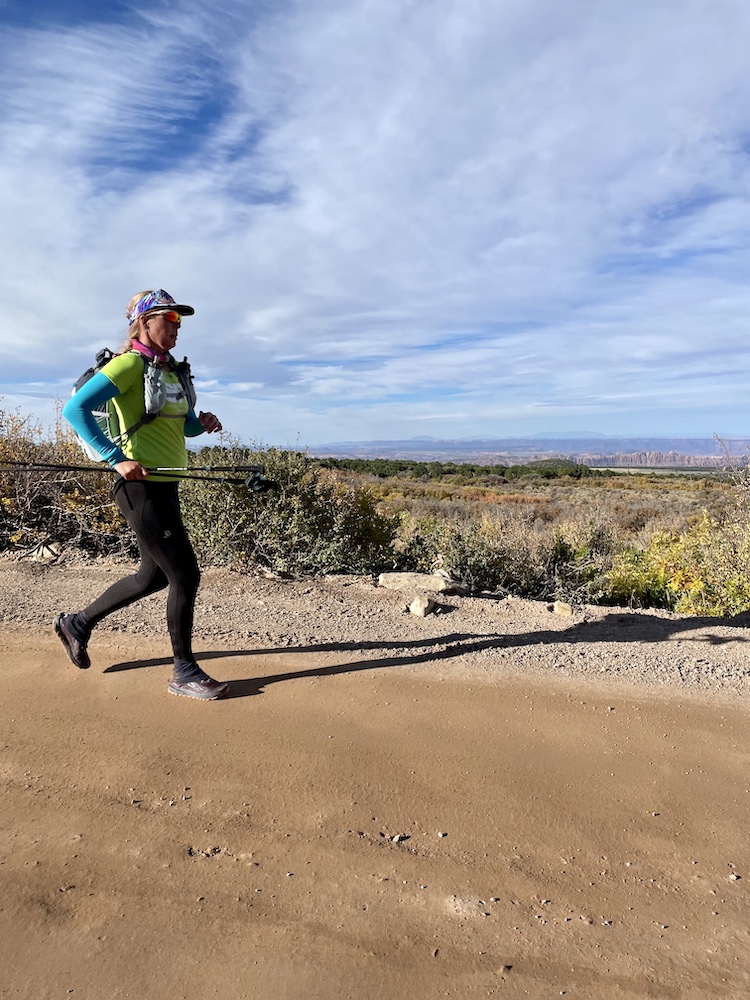 Porcupine Rim, the last checkpoint, finally! I opted to change out of my Altra Timps into some Hoka Cliftons hoping that the extra cushioning would take away the pain in my feet which was fast becoming unbearable. It was great to see the entire crew here including Gobi, less Rob who had returned to Denver the day before, and they were all pumped excited that we would definitely be finishing before the sunset this day. It was just a question of how long this last section would take whether I would be on track for my goal of 85-90 hours or whether I could push through and go sub 85 hours, which sounded like a total dream to me. No time to waste I headed off with Amanda again for the last and final stretch.
The pain in my feet was now at an immeasurable level of agony, with 18 miles to the finish, I had to bite the proverbial stick between my teeth and grimace my way down the final climb. Each footstep sent millions of pain receptors firing from my feet to my brain and it took all my will to try and shut this out and it was about halfway down that climb that I just metaphorically kicked myself up the bum and said 'Enough! You wanted this, you've got this, you are so close it is now or never' and from out of nowhere I told Amanda 'let's run'; the hobbling, painful trudging walk down the climb was now a run, and you know what? The pain wasn't any worse, it was still there, but now it would be over sooner. We reached the bottom of the descent and hit the road, welcomed by Emily, Kate, Dion and Gobi with only a 3 mile flat road section to go. Dion told us another white lie here to really get that fire burning, telling us that they could see on the tracker that there were 2 women runners closing in on us and they were only a few minutes behind us, so we had to move. I later found out they were a couple of hours behind, but the trick worked and we ran the last 3 miles, with Amanda constantly looking over her shoulder looking for the imaginative women chasing us down.
One final push to the finish line as Emily ran up to us as we turned the final corner, we had 4mins to cross the line to get sub 83hours. Sub 83!!!OMG! That was it, a final sprint to the finish, the pain in my feet vanished as I was swept up in the sheer excitement and adrenaline of finally crossing that finish line with my girls. Gobi, Amanda, Kate and Emily crossed that line with me with whoops, cheers and the biggest smiles. I had done it, we had done it! This is not a solo event, this is a team event and it was a combination of grit, determination, optimism and teamwork that meant I had such an amazing race. I could not have imagined finishing in such a fantastic time. 82:58:35 – 240 miles, 28th overall and 5th female.
I had promised myself that if I finished in the daylight then we would all celebrate with the coldest beers in town at Woody's Tavern and I hobbled in there still in my race kit and shouted everyone a cold Moab Pilsner. It was so surreal to be sat in a pub having a drink after such an epic challenge. We got Rob on FaceTime and we had the entire crew together for a celebratory beer. And the celebrations continued at home after I managed to get cleaned up somewhat and we stayed up eating pizzas and drinking bubbly until almost midnight. I have no idea how I managed to stay awake for so long but I really wanted to enjoy some laughs with my crew and hear about their stories.
Moab 240; you proved to me that I can endure so much more than I think. We all can. Dream big and dare to fail, you are either living a life of fear or life of dreams. Which are you doing?
About the author
Lucja Leonard is an ultra runner, running & health coach who travels the world with her husband Dion and dog & cat, Gobi & Lara, chasing adventure & testing her limits. If you're looking for help to work towards your dreams, whatever that looks like, get in touch with Lucja directly to talk about options for 1:1 coaching