Last updated: 25-Aug-17
Before I commit my first word to paper, I am imagining the sighs, tuts and social media condemnation I am about to face for daring to choose the toughest single-stage ultras in the world. In truth, this is a very flexible list and I am hoping it will start a debate and I will be able to revise and increase it, as runners let me know why Tor des Geants is actually quite easy compared to …….
So, what are the criteria? Distance, elevation, temperature, terrain, DNFs, cut-off times and sheer psychological torture were all taken into consideration. In descending order, here we go.
7. Bob Graham Round (UK)
Kilian Jornet has said that he wants to become a member of the Bob Graham Club, which probably means it is a good club to join. In order to do that, you have to complete the 66-mile circuit in the Lake District of England which takes in 42 of the highest peaks in the country in under 24 hours. Factor in 8,230 metres of climbing, every kind of difficult terrain that the English Lakes can throw at you and the Great British Weather and you have a challenge to really get your teeth into.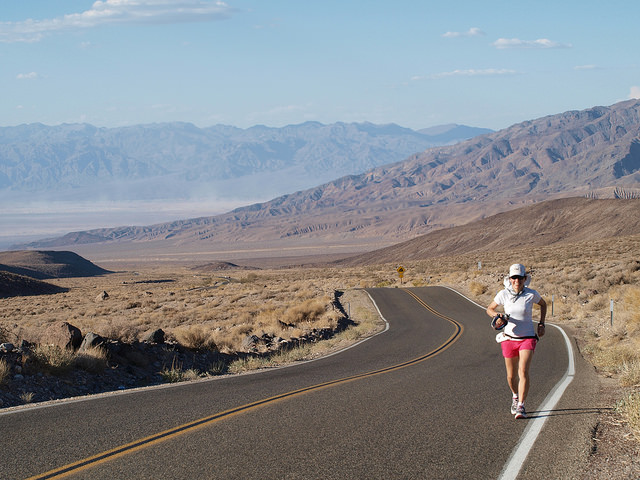 Photo credit: Chris Kostman Badwater.com ©AdventureCORPS.
6. Badwater 135 Ultramarathon (USA)
This one is quite simply a classic. It goes from very, very hot right up to potentially very chilly indeed. Badwater is a race for racers and is definitely one to obsess over the tracker for, if you like a nail-biter. It's set over 135 miles (217km) from Death Valley to Mt. Whitney, California, USA. The start is at night at Badwater, Death Valley, which marks the lowest elevation in North America at 85m below sea level. It finishes at Whitney Portal at 2530m and covers three mountain ranges for a total of 4450m of cumulative vertical ascent and 1859m of cumulative descent.
As Pamela Chapman-Markle who got the third spot in 2017 at the age of 61 put it, "You just feel wonderful and proud of yourself for accomplishing something that's very hard to accomplish."
5. 6633 Arctic Ultra (Canada)
When you see the word Arctic in the title, you know it is going to be a tough race. However, Ernest Shackleton, one of the great polar explorers, summed it up like this, "Difficulties are just things to overcome, after all." With that in mind, you might want to take it on next year. 2018 is the 10th anniversary of the 6633 Arctic Ultra and it is breaking new ground, the last 2/3s of the 350 miler are over completely new territory.
You can choose a distance of either 120 miles or 350 miles, with both races crossing the line of the Arctic Circle. The 120-mile race finishes at the First Nations Hamlet of Fort McPherson, whilst the longer 350-mile race continues to the banks of the Arctic Ocean at Tuktoyaktuk. The new course for the 350 means there are records to be set! Before you start packing your snowshoes, check out our interview with Gavan Hennigan.
4. Hardmoors 200 (UK)
"PLEASE NOTE as well as the challenge of the 200 miles in its entirety, the cut offs will be a huge factor in this race. Completion will be low." Those are the rather chilling words that greet you on the Hardmoors 200 page. This was actually a one-off race to celebrate the tenth anniversary of the Hardmoors races in the UK and it has to lay a claim to one of the toughest races there is, with very undulating countryside and 8000 metres of ascent.
Extrapolating from the Live Tracking results, only 19 people finished: 17 men and 2 women and of those, all were British except for Riccardo Giussani from Italy. The run was from Kingston upon Hull to Helmsley and the cut off was 60 hours. Time to start lobbying for it as an annual event?
Jerry McCulla, who won the race, told the Gainsborough Standard that at times during the event, he was "just existing, not knowing what I was doing" and even hallucinating. He added, "When I arrived into Helmsley, I was unable to speak, grunt or even expel air, and with my eyes closing, I knew my body was shutting down. I was encased in my own bubble and nothing sank in. One foot in front of the other, I kept saying. Just lifting my head to see the direction I needed to be in was hard enough."
3. UTMB Ultra-Trail du Mont-Blanc (France)
It is one of the most famous races on the calendar and it attracts the sport's biggest stars, so this one gets in because of its star quality, its fantastic atmosphere, and its competitiveness. UTMB is the star in a week-long festival that takes place in Chamonix in France at the end of the summer. It covers 170km, seven valleys, 71 glaciers and 400 summits and crosses through three countries. Registration is open to 2300 participants who have to win the necessary UTMB points to enter.
The names on the route should give you lots of clues as to the difficulty of the race: Aiguille de Bionnassay, Col du Bonhomme, Col de la Seigne, Val Veni, Noire du Peuterey and the glaciers descending Mont Blanc, Val Ferret, Dent du Géant and Grandes Jorasses, Bovine and Les Tseppes, Aiguille Verte, the Drus, Mont Blanc and Chamonix. Every year it produces tales of triumph and tragedy and it is probably on most runners' bucket lists.
2. Tor des Geants (Italy)
Tour of the Giants… the clue is in the title. It is 24,000 metres of ascent over 330km in one stage. This is an epic. Who better to describe it than Stephanie Case, amazing ultra runner, human rights lawyer and TDG veteran.
"TDG 2016 was everything I could have hoped for. I think my entire journey in ultra running, like many others, has been an attempt to explore my limits and really push the boundaries beyond what I think I'm capable of doing. I've always wondered where I would be and what it would take to truly step beyond myself, not just physically but also mentally – in Tor des Geants 2016, I reached that point.
What should have been a really low moment of the race – waking up falling into a ditch in the middle of the night with no clue of whether I was coming or going – was actually the highlight. It was a really humbling and empowering experience at the same time. I accepted the chaos, the unknown, and the mess. There is something freeing about reaching that state. You can just run for the sake of running, unencumbered by any worry of running well. There was no strategy because I was incapable of strategizing.
Covered in dirt, sweat, slime and delusions, I could carry on just as I was. I knew I was trying my best, so I was happy to accept whatever result came my way. Crossing the finish line was truly the best moment of my entire life, no question. I still get goose bumps thinking about it. " (To read the rest of the interview, click here).
1. The Barkley (USA)
This race based in Frozen Head State Park in the Tennessee Mountains ranks high on all the criteria and smashes them for DNFs and psychological torture. In 2017, only one person of the 40 starters, finished. Hats off to John Kelly, who became the 15th runner to finish ever out of around 800 starts (there have been 18 finishes in total). Those aren't good odds!
The difficulty of the Barkley starts with trying to enter. How you do that is a secret with no details advertised publicly. Potential entrants must complete an essay on "Why I Should be Allowed to Run in the Barkley", pay a $1.60 application fee, and complete "other" requirements. If you make it in, you get a "letter of condolence" from the near-mythic organiser, Lazarus Lake. Bib Number 1 is always given to the person deemed to be the least likely to finish even one lap, a "human sacrifice" as Lazarus calls it.
The course changes but is a 20 mile (some say the loops are as long as 26 miles) unmarked loop repeated 5 times with 12 hours allowed for each loop. Once a runner has started a loop they aren't allowed any outside help except for from other runners. The course has around 16,500m of ascent. Thick scrub, no paths, tortuous, endless ascents and descents are what you have to look forward to. Instead of checkpoints, runners must find between nine or more books stashed along the course and remove the page corresponding to their race number from each book as proof of completion.
Bizarrely, Lazarus got the idea for the trail from the murderer, James Earl Ray, who assassinated Martin Luther King Jr. Ray was held in Brushy Mountain State Prison, in the heart of the Tennessee Mountains. He escaped, and was on the run for 54 hours but only made it eight miles from the prison.
Nothing about this race is normal, from its conception, to its "start gun" of Lazarus lighting a cigarette. It has to be not only the toughest, but also the most mysterious, ultra on the planet.
If you would like to make a case for adding your favourite, toughest ultra, leave a comment or contact us on @runultra_uk on Twitter or on our Facebook page.