Last updated: 12-Apr-19
By Tom Haynes
RunUltra Introduction: You asked and we listened. As part of our 2018 runner survey, several of you wanted to hear stories from "ordinary" runners. I'm not sure any ultrarunners could be classed as ordinary, but we're not all "in it to win it" and for the vast majority, the number one goal is finishing and achieving a personal goal.
In this series, we follow Tom Haynes' story as he trains for his first ever 100-mile run by taking on the Endure 24 in June. At five miles per lap that's 20 laps round Bramham Park in Leeds. Whilst you're never too far from your sandwiches (or your sleeping bag), lap-racing brings in a whole new host of challenges. Let's follow Tom on his journey and RunUltra wishes him the best of luck.
Dan Stinton, Interim Editor
Part 1
Hello everyone. My name is Tom and I run for fun.
First, a little bit about me. I moved to the UK, from Australia, two and a half years ago and have not looked back. Yes, there have been times where I yearned for temperatures above 25 degrees. Yes, I would love to see a proper thunderstorm roll through town on a summer afternoon. And yes, I have missed friends' life milestones back home. But, no, I would not give up the travel, the lifetime experiences and most of all, my renewed foray into running and fitness.
I have always enjoyed running, but never really pursued major distances until two years ago when I set my goal of running a marathon. Since then, I have managed to change a lifetime habit of not going to the gym and enjoying regular hamburgers and pizza.
Why am I here? Well, I ran two marathons last year, one in Manchester and one through poor management during a training run. The former was a life goal. The latter was mainly due to peer pressure and a commitment to the Endure24 24-hour race in Leeds.
At the Endure24 I was one of three, running in a team with two of my "friends". My accidental marathon must not have been too bad, as following this, my desire to run ultra distances moved from peer pressure to passion. They were right, one taste and you're hooked! All my "friends" were back to being friends.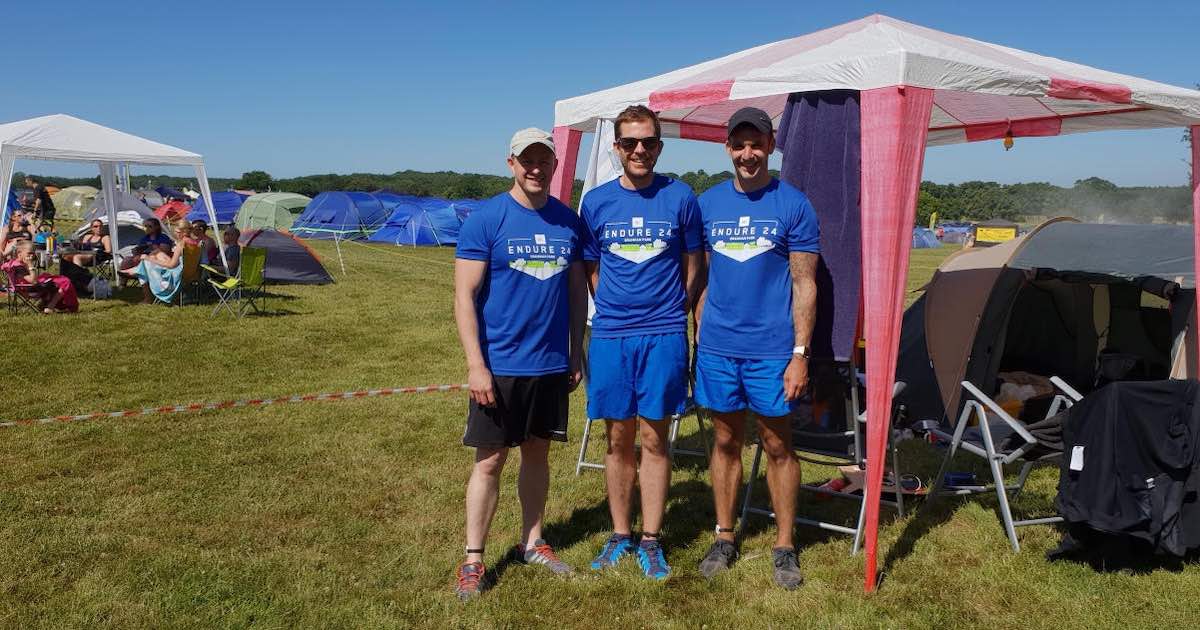 Myself (middle) with my teammates Mike and Adam at Endure24 in Leeds.
So now I'm convinced, I want to run further. My new goal is to run 100 miles. I plan to run that 100 miles in this year's Endure24. Lucky for me, Run Ultra agreed to let me share my journey with you. Now you get to hear my story whilst I prepare for the race.
The Build-Up – Lots of Research
I have read more information on running an ultramarathon than I probably did on any relevant topic while studying engineering at University. Through all this research, the book 'Relentless Forward Progress', by Bryon Powell, became my go-to resource. That's not to say any of the other books or advice I received is bad, I just felt it was right for me. It has very relevant information on nutrition, race tactics, gear and (the money maker) training plans. I will try to review these as I progress my training.
Apart from that book, this article by Stephen O'Hara, really delves into the mental aspect of running a 100-mile ultra and he is not afraid to tell it as it is. I consider myself to have very good mental strength, however, this has made me think twice about attempting to run 100 miles. Thankfully, I will be running past people and hopefully a support team every 5 miles.
All that being said, I still have to train by myself and there are some long and lonely days in there. I cannot count how many times I have fought mental battles and sometimes have had to stop to regain my composure. Character building, I believe it's called. Character building…
The lonely road ahead. The best way to build my mental strength on my way to 100 miles.
With nothing to lose and my whole life to recover from knee failure, I have chosen to follow a "70 miles per week" plan. In summary, the plan starts with 30-35 miles per week and culminates in 70-80 miles per week before taper. It is a tough looking plan, but also reasonable.
It's time to get my match fitness back.
I started with a base fitness building program to get me back on my feet after ligament damage in my ankle. The program consisted of a couple of 45-90-minute runs, fartleks and strength training. Although I cannot truly say how effective it was, it certainly picked me up and got me back into the training rhythm prior to starting my running plan.
Regardless of where I was at, I was determined to set myself up better than I had for my first marathon. I barely made it across the finish line back then, and this has really rooted itself in my mind. It is driving me to keep to my current training plan. The key is not to see failure as bad. See it as a minor setback that you will recoup next week.
At first, even 10km stints were uncomfortable. By the end of my second week, that familiar stride was back. I managed 40km total distance in the first week and 71km for my second. Turns out I eclipsed my long run goal distance by 6km, ending up with a 29km run to round out the week.
How about that local weather?!
One thing that has been overly positive, is the weather. On numerous occasions I have managed to get home, only to see rain pelting down half an hour later. Or I train on bright sunny days for three days straight and then my rest day sees nothing but wet.
This changed leading into my third week. It was freezing, pouring rain and I could not get myself out the door. Time to defer my first run. Good choice in the end (still cold but no rain), but it meant I went back-to-back-to-back with my long run. Overall a positive result for building endurance.
As an engineer, it is a natural habit to look for improvements using data. I use the HRV4Training app to take resting heart rate measurements each morning, via my phone's camera. Personally, I think the app is excellent with all the little insights it provides; along with the fact you don't have to count your pulse.
Unfortunately, I don't think my resting heart rate is really going anywhere. I would safely say that it has trended from slightly above 60 BPM to slightly below, but definitely no lower than 55 BPM. One thing I have noticed is that my alarm tends to give me a mild shock when I wake up. I first noticed when I woke up naturally one weekend and my resting heart rate measured 47 BPM. I have found since then, that measurements were consistently lower when I wake up naturally. I had never considered that just having an alarm could be severely affecting my results.
Join me next time, where I plan on providing some better insight into how I am coping with the training load, how my work/life balance is holding up and analysing a full month of training data.
Take a look at Tom's blog here
Liked what you read?
Here's Part 2 and Part 3 of the series of articles from Tom.
Do leave a comment below if the article has helped you prepare for your first 100 miler.