This round-up test will be of most interest to female ultra runners, although the guys might like to buy their girlfriend/partner/wife the perfect running gift.
A sports' bra is an essential item for women runners for a number of reasons. It's important to stop the breasts bouncing so as to keep the Cooper's ligaments in good health.
Stretched Cooper's ligaments – the ones that maintain the structural integrity of the breasts – do not recover once over-stretched and so the better the bra support the better the long-term structure of your chest.
A bouncing chest is also uncomfortable for runners and if the breasts are not held correctly you can end up with sweat, rubs and sores underneath.
Here are five sports' bras that have been tested by myself (34A to 34A/B) as well as a couple of larger-chested ladies.
Photo credit: Bellumactive.co.uk.
Bellum Active Grey Diamond Luxe Crop Bra
A sports crop bra in medium-to-high support that is constructed using "dynamic two-way stretch superior Italian performance fabrics".
Features
UV protection
Sweat wicking
Quick-drying
Dynamic 2-way stretch
Light and moulded removable padding
Sizes XS to L (UK6 to 12)
Different colours and patterns
£50
This is one of the most comfortable bras I now own. The fabric is lovely against the skin and the bra feels supportive enough for my 34A sizing.
If you are larger chested I think you would want more support when running.
The wide chest band and shoulders straps only add to the comfort and I like the racer style back. I think racer backs give more overall support.
The look of the bra is lovely. I would happily wear this on its own in warmer climates, or for an indoor gym session. When worn under a tight fitting top it gives me a nice shape thanks to the lightly padded cups.
Another bonus is that the padding does not come out when in the washing machine. How many times do you lose a pad only to find it at the back of the machine or, worse still, flying around the garden when you have hung your clothes out to dry?
The price seems to be fairly average for a good sports bra these days.
Pros: Comfort, fit, looks, design.
Cons: Limited sizes; no cup size details; medium support
Conclusion
A great bra for smaller chested runners and with high comfort levels. It is versatile because you can wear it on its own on warmer days or for indoor training.
| | |
| --- | --- |
| Score | |
| Design | 9/10 |
| Features | 8/10 |
| Performance | 9/10 |
| Value | 8/10 |

Photo credit: Newbalance.co.uk.
New Balance Hero 2.0 Bra
This is a new version of the NB Hero Bra, which "marries playful style with high-impact support".
Features
Back adjustable straps for custom fit
Breathable wrap around mesh panels
Encapsulation and compression support
Medium profile
Padded cups lined with fabric yarns
Sculpted moulded pads for support, shaping, and modesty
Sizes XS (30AB-32A) S (32AB-34A) M (34AB-36A) L (36AB-38A) XL (38AB-40A)
Range of colours
£30
The bra is made of a nice soft fabric, yet it also offers good support. It fits me well (Medium) and the shoulder straps are adjustable.
The light padding is flattering, although I felt it made my breasts seem falsely enlarged!
I would prefer wider straps for extra comfort. The shoulder straps dig into the skin a little but if they were wider they pull would be more evening distributed.
The fabric made me a bit sweaty but it dried out quickly after exercise.
Pros: Price; support; shape.
Cons: Thin straps; fabric.
Conclusion
A good value sports bra but I suggest you try it for sizing first.
| | |
| --- | --- |
| Score | |
| Design | 7/10 |
| Features | 8/10 |
| Performance | 8/10 |
| Value | 9/10 |

Photo credit: Odlo.com.
Odlo Comfort High Sports Bra
Soft-to-the-touch yet structured for support, the High Comfort sports bra is designed to boost comfort and confidence.
Features
Soft stretch jersey fabric
Adjustable, padded and crossable straps
Combination of seamless padded moulding technology (inner bra) and compression (outer bra top layer)
Adjustable underbust width
Feminine lines for a flattering style
Range of colours
£40
Tester: Alison size 34B.
Alison admits that she is never keen to try new sports kit and prefers to stick to her old favourites. However, she was pleasantly surprised by the comfort of the Odlo bra.
She said: "I thought, like a new pair walking boots, I would need to wear in the bra for the best comfort. But I found it was comfortable from the first wear.
"The fabric is soft and I didn't suffer and rubs or irritations."
She liked the look of the bra when on, but not the design itself. She explained: "If I saw this sports bra in a shop I would walk past it because it isn't that pretty. But once it was on, with the straps crossed at the back, it looked good. It felt flattering and it kept everything well supported.
"Now I have tried it I might well buy another. The price, now I have worn this bra, seems reasonable, too.
"If I could improve this bra, I would ask for a design that would allow me to wear it as a crop top bra in warm weather. This bra looks like a bra, if you know what I mean?"
Pros: Comfort; supportive with cross back; flattering; price.
Cons: Design; could be prettier.
Conclusion
A comfortable and supportive bra although the design doesn't immediately look so attractive. The price is good for the support and function offered.
| | |
| --- | --- |
| Score | |
| Design | 8/10 |
| Features | 8/10 |
| Performance | 10/10 |
| Value | 8/10 |

Photo credit: Runderwear.co.uk.
Runderwear Running Support Bra
The brand states: "Runderwear Support Bra is designed specifically for runners looking for reduced bounce, maximum support and comfort."
Features
Soft first layer against the skin to help prevent any irritation or rubbing
Non-slip, adjustable soft-feel straps to ensure you remain chafe-free
Adjustable J Hook straps with closure at the back for additional support and bounce reduction
Moisture-wicking fabric
Breathable fabric
Label free, avoid irritations.
Removable pads
Sizes: 28A to 38E
Price: £40
This bra is a bit of a departure form Runderwear's standard products, which are usually made from a seamless design. However, the company had requests for a more supportive bra – and this is the result.
The bra is comfortable and very supportive. I like the racer back for fit and support.
There is enough adjustment both at the back and shoulder straps to allow for a good but comfortable fit.
I noticed little or no bounce when running.
I like the attention to no-chafing detail such as a soft layer next to the skin and no labels. However, on long, hot runs I did return with a bit of a rub under my armpits.
The fabric is fairly good at keeping me dry when I sweat but not the best I have tried.
The look is rather "monoboob" compared to other sports bras that offer a design to flatter both breasts with separate cups. I don't mind this but there may be women, especially those who are larger chested, that do not appreciate this.
The removable pads end up bunching up and falling out when going through the washing machine. I ended up removing them.
The price is reasonable because I have found the bra to be long-lasting and durable.
Pros: Good adjustment; great support; price.
Cons: Mono boob look; annoying pads.
Conclusion
This is a good quality bra tat offers both comfort and support. It is more of a monoboob design and therefore I'd say it was better for smaller chests.
| | |
| --- | --- |
| Score | |
| Design | 8.75/10 |
| Features | 8/10 |
| Performance | 9/10 |
| Value | 8/10 |
Photo credit: Maaree.com.
Maaree Solidarity High Impact Sports Bra
A high-impact sports bra with a "world-first" adjustable Overband® for a tailored fit and support.
Features
Adjustable Overband®
Two-way shoulder straps
Wide-set underband
Padded and curved shoulder straps
Soft and powerful fabric
Wicking, fast-drying and breathable
Strategically placed mesh panels
Sizes 32C to 38F
Price: £59
Tester: Ellen tested a 36F bra.
The bra uses a feature that the designer invented, Overband technology. Basically, this stops your breasts from going up, as well as down.
Apparently, this is often overlooked by the mainstream bra manufacturers who are more concerned with keeping them up, rather than down.
Ellen usually wears two bras for adequate support when doing exercise and she was delighted to try a bra that promised to keep things in place with just one garment.
She said: "I'm 51 and could certainly do with losing a stone or so. However, despite sportswear manufacturers' best efforts, I don't let this put me off going running, walking and doing various other sports.
"My current solution of wearing two bras at once is annoying and occasionally uncomfortable but at least things stay put. I was excited to hear about a new kid on the block."
Overall, Ellen found the bra "surprisingly effective" and "comfy".
The bra has adjustments on the side, which are for the overband, as well as a hook to bring the shoulder straps together to create a racer back.
Ellen said: "Putting it on, I was slightly disappointed to see that the promised pleasing silhouette was, in fact, another variant of the monoboob.
"The bra felt slightly loose towards the armpits until I clipped the straps together to create a racer back. Initially, I didn't think I'd bother as it looked like this would require a bit of contortionism to reach. However, because the clip system is lovely and solid, it's easy to do… and what a difference.
"Wearing the bra with the straps clipped together improved everything. The pressure is lifted from the shoulders, where it can be really uncomfortable for those of us with bigger bosoms. The overband part of the bra fitted properly and seemed to make much more sense. A few experimental hops and I dared risk a run with only one bra.
"It certainly does what it promises, nothing moves and yet it doesn't pinch and breathing is still possible. This is excellent news."
Ellen was testing the bra in Scotland in October so she doesn't feel able to comment on the potential for sweatiness because of the monoboob.
At £59, Ellen makes the point that she would need to see how the bra lasts through multiple washes to see if it's a reasonable price to pay.
Pros: Holds things still; comfortable; clever design.
Cons: Monoboob; additional clip to achieve racer-back comfort
Conclusion
This bra really does offer excellent support and although it creates the monoboob it is a relief to find a bra that works well for larger chests.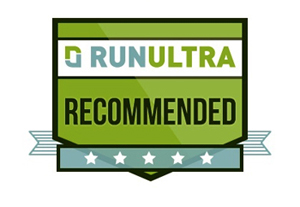 | | |
| --- | --- |
| Score | |
| Design | 9/10 |
| Features | 10/10 |
| Performance | 10/10 |
| Value | 7/10 |
Have you used and of these sports' bras? Don't agree with this review? What's your opinion? Add your own comment to this review and share your experience and passion for running with others.
Not a member yet? Sign up here to be part of the RunUltra community and share tips and stories with thousands of fellow runners around the world.
We are a professional review site and our reviewers receive free products for testing from the companies whose products we review. We test each product thoroughly and give high marks to only the very best. We are independently owned and the opinions expressed here are by the reviewer's name shown.
Disclosure:
We use affiliate links in some of our reviews and articles. This means that if you purchase an item through one of these links we will earn a commission. You will not pay more when buying a product through our links but the income will help us to keep bringing you our free training guides, reviews and other content to enjoy. Thank you in advance for your support.