Last updated: 20-Aug-18
Columbia state that the Montrail Rogue F.K.T. II trainer is engineered for "performance and functionality". I tested the running shoe on a mix of trails and tarmac.
Features
Updated 3D printed cage which eliminates seams and glues
Lightweight support
New F.K.T. tongue for a light, clean fit
Reinforced toecap and heel for added protection and durability
Full-length, cushioned FluidFoam midsole
Minimal, co-moulded mid-foot TrailShield for torsional rigidity and protection. Shoe drop: 18mm heel to 8mm forefoot
Outsole has 4.5mm lugs for traction and underfoot protection
Outsole perforations for enhanced flexibility and a smoother transition throughout the gait cycle
Male and female designs
RRP: £95.
Photo credit: Columbiasportswear.com.
Pros: What's good about the Columbia Montrail Rogue F.K.T. II trainer
If you are looking for a trainer that offers good traction on the trails and also has greater than average cushioning, the Columbia Montrail Rogue F.K.T II is a good choice.
It would actually be a great shoe for routes that include a mix of harder and softer terrain because the sole cushioning is excellent.
The fit is on the neat side and that will be perfect for people with slim feet. I do have narrow feet and I found the shoe fitted very snugly and therefore offers great all round support.
The fabric around the heel is nicely cushioned and comfortable and the tongue is light and soft but with a good level of cushioning. The designers have thought a lot about the tongue and created something of a feature of this. I am not entirely sure why this is so important but suffice to say the tongue is good quality and very comfortable against the top of the foot.
Running in this version of the Montrail trainer is easy-going. It feels ideally cushioned and supportive and when running on pavements and harder tracks, I felt as though I was bouncing along.
Heading on to softer terrain, the running shoe performs well. The lugs give good grip in mud and wet grass and they do not become bunged up with dirt, so the traction is great.
A right-angled heel on the sole is excellent for gripping into soft terrain as you descend, even on mud. Many trail shoes do not have this because the heel is more rounded and I really appreciated the right angle cut.
There is a good level of flex in the front of the sole. I like to have flex for when I am running and fast hiking uphill.
It's not a neutral shoe at all, with an 8mm heel to forefoot drop, but that will suit many runners.
The reinforced bumper of a toecap and extra protection at the heel is an asset if you plan to do a lot of off-road running where you are likely to come into contact with rocks, stones and hardy plants.
I think the price as RRP £95 is very good. Many other trainers cost a lot more these days.
Cons: What's not so good about the Columbia Montrail Rogue F.K.T. II trainer
The shoe fits very neatly and I would suggest you might want to go up a half or full size. The toe box is narrow and people with average-to-wide feet will find the fit too tight I think. Again, going up a size will help.
Because the fit was neat I did not have much in the way of lacing to pull through and this meant I could barely tie the laces into a bow. There need to be longer laces for easier tying.
If you like a sole that allows you to feel the ground, this shoe is not for you because the sole is quite thick and cushioned.
The tongue has been designed with thin edges where it comes out of the shoe and rests on the front of the ankle. I found this tucked underneath and did not lie flat. I am sure they are not meant to do this. To be honest, I found the whole tongue feature over-designed and a bit pointless.
Conclusion
This is a nicely designed shoe for people who like good traction off-road with higher levels of cushioning. You need to buy a half size or full size bigger because the shoe is a very neat fit. The price is just about right for this type of shoe.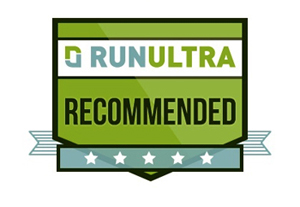 | | |
| --- | --- |
| Score | |
| Design | 9/10 |
| Features | 9/10 |
| Performance | 10/10 |
| Value | 9/10 |
| Total | 9.25/10 |

Other shoes you may want to consider:
Columbia Montrail ROGUE F.K.T.
Scarpa Proton Trail Shoe
Mizuno Wave Daichi 2
About the writer: Fiona is a keen runner, preferring off-road and hilly to flat and road. She lives in Scotland where the weather is fickle so needs to be prepared for all conditions. See more of what she writes at Fiona Outdoors.
All images Fiona Outdoors except when stated.
Have you tried the Columbia Montrail Rogue FKT II running shoes? Don't agree with this review? What's your opinion? Add your own comment to this review and share your experience and passion for running with others.
Not a member yet? Sign up here to be part of the RunUltra community and share tips and stories with thousands of fellow runners around the world.
We are a professional review site and our reviewers receive free products for testing from the companies whose products we review. We test each product thoroughly and give high marks to only the very best. We are independently owned and the opinions expressed here are by the reviewer's name shown.
Disclosure:
We use affiliate links in some of our reviews and articles. This means that if you purchase an item through one of these links we will earn a commission. You will not pay more when buying a product through our links but the income will help us to keep bringing you our free training guides, reviews and other content to enjoy. Thank you in advance for your support.