I must confess to being a huge fan of Scott shoes. These Supertrac 3.0 are the 5th pair of Scott trail shoes I've had, all have been supplied by Sportsshoes over the years and all have been various versions of the Kinabalu or the Supertrac.
The Supertrac 3.0 are different in subtle ways to the Supertrac 2; having bought the Supertrac 2.0 in November I can make a direct side by side comparison.
Features
All Terrain Traction
Full Rubber Outsole
AeroFoam+
eRIDE Midsole
Ortholite ECO X-40 Footbed
Ripstop Mesh Upper
Thermoplastic Polyurethane Support Cage
Toe Guard
Form-fitting Tongue (locking system)
Weight 290/320g
Price: £129 – £149 from Sportsshoes
Starting at the top, the upper is made from nylon rip-stop to increase durability, which is different from the 2.0. The Scotts have been extremely hard-wearing generally and when the uppers start to go, it's in that vulnerable point found on all shoes; the toe crease. It will be interesting to see if this new mesh will prolong the life of the upper. The rand is solid and the Supertracs really make your foot feel protected in all directions.
The upper is much thicker than in the Supertrac 2.0 or Kinabalus. By thicker I mean padded – if you kick a rock you won't feel it crumble. This is great on one hand, for cushioning, but on the other it does affect the sizing. I'm a size 6 in all trainers but these Supertrac 3.0 feel a lot tighter. Which is fine, until I want to wear neoprene socks over liners in winter. There's no way I'll get two pairs of socks on in these shoes.
The shoe fit generally, however, is great. Once your foot slides in, it's not going anywhere. The heel cup is snug, the toe box has plenty of room (I'd say I'm on the wider side of average) and I can remove the insole to replace it with my own (too many years of running has flattened my instep). The tongue is padded and comfortable – it allows me to tighten my laces without fear of cutting into the top of my foot and there are handy guides for the laces to help keep the tongue in place.
The laces, as I find with most shoes, aren't long enough. I always use the eye loops to lock the heels and you need extra length to do this. They tie, but at a stretch! As my foot beds in, I expect to be able to tie them tighter, which will give me more space but double knotting them now is a fiddly job.
They drain well; this winter has provided many opportunities for wading through streams and hopping over (or falling into) bogs and they shake the water off like a spaniel after a swim. This brings me to the Gore-Tex version which is on offer…. trying to keep your feet dry is like trying to keep my dog clean on a run; impossible. Unless you trot through the smallest of puddles, the water is going to go over the top of the shoe and then it's stuck in there and while Gore-Tex is designed to let your foot breathe, it's not designed to drain that much water.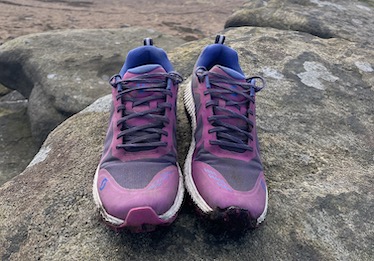 The midsole hasn't changed from the 2.0 and is a combination of Scott's eRide and Aerofoam+. I'm not great on the technical stuff, but they say: "AeroFoam+ focusses on a cushioned but stable ride and is used in most of our trail running shoes. It is durable with dynamic rebound to offer protection while maintaining an efficient stride." I say: I have noticed that it allows Scott to build a relatively stiff sole yet still give you a responsive shoe.
On the eRide they say: "The unique rocker shape creates a stable mid-stance, promoting the faster and more efficient running style that runners strive for. Regardless of running gait, eRide works with the body to promote a more dynamic running position, reducing heel strike impacts and increasing running efficiency." I say: I can't honestly comment on this. My runs are up and down hill every day so my foot strike changes constantly depending on the gradient. The Scotts feel comfortable whichever way I land, and I have no idea if I'm efficient or not!
The lugs are chevrons which point in different directions so the grip is solid. Again, they've kept that which made the Supertrac and Kinabalu such a great shoe. I have full confidence on all but the slipperiest of rocks. In fact I recently happily jogged down a super wet grassy slope during a race that had others clinging to a fence as they slid down on what clearly appeared, to them, to be a glacier. It was highly amusing to watch and I felt very smug as I arrived at the bottom, without landing on it.
I do a fair bit of training on roads, so the lugs are the first part of the shoe to wear noticeably. In winter the lanes around me are barely better than tracks and there's no way I'd wear road shoes on them so it's a sacrifice I have to make. Also, you've got to have the option to veer off the road and go off piste when you want to, right?!
The price, like all big brand shoes, is creeping up for new releases. But once you've found something that works, you stick with it, and it's worth paying the price for what is the most important piece of kit to get right. What I love about Sportsshoes is the ability to buy previous season models. So I'm happy to buy the latest full price version, which I keep for races, as I'm also able to buy last year's stock at cheaper rates. Great for training and being able to put the heavy miles on a shoe without worrying about the cost so much.
There's always a balance to be struck between having a super light shoe, with a flexible sole for those highly technical fell races, and a shoe that is required to cover similar ground, but over long distances. I will probably stick to Kinabalu's for training in the winter, as they give me the room to add extra socks, which sort of balances out the lack of cushioning.
But for racing, Scott have hit the nail on the head with the Supertrac 3.0 in my opinion. They offer an ultra-standard of cushioning without making the shoe unstable, with a grip only bettered by a fell shoe. They'll be my shoe for the Lakeland 100 and Cape Wrath as I think they'll give my feet the cushioning they deserve and the grip I need over those distances. I'll report back with how they fare afterwards.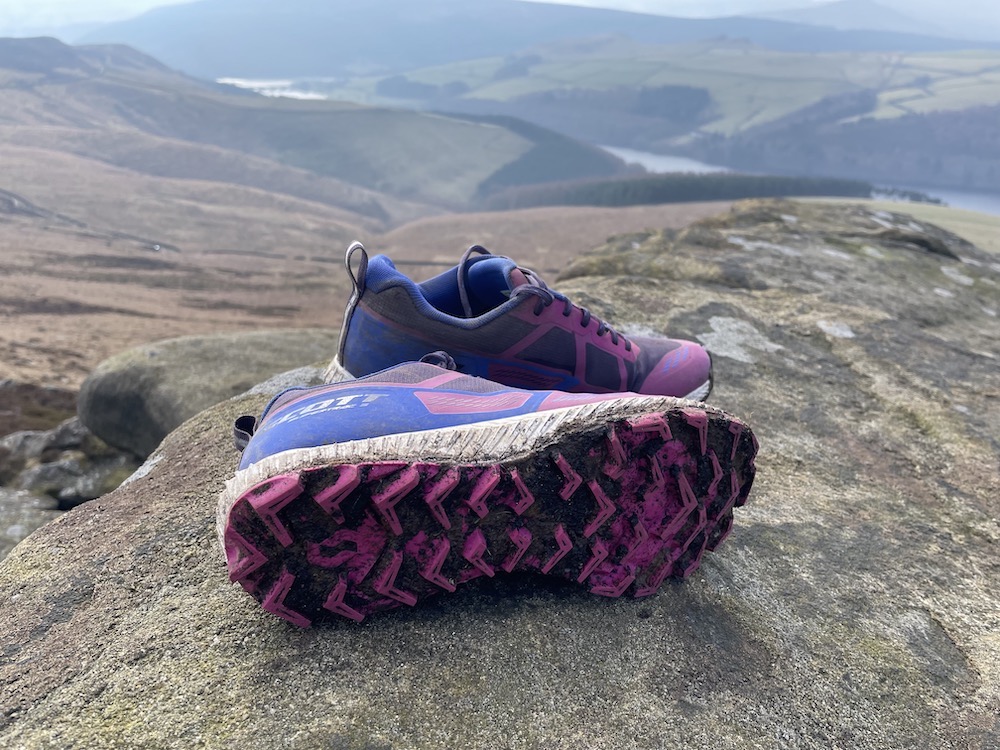 Have you tried the Scott Supertrac 3.0? Don't agree with this review? What's your opinion? Add your own comment below this review and share your experience and passion for running with others.
Not a member yet? Sign up here to be part of the RunUltra community and share tips and stories with thousands of fellow runners around the world.
We are a professional review site and our reviewers receive free products for testing from the companies whose products we review. We test each product thoroughly and give high marks to only the very best. We are independently owned and the opinions expressed here are by the reviewer's name shown
About the author: Kate Allen is Editor of RunUltra and in her spare time can be found running and racing with her dog Mac around the hills of the Peak and Lake District.