Last updated: 25-Mar-19
By Dan Stinton
I'm sandwiched between two Hoka'thletes. This is my new coined phrase for those runners who just love HOKAS. It's that time during an ultra when you begin questioning your own sanity – you know the time, somewhere beyond a marathon but with still an awful long way to go.
Inevitably, as is common during these things, I've made some new ultra friends and we've been happily chatting away about all things running for the last 30 minutes or so. My mind drifts as I wonder what to eat next but I am half-listening to the conversation going on between my new buddies:

Hoka'thlete #1: "I love my Hokas, once I tried them I knew I'd never run in anything else!"
Hoka'thlete #2: "Yes they're amazing! A revolution in running shoes. I wouldn't be without mine!"
Hoka'thlete #1: "Hokas oh lovely Hokas"
Hoka'thlete #2: "Mmmm Hokas"

I spotted their eyes dart briefly towards my clearly inadequately clad feet and I feel a ripple of embarrassment – why wasn't I wearing HOKAS!
Sometime after that I ordered a pair of Speedgoats to see what the fuss was all about. I picked my usual size (9.5) but really struggled to even get them on as my shovel-like feet just couldn't cram in. I exchanged them for another half size up and again it was an incredible struggle to get them on and I knew I wouldn't be able to run in them so I sent them back, promptly forgot all about them and went running in the hills instead.
Many months later and I'm eagerly opening the box of a brand-new pair of HOKA ONE ONE Challenger ATR4s. Remembering my previous experience, I'd opted for a full size above usual (10.5) to ensure a good fit.
First impressions count and these shoes do look good, if a little quirky, with the bright yellow edged sole looking characteristically large and chunky. The upper is a simple style, attractive light blue dual-mesh emblazoned with the HOKA logo along the side. The HOKA website states a 31mm heel, 26mm forefoot and a 5mm heel-toe offset with 4mm lugs.
Examining the sole, the lugs are closely spaced towards the heel with a wider spread towards the front. There are larger lugs at the midsole, presumably part of the "meta-rocker" design which is meant to promote "an efficient, smooth roll from initial impact to toe-off".
They look good, they fit width-wise even if a little large generally, and the sales pitch sounds interesting but, of course, the proof is in the running!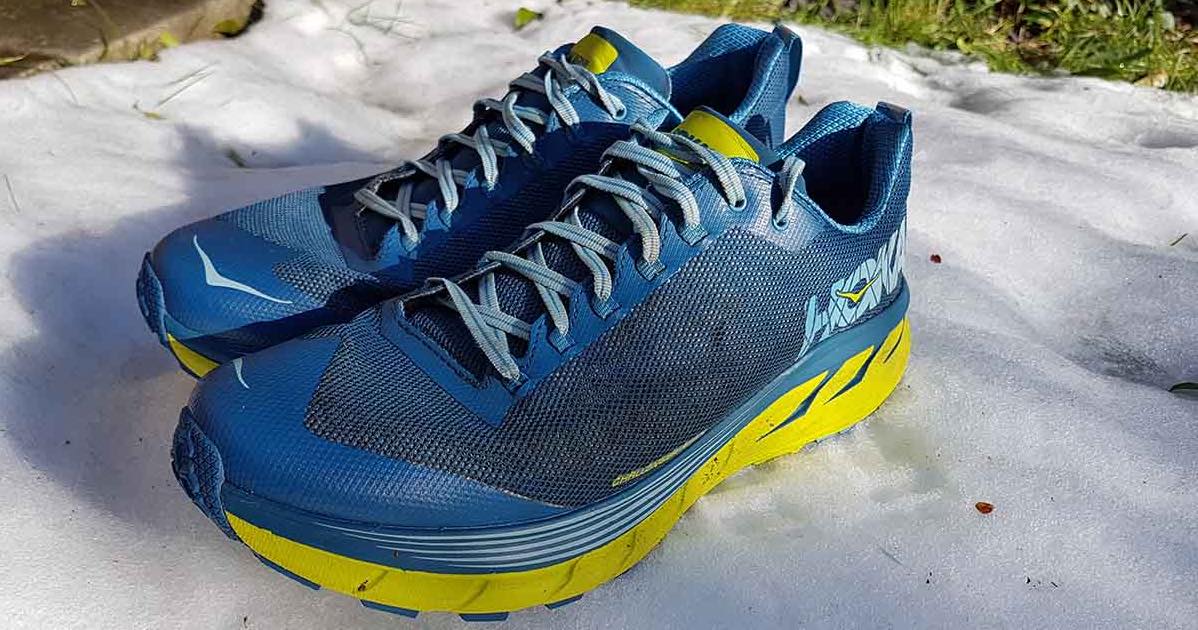 Features
Dual-layer mesh
Oversize EVA midsole for lightweight cushioning
4mm lugs
Available around £100
Pros: What's good about the HOKA ONE ONE CHALLENGER ATR 4
After a couple of runs I thought I might be ending up on the other side of the HOKA fence; I felt some uncomfortable pressure on my arch and the thick sole felt much harder than I expected. Whilst running a steep descent, I felt like I was being thrown down the hill due to the thickness of the sole, and my feet just generally ached a little after running.
Undeterred, I embarked on a 22-miler with friends. Throughout the run I fended off multiple jokes about having mattresses on my feet, and being the volunteer who had to test out how deep the puddles were, but over the longer distance I started to warm to them, and the soles seemed to be breaking in, or my feet were getting used to the different style. The sole does seem to "roll" nicely as your foot hits the ground and lifts off.
Terrain wise, they're a bit of an all-rounder. I can comfortably run on road and most types of trail with the cushioning almost disguising some more subtle types of trail, but the lugs just aren't big enough for the big muddy running I often seem to be immersed in. However, I was running in these during the recent storm in the UK dubbed "The Beast from the East", and they performed well in the snow with very limited slipping.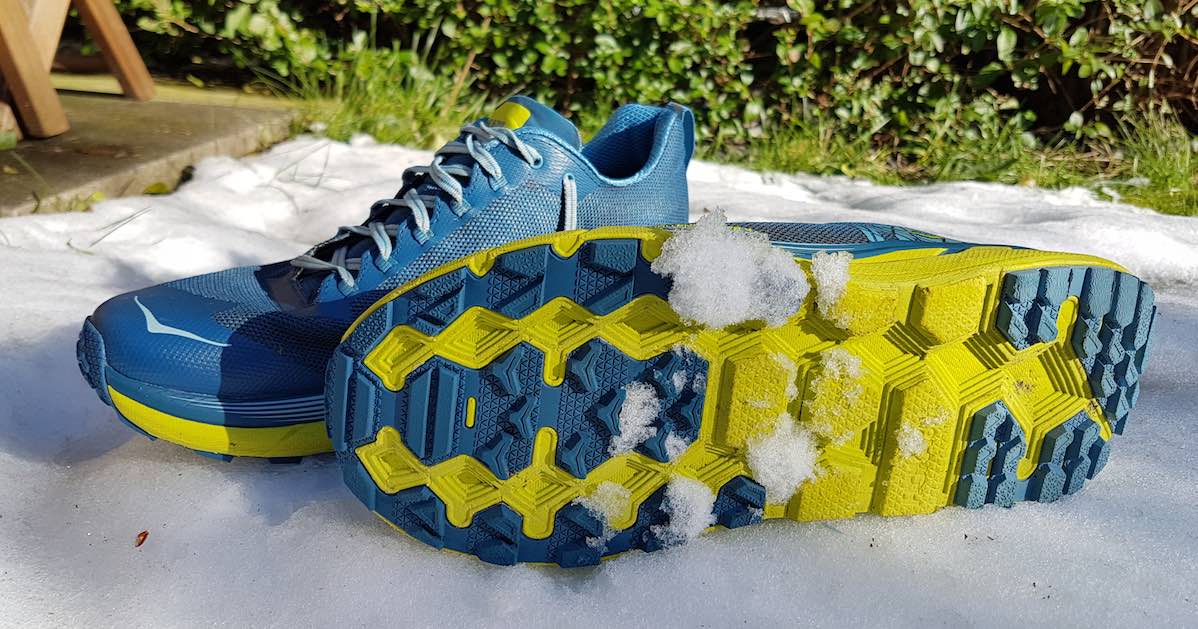 Cons: What's not so good about the HOKA ONE ONE CHALLENGER ATR 4
As I indicated in the intro to this review, HOKAS generally do seem to have a loyal fan base, and I can see why. However, they won't be to everyone's taste and initially I wasn't overly impressed but the more I ran in them, the more I liked them.
Any type of serious mud, and you may be struggling compared to others designed for that type of terrain. The uppers perform well, and whilst comfortable, they seemed a little less rigid with a bit less toe protection than some of my favourites. As I had opted for a larger size, they worked well with my wide feet, but in general were probably slightly too big in other areas although that can be a benefit on long runs.
Sizing seems a little off, so if purchased online you may end up returning if the size doesn't suit, but I'd say certainly go bigger than your usual running shoe size.
Conclusion
"I used to be indecisive but now …. I'm not so sure" as someone once said….. I feel the same, but as I find myself reaching for the ATR4's more and more often, clearly I must like them.
I'd planned to do an ultra in them to conclude the testing, but unfortunately it got cancelled due to weather conditions, but I am confident they would have got me round without any issues. I'm used to thinner soled, slightly more sturdy and closer-fit trainers that make me "feel" the trail, and with the thicker soles on the Challenger ATR4 these feel unlike many other running shoes.
The Challenger ATR4 are certainly worth a try, especially if you already use HOKAS and know that they suit you. They'll clearly suit runners who like a fair bit of cushioning on their feet, but if you're a minimalist then clearly they won't be to your taste. Just be careful though, you may end up as a purist Hoka'thlete!!
| | |
| --- | --- |
| Score | |
| Design | 7/10 |
| Features | 8/10 |
| Performance | 9/10 |
| Value | 8/10 |
| Total | 8/10 |

Other trail shoes you may want to consider:
Salomon Sense Ride
inov-8 Roclite 305
Hoka Speedgoat 2
All images Dan Stinton except when stated.
About the writer: Dan is a Peak District based runner who said he'd never take up cycling and has bought three bikes in the last 4 months. He likes nothing more than running into the Dark Peak and then writing about how difficult it was at All Hail the Trail.
Have you used the HOKA ONE ONE Challenger ATR 4 running shoes? Don't agree with this review? What's your opinion? Add your own comment to this review and share your experience and passion for running with others.
Not a member yet? Sign up here to be part of the RunUltra community and share tips and stories with thousands of fellow runners around the world.
We are a professional review site and our reviewers receive free products for testing from the companies whose products we review. We test each product thoroughly and give high marks to only the very best. We are independently owned and the opinions expressed here are by the reviewer's name shown.
Disclosure:
We use affiliate links in some of our reviews and articles. This means that if you purchase an item through one of these links we will earn a commission. You will not pay more when buying a product through our links but the income will help us to keep bringing you our free training guides, reviews and other content to enjoy. Thank you in advance for your support.