Last updated: 01-Nov-18
The HOKA ONE ONE Mafate Speed 2 trail running shoe offers maximum cushioning combined with a grippy and durable Vibram outsole. The brand aims this at runners who like trails and long-distance sessions or races.
Features
Upper: Comfortable and lightweight No Sew SpeedFrame construction
External Monomesh screen for improved durability and to protect the feet from small stones and debris
The midsole combination of compression moulded EVA for lightweight cushioning and blended natural rubber RMAT for "rebound"
Early Stage Meta-Rocker for a quick stride transition
Sculpted arch support pod for enhanced stability
Ultra-size cushioning: 33mm heel and 29mm forefoot (men's); 32mm heel and 28mm forefoot (women's)
Rubber outsole with 5mm Vibram Megagrip lugs
Deep flex grooves that allows the shoes to adapt effortlessly to a wide variety of terrain
Weight: 255g (UK 5.5) | 295g (UK 8.5)
UK £140

Photo credit: Hokaoneone.eu
Pros: What's good about HOKA ONE ONE Mafate Speed 2 trail shoe
Most runners either love or hate the HOKA ONE ONE shoes with their characteristic over-sized soles – and this depends on whether you prefer a cushioned run or a more natural style.
For those that love the thick cushioning, the benefits are claimed to include less impact on joints and muscles, the ability to run on any trail or tarmac without feeling stones and bumps, as well as an assisted stride thanks to the Meta-Rocker.
Despite the soles being so thick, the shoes feel very light to wear. Putting on the trainers feels like slipping into a pair of slippers. The uppers have no seams and nicely cushioned heel areas, which adds to the comfort levels.
The rocker is noticeable when walking in the shoes but when you run it feels very natural. It's as if you do not think about mid-foot and forefoot because the shoe does the running motion for you. This is efficient for many people.
The inner support of the shoe is good. I like the arch support and the foot bed feels like it cups my foot.
The uppers are a lot more robust than other Hokas that I have tried. They have a durable coating and this will help them to be more long-lasting, especially when wearing them off road where they are susceptible to the wear and tear of the landscape.
The soles are most suitable for trails, although they feel fine on harder surfaces as well. The grip is what I would call medium, so they are perfect on forest trails and some hill terrain but not on slippery mud and mountains.
I think the shoes look great. They are funky, colourful and cartoony and they always bring a smile to my face when I see them. The look doesn't affect the performance but it is nice to have trainers that make you smile.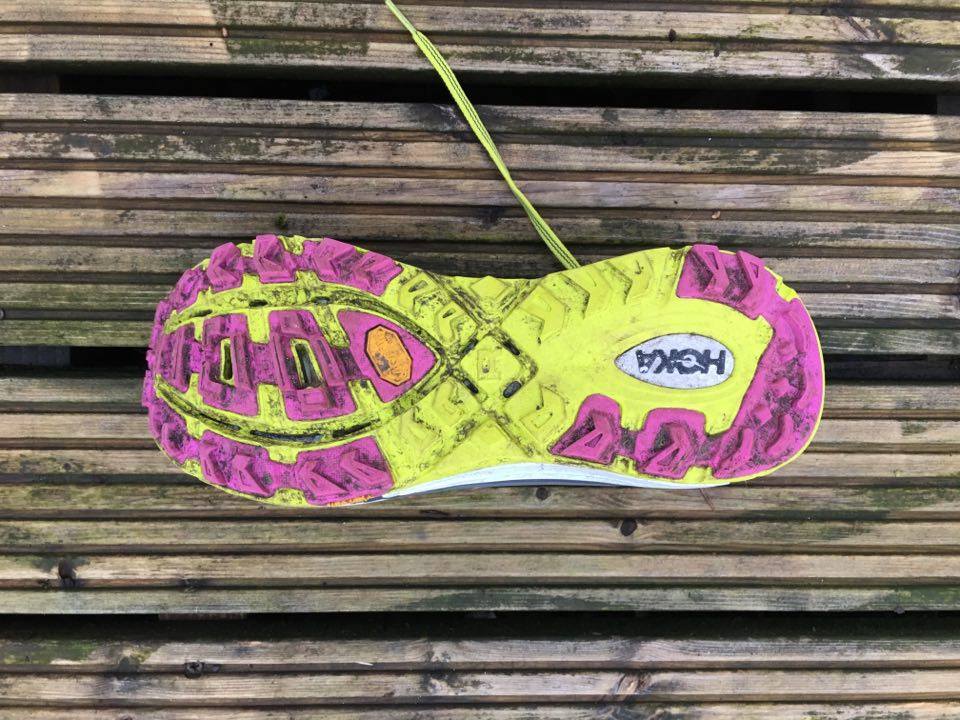 Photo credit: Fiona Outdoors.
Cons: What's not so good about the HOKA ONE ONE Mafate Speed 2 trail
I find the fit is quite wide. Obviously, this will suit people with wider feet but my feet are narrow and I have to lace the shoes up tightly.
I also find that from one design of HOKA to the next I can be a UK8 or an UK8.5. It's difficult to know what I will receive and sometimes I end up with shoes that are too long or to short. I think HOKA needs to be more careful with sizing.
The thicker soles are definitely not for everyone. They do take a bit of getting used to, especially if you have been wearing more natural style off-road trainers but many ultra runners love them and will wear nothing else.
If you like to feel the shape and tone of the ground beneath your feet these are not for you.
The back of the heel lacks decent lugs so if you are going downhill on wet or muddy ground the heel tends to slip away. I would reserve these shoes for trails and lower level paths.
The full Recommended Retail Price (RRP) is pricey but shop around and you can usually find them cheaper.
Conclusion
You will either love these trainers or not. It is rare to find people who quite like them! The over-sized soles are lightweight and offer excellent cushioning. They are best used on forest trails and some hill paths but not on very wet or muddy terrain, and especially not steep hills. Shop around to buy these for less than the RRP.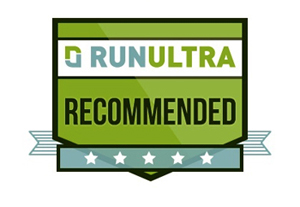 | | |
| --- | --- |
| Score | |
| Design | 9/10 |
| Features | 9/10 |
| Performance | 9/10 |
| Value | 8.5/10 |
| Total | 9/10 |

Other running shoes you may want to consider:
HOKA ONE ONE Challenger ATR 3
HOKA ONE ONE Speedgoat
Pearl Izumi EM Trail N 3
Pearl Izumi EM Trail M 2
About the writer: Fiona is a keen runner, preferring off-road and hilly to flat and road. She lives in Scotland where the weather is fickle so needs to be prepared for all conditions.
Have you used the HOKA ONE ONE Mafate Speed 2 shoes? Don't agree with this review? What's your opinion? Add your own comment to this review and share your experience and passion for running with others.
Not a member yet? Sign up here to be part of the RunUltra community and share tips and stories with thousands of fellow runners around the world.
We are a professional review site and our reviewers receive free products for testing from the companies whose products we review. We test each product thoroughly and give high marks to only the very best. We are independently owned and the opinions expressed here are by the reviewer's name shown.
Disclosure:
We use affiliate links in some of our reviews and articles. This means that if you purchase an item through one of these links we will earn a commission. You will not pay more when buying a product through our links but the income will help us to keep bringing you our free training guides, reviews and other content to enjoy. Thank you in advance for your support.