Last updated: 24-Oct-18
By Steve Diederich
Following on from our review of the amazing Salomon Advanced Skin 3 Hydration vest last year, we were challenged by some of the community to review other hydration vests and have a shoot out of the best in the market. This is what we found:
We have reviewed the best in Hydration Packs – Ultimate Direction (UD) Scott Jurek 3.0, the Montane Fang 5 and the Nathan Vapor Air 7 Hydration backpack. All of them are worthy contenders for your hard-earned money and each offer something slightly different. We have tested them at length as they were intended on day runs, all on single-track, multi-trail terrain.
So, let's kick of with Scott Jurek's offering from Ultimate Direction.
ULTIMATE DIRECTION SJ ULTRAVEST 3.0
Mr Jurek did the whole of the Appalachian Trail in 46 Days wearing this vest and it has the hallmark of a racing snake all over it. It comes in at the lightest weight of all the vests, we weighed the Size M test model at 242 grams (manufacturer claims 203gm). Partly due to the ultra-light material it is very stretchy and hugs your torso really well. This is one of the standout features of this vest – it holds really well to you and has no discernable bounce when loaded sensibly. Being so light, it also breathes really well, so even in hot weather it feels relatively cool. In terms of features, it has every feature you would expect of a vest with this pedigree.
You have two bottle holders in easy reach of your mouth, the pockets hold 50cl soft flasks well, right down to the last drop. It has the standard pockets for phone and a handy top pocket for easy access to gels, saltcaps and whistle. It also has a bladder pocket that will take a 7oz (2L) water reservoir (extra) and bungee elastics to hold your waterproofs or accessories as well as two side adjusters to ensure that the vest is held right at the waist. This is an accomplished bit of kit that reeks of racing pedigree.
It isn't perfect though. The lack of weight also means that it isn't capacious, whilst the rear pocket is fiddly to open whilst on the move and running poles were ungainly when loaded up. The initial setup of the straps took longer than the other vests. If these aren't important compromises to you and you are looking for a lightweight hydration vest with good water capacity, then this is a great choice.
PROS: Light, breathable, good features, stable.
CONS: Light on storage space, hard to access rear pocket, fiddly to set up straps.
| | |
| --- | --- |
| Score | |
| Design | 8/10 |
| Features | 7/10 |
| Performance | 9/10 |
| Value | 6/10 |
| Total | 8/10 |
MONTANE VIA FANG 5
This comes from the Northumberland-based manufacturer. Out of the box, the Fang 5 looks different. It is made of non-stretchy material that feels really sturdy and the difference you notice straight away is that it has an elasticated Velcro waist belt that ensures a good fit. The single (elasticated) chest strap is easy to adjust using a micro carabiner type clip.
When on, the Fang feels great from the off. It holds weight and volume well whilst not feeling bulky and the elasticated waist strap allows for diaphragm expansion and is easily adjustable (although you do risk the Velcro snagging any clothing if you don't fit it correctly). My guess would be that this would fit just about any body shape as the two adjustment points are really versatile.
I loved all the pockets as they were all a good size and had thoughtful touches like zip pullers that click down flush with the pack so they don't flap. The two soft flasks (50cl) were a doddle to use and fill.
One oddity though was the pocket positioning. You can stow one of the soft flasks in your left-hand, lower-zippered pocket, which works really well, however the pouch that holds the soft flask that you are using is low, sitting just above the waistband. This misses a trick, as when you want to drink from it you have to either bend right over and lift the bottle at the same time, or take it out of the pouch. You can also slip in a 1.5L drinks bladder (optional) that fits nicely into the rear back pocket – and very securely with minimal "slosh". The Fang 5 wins the game for me in terms of useable space. All other pockets were the right size at the right position and there are loads of loops and cinches. The rear bungee straps ensure that you can securely stash any kit you were carrying (including poles) and has the detachable whistle. We weighed the vest in at 338gms (manufacturer claims 250gms) – although when on, its weight is almost imperceptible. The Fang 5 is a well-built, well-designed, class act offering impressive value.
PROS: Capacious, comfortable, good build quality, universal fit, stable and has good features, great value.
CONS: Soft flask positioning.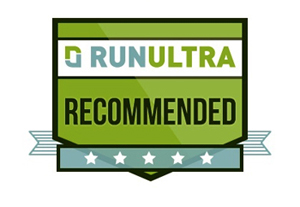 | | |
| --- | --- |
| Score | |
| Design | 9/10 |
| Features | 8/10 |
| Performance | 8/10 |
| Value | 10/10 |
| Total | 9/10 |

Nathan VaporAir Hydration Backpack
This is a different beast altogether. The whole vest is designed to sit high on your chest and back – think of it as a "Bolero" jacket. This vest has a really impressive capacity for such a small item. It will carry a 2L hydration reservoir and 2 x 65cl hard or soft flasks. The pockets are best suited to hard bottles as they are cinched rather than elasticated. It also has five litres of stowage! This is the Tardis of hydration running vests.
Setup of this vest is easy as – simply adjust the two front straps, which slide up and down to find the best fit for you et voila! At first the vest felt strange, the bladder feels like it is sitting in between your shoulder blades, after 5 minutes of running I realised that this was genius as your shoulder blades act as side wedges to eliminate any movement.
This vest has more features than the others tested. It has load-lifter straps to ensure that the vest sits properly on your shoulders. It has an electrolyte pocket with a flap on it that allows you to access you salt caps quickly at hydration stations. It has elasticated side pockets (x2) that are huge and can easily pack gloves or buffs, and two more pockets in front of the water bottles to take gels etc. It also has some nice touches like the whistle that is on an elasticated holder clipped at lip height for instant access and a magnetic clip for the water reservoir pipe ensuring it is where you left it. I liked this a lot. I ended up cutting the pipe down as it is very generous in length.
We weighed the size L/XL VaporAir 7 in at 324gms (manufacturer claim 263gms) which is surprisingly light for such a full featured jacket. You could easily do a 50 or 100km distance with this vest, subject to aid station distances of course. I did have one problem with this vest in that the piping on the neck part of the vest rubbed my neck where it touched directly, especially when heavily loaded. It didn't rub hugely, but enough to make the skin on my neck sore. I sorted this by ensuring I rucked my running top up so that it sat between the hem and my neck. The Nathan VaporAir 7 is a really well designed hydration vest and its capacity belies its tiny size.
PROS: Amazing capacity, easy to set up, stable, good features.
CONS: Not so great with soft flasks, neck hem rubs on skin.
| | |
| --- | --- |
| Score | |
| Design | 8/10 |
| Features | 10/10 |
| Performance | 8/10 |
| Value | 7/10 |
| Total | 8/10 |

CONCLUSION
So – with a choice of all the vests … which one would I use where and when?
If weight and speed were important, I would undoubtedly use the UD SJ Ultravest 3.0.
As an everyday running vest, I would use the Montane Fang 5 as it is really comfortable and durable.
If I was planning to be out on the trails for a long time, I would take the Nathan VaporAir 7 because of its huge capacity for all my "just in case" gear
All images unless stated: Steve Diederich.
Have you used the UD SJ Ultra Vest 3.0, the Montane VIA Fang 5 or the Nathan VaporAir 7 hydration vests? Don't agree with this review? What's your opinion? Add your own comment to this review and share your experience and passion for running with others.
Not a member yet? Sign up here to be part of the RunUltra community and share tips and stories with thousands of fellow runners around the world.
We are a professional review site and our reviewers receive free products for testing from the companies whose products we review. We test each product thoroughly and give high marks to only the very best. We are independently owned and the opinions expressed here are by the reviewer's name shown.
Disclosure:
We use affiliate links in some of our reviews and articles. This means that if you purchase an item through one of these links we will earn a commission. You will not pay more when buying a product through our links but the income will help us to keep bringing you our free training guides, reviews and other content to enjoy. Thank you in advance for your support.