Last updated: 08-Apr-19
By Dan Stinton
As my face bashes into a rock and my phone simultaneously ejects itself out of the inov-8 All Terrain Pro Vest pocket, I realise that I'm not having the best of Saturday mornings. I stagger up and try to check myself over, first of all hoping that I'm still in one piece, but second of all hoping that I haven't ripped or damaged the vest that I have tried for the very first time that morning.
The bag survived, I was a little bloodied and my phone was seemingly gone forever, so I stumbled home feeling a bit sorry for myself.
It wasn't the best way to start reviewing a product, but I can't really blame inov-8 for that. After my face bashing, what did I think of the All Terrain Pro Vest?
FEATURES:
Two-in-one pack
Race vest and 15 litre bag
Softflasks with tubes/straws
Weight (without bottles) 187g without back pocket, 320g with back pocket
RRP £130
First Impressions
When unpacking the vest one of the first things I noticed is how light it is. The section against your back and parts of the shoulder straps are a breathable mesh, and large sections of the vest/main bag are a very thin, non-stretch plastic-type material complete with inov-8 branding in light grey.
Looks-wise, it's a combination of light/dark grey and black so not a pack for high visibility. There seemed to be loads of clips, straps, cords and adjustable toggles: six of the clips are to secure the 15-litre back section, but there are multiple other straps and loops dotted around that even after using it for a while, I'm still not sure what they're all for.
Slipping the vest on, it is immediately comfortable but I was initially concerned about the position of the bottles as they appeared to be sitting under my armpits rather than upfront on my chest where I'm used to with other packs. I thought this would be problematic, but as it turned out the position is fine and didn't really get in the way whilst running.
On the shoulder straps you have a decent sized elastic looped pocket on the left where you can stuff a few gels/bars or phone (not a huge one!). There's also a small plastic whistle attached to the pocket which will cover mandatory kit. On the right shoulder strap there's a more secure zipped pocket, but still reasonably spacious. Underneath the shoulder pockets are the bottle holders with a small cord to loop over the bottle top to keep it in place (see comments later in this review).

Around the side of the pack you have the usual elastic mesh pockets. Whilst items do seem secure when the pack is on, I think they become particularly vulnerable when you take the pack off which leads the pocket to "open up". In the dark when you're tired and need to put the pack down, it would be easy to lose something.
The vest section contains a small zipped rear pocket and a compartment in the back panel which can fit a 1l reservoir (or 2l shape-shift reservoir) secured by Velcro strap. The rear clip-on pocket is one large bag with a central zip opening from top to bottom or vice versa. There are also two mesh pockets on the side of the bag section, ideal for a bit more nutrition.
As well as two soft-flask bottles and straw attachments, as a "bonus" you also get a small soft cup and silver foil blanket – which my 9-month-old loves.
PROS: WHAT'S GOOD ABOUT THE INOV-8 ALL TERRAIN PRO VEST
Designing two packs-in-one is a very neat idea. Even at the RRP you're getting a light and comfortable race vest and a much bigger pack for longer races or days out where you need more kit/food.
The vest alone is suitable for short training runs/races where you don't need a lot of gear – water, a bit of nutrition, lightweight hat/gloves and water/windproof etc. But don't got out running with this if you may need any emergency equipment/clothing.
Once the main section clips on it remains comfortable and thankfully, even though it's detachable, it stayed securely in place and didn't swing independently of the pack which would have been horrible. There's a large amount of storage and with 15l total that's more than enough for most ultra mandatory kit lists.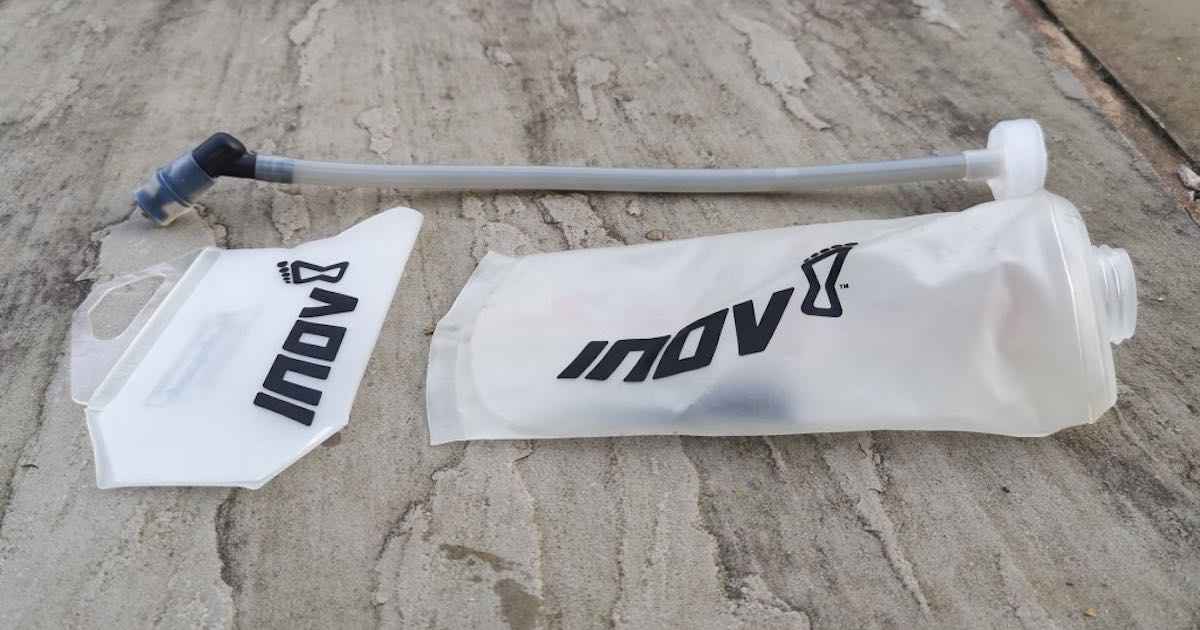 CONS: WHAT'S NOT SO GOOD ABOUT THE INOV-8 ALL TERRAIN PRO VEST
The softflasks come armed with a "straw" attachment so that you don't need to take the bottles out to drink. When I first put the pack on, I had these two giant antennae wobbling in my eyeline but there's a loop on either side of the shoulder strap to secure the mouthpiece.
If you prefer not to use the straws then you can replace them with normal bottle tops, but that wasn't without its problems. To secure the bottle there is another loop close to the top of the compartment that you need to hook over the top of the bottle to keep it in place – I went out without securing it a few times and the bottles flew out of the pouch whilst running. This makes it a slight faff when you need to unhook the bottles either to get them out if not using the straws, or refill when the straws are attached.
Moving on to the main backpack, I'd have liked to have seen some separate pockets/partitions – I prefer not to have all of my kit bundled into one place. It would have been nice to have a separate compartment where you can store mandatory kit that you will rarely need to keep it away from items that you will want more readily accessible.
Whilst not causing any problems, there's still several loops and cords around the pack that I'm not sure what they do or what they're for. The length of some of the straps to attach the pack also seemed excessively long and flapped around occasionally.
CONCLUSION
This pack will suit many people, it seems similarly priced to similar packs and remembering you're getting two-in-one makes it great value. The race vest on its own would be good for those summer days out where you know you don't need much kit, but knowing you still have the ability to clip on a larger sized pack when needed is a neat idea.
The pack material itself feels quite thin (hence lightweight) and has been durable so far. As described at the start of this article I took a big tumble onto rocks and it didn't get damaged, but only time can tell with durability.
I think ultimately the bottle position, needing to secure them and straws weren't ideal for me. I'd also like more segregation in the main pack rather than one large storage space. A bit of colour would have been nice too.
inov-8 have come up with a great idea here, executed well, leading to a comfortable and light all-round pack that performs in both configurations.
| | |
| --- | --- |
| Score | |
| Design | 7.5/10 |
| Features | 8/10 |
| Performance | 7/10 |
| Value | 8/10 |
| Overall | 7.5/10 |
Other packs to consider
Ultimate Direction SJ Vest 3.0
Ultimate Direction Mountain Vest 4.0
Montane Via Trail Razor 15 running pack
About the writer: Dan is a Peak District based runner who has spent the last couple of months dazzling people with headtorches. He likes nothing more than running into the Dark Peak with the Glossopdale Harriers and then writing about how difficult it was in his blog here.
Have you tried the inov-8 All Terrain Pro Vest? Don't agree with this review? What's your opinion? Add your own comment to this review and share your experience and passion for running with others.
Not a member yet? Sign up here to be part of the RunUltra community and share tips and stories with thousands of fellow runners around the world.
We are a professional review site and our reviewers receive free products for testing from the companies whose products we review. We test each product thoroughly and give high marks to only the very best. We are independently owned and the opinions expressed here are by the reviewer's name shown.
Disclosure:
We use affiliate links in some of our reviews and articles. This means that if you purchase an item through one of these links we will earn a commission. You will not pay more when buying a product through our links but the income will help us to keep bringing you our free training guides, reviews and other content to enjoy. Thank you in advance for your support.
All images by Dan Stinton.