Last updated: 02-Mar-20
By Luke Jarmey
Graphene wonder material in the outsole, a potentially scrumptious hybrid mashup up of trail shoe/hiking boot and all this packed into a tool thoroughly designed for grim weather.
Well, I for one was certainly curious to give these kicks a good kicking around over the Winter and Spring here in Chamonix.
Features
Drop – 8mm
Footbed – 6mm
Lug Depth – 6mm
Midsole – POWERFLOW
Midsole Stack – 16mm / 8mm
Shank – META-PLATE
Sole Compound – GRAPHENE GRIP
Lining – GORE-TEX
Weight 345g/ 12.1oz
RRP: £155.00
Pros: What's so good about the Inov-8 ROCLITE 345 GTX?
Firstly the build quality is top notch. I've used these extensively over the last few months, in some rather horrible conditions and when cleaned, they still look almost new. The stitching and gluing seems rock solid. Not to mention the materials, which aren't fraying or tearing in the slightest.
For walking in, they're great. I gave up on heavy hiking boots a long time ago and generally just use trail shoes for any extended walks. I'll tell you what… it turns out I've missed having that ankle support. Especially downhill on rocky trails, they feel noticeably more stable than a trail shoe.
What are they like to run in though? Not quite as mobile as a trail shoe, but really not far off. Cushioning feels nice and at 345g they feel light on the uphills. Downhill? Well for the aforementioned reasons, I actually prefer them to a standard running shoe.
Specs wise, they feature an 8mm drop with a 16mm/8mm heel and forefoot stack. What you like in this regard is personal preference, but it felt good for me.
These have a GORE-TEX membrane which, on the positive side, works well to keep water from puddles etc. out of the shoe. The caveat here is that you really need long trousers or gaiters to stop water splashing into the cuff of the shoe.
The GORE-TEX is also particularly handy for stopping snow from saturating the shoe in winter and does make it warmer.
How about the flagship feature then, the Graphene enhanced G-Grip outsole. I was sceptical about the real world effectiveness of this. Well, I needn't have been. It works superbly. You really do get the grip of a softer rubber and the durability of far harder one. On that note, I've actually never seen a trail shoe rubber wear so little. Especially on a lugged sole such as this, which is especially prone to quickly wearing out.
On the subject of lugs, they work really well in winter conditions like snow and mud. On drier trails, they're great in loose conditions. Obviously hardpack isn't where they shine, but they're not designed for that.
Cons: What's not so good about the Inov-8 ROCLITE 345 GTX?
Whilst using a GORE-TEX membrane has strong positives, there are some inherent disadvantages to bear in mind. Firstly, it's not nearly as breathable as pure mesh, so your feet are going to sweat a fair bit more. Secondly, if you do get them wet from water ingress at the top, they're not going to drain nearly as well as mesh shoe.
Style is highly subjective of course, but personally I'm not a massive fan of the grey and black colourway. Some brighter colour options would have been nice.
Fit wise I would categorize it as average width throughout. How it fits you of course is subjective, so this isn't really a minus point. I would have personally liked it slightly wider in the forefoot and narrower in the heel. But I don't have particularly average shaped feet and the fit still worked as is.
Conclusion
Frankly I wasn't sure what to expect with this trail shoe/hiking boot hybrid. Well, I'm sold on it. For running it gives you that extra ankle support, which I find great on rocky descents. Hiking wise, it feels like you get most of the benefits of a hiking style boot, but at a trail shoe weight. Winner.
Earlier I did earnestly wax lyrical about the G-Grip, but there's no point in having a super tough outsole if the uppers aren't up to much. In the ROCLITE 345 GTX's case, both aspects of its design seem extremely durable. Turning it into what should be a very long lasting and high performing shoe indeed.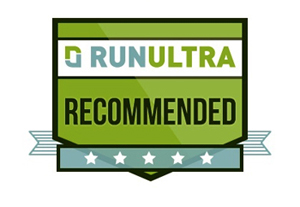 | | |
| --- | --- |
| Score | |
| Design | 9 |
| Features | 9.5 |
| Performance | 10 |
| Value | 9 |
| Overall | 9.5 |
Others you may want to consider:
Salewa Ultra Flex Mid GTX – £165.00
HOKA ONE ONE Mid Speedgoat WP – £140.00
Adidas Mid Terrex Fast Mid GTX Surround – £159.95
The North Face Ultra Fastpack III Mid GTX – £150.00
About the author: Luke Jarmey – RunUltra Community Manager and Adventure Sports Photographer.
See more of his images here:
Have you tried the inov-8 ROCLITE 345 GTX? Don't agree with this review? What's your opinion? Add your own comment to this review and share your experience and passion for running with others.
Not a member yet? Sign up here to be part of the RunUltra community and share tips and stories with thousands of fellow runners around the world.
We are a professional review site and our reviewers receive free products for testing from the companies whose products we review. We test each product thoroughly and give high marks to only the very best. We are independently owned and the opinions expressed here are by the reviewer's name shown.
Disclosure:
We use affiliate links in some of our reviews and articles. This means that if you purchase an item through one of these links we will earn a commission. You will not pay more when buying a product through our links but the income will help us to keep bringing you our free training guides, reviews and other content to enjoy. Thank you in advance for your support.