Last updated: 17-Aug-18
Mammut have created a hooded Mammut Runbold Trail jacket with their SOFtech fabric to "combine flexibility with functionality to support successful training". I took it for a few test runs in different conditions in the Scottish hills and mountains. I ran with it when it was cool and windy and warm but wet.
Features
Elastic fabric for freedom of movement
DWT treatment for water repellency
No membrane
UV protection UPF 50+
Comfortable Soft Shell material
2 side pockets with zipper
Adjustable hem
Tailored, adjustable hood
Chest zipper pocket (not on women's version)
Roll up hood secured using a small hook
Hook and loop fastener cuffs
Low packing volume
RRP: £129
Photo credit: Fiona Outdoors.
Pros: What's good about the Mammut Runbold Trail Jacket
The jacket is easy and comfortable to wear even against the skin over a vest or t-shirt. Unlike other running jackets that cling to bare skin, this jacket has a softer feel.
It is a good length both in the arms and torso, and although it is a small the jacket felt roomy. I might even choose to go down a size.
The best use of the jacket is in cool or windy weather, rather than wet conditions. See below for notes about wet weather. I was surprised by the breathability of the jacket but, then again, it does not have a waterproof membrane so this means it will easily allow sweat to evaporate through the fabric.
On one occasion, I ran on a cool-to-warm evening and the jacket helped to keep the wind off my back and bare arms but allowed me to sweat when I was working hard on a hill climb.
The fabric also dries out quite quickly.
The jacket has a high sun-block rating which makes it useful for days when you might end up sunburned; perhaps on a cool but sunny day.
The light stretch in the fabric offers a good freedom of movement, which I found beneficial when using poles while running and hiking.
The hood adjustment is great. You can adjust it on both sides with clever internal adjustors that do not then leave annoying elastic ends flying about near the face. The adjustment offers a good fit around the head, which is really important when running in the wind. I hate it when a hood flaps about. The Mammut hood fits the head very well.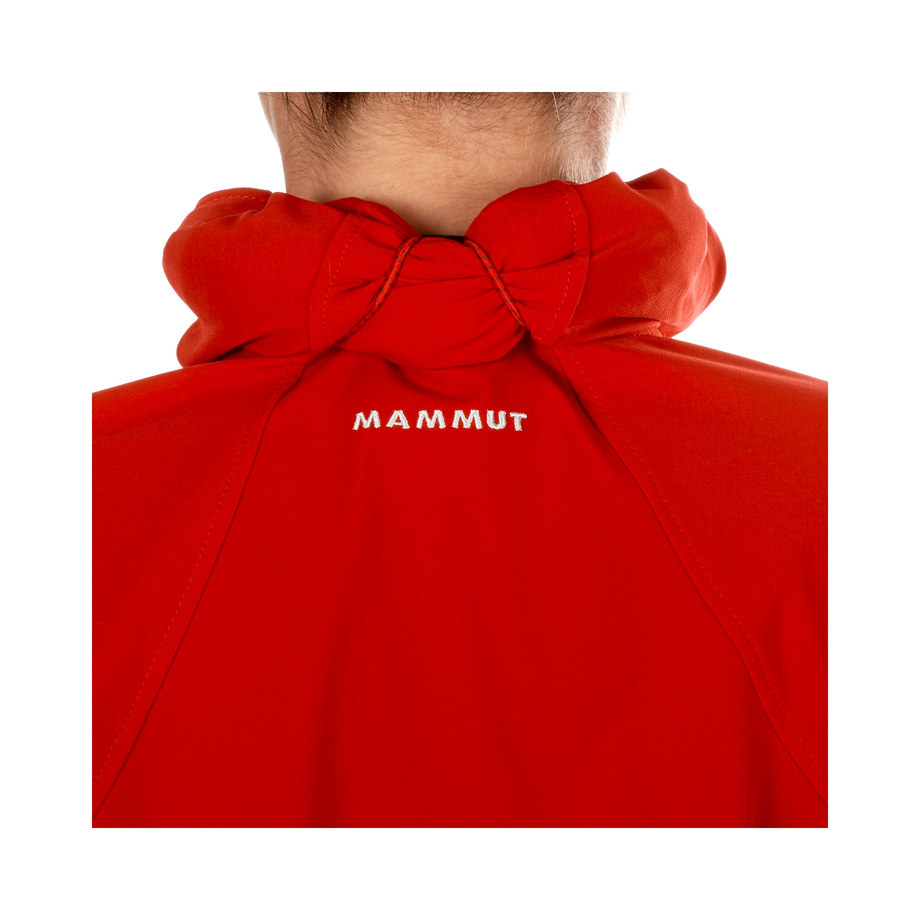 It's the sort of product that could serve you well year-round. I wore it as a simple jacket over a t-shirt on cool summer mornings and evenings and at higher levels in the mountains, but you could also use it as a mid-layer in the winter.
Another feature that I like is the wider arm hems, which allow you to get it on an off easily, even if you are wearing gloves.
The jacket packs away into its own pocket.
The look of the jacket is simple and classic.
Cons: What's not so good about the Mammut Runbold Trail Jacket
It feels quite heavy for a running jacket. To me, the jacket is more of a product that I might wear for travelling or walking. I think we are so used to having very lightweight clothing for running that anything that is even a little heavier feels odd.
The water repellency works for only some situations. It is fine in light drizzle but if it's heavier rain the fabric becomes soaked and damp. If you are sweating and also in wet weather the combination causes wet fabric. However, the fabric is very quick drying.
The roll up hood feature doesn't seem to work too well for me. You end up with an annoying bulk of hood at the back of the neck. Instead, I left the hood open when not in use.
It's quite pricey, given that is does not offer full water repellency.
Conclusion
It is not a product I would have normally picked up in a sports store but I found it more useful that I thought it would be. It's a useful item to keep in a rucksack for times when it suddenly gets a little cooler or the wind picks up.
For example, if you plan to run up to higher altitudes or you are not sure about the weather. It's easy to wear and soft on the skin.
| | |
| --- | --- |
| Score | |
| Design | 8/10 |
| Features | 8/10 |
| Performance | 8/10 |
| Value | 8/10 |
| Total | 8/10 |

Others jackets you may want to try:
Mammut Runbold Light
Gore Running Wear Windstopper hooded jacket
Ronhill Vizion Radiance Running Jacket
ASICS Accelerate Running Jacket
About the writer: Fiona is a keen runner, preferring off-road and hilly to flat and road. She lives in Scotland where the weather is fickle so needs to be prepared for all conditions. See more of what she writes at Fiona Outdoors.
All images Mammut.com except when stated.
Have you used the Mammut Runbold Trail jacket? Don't agree with this review? What's your opinion? Add your own comment to this review and share your experience and passion for running with others.
Not a member yet? Sign up here to be part of the RunUltra community and share tips and stories with thousands of fellow runners around the world.
We are a professional review site and our reviewers receive free products for testing from the companies whose products we review. We test each product thoroughly and give high marks to only the very best. We are independently owned and the opinions expressed here are by the reviewer's name shown.
Disclosure:
We use affiliate links in some of our reviews and articles. This means that if you purchase an item through one of these links we will earn a commission. You will not pay more when buying a product through our links but the income will help us to keep bringing you our free training guides, reviews and other content to enjoy. Thank you in advance for your support.