Last updated: 17-Aug-18
Insulated jackets, whether down, synthetic or a combination of both, are hugely popular among ultra runners. They provide much-needed warmth before events, afterwards and while stopping or overnighting during a longer race.
The requirements are a jacket that is light and packable, as well as being warm and easily wearable.
The Mountain Hardwear Ghost Whisperer jacket, is claimed to be the "world's lightest full-featured down jacket".
Mountain Hardwear Ghost Whisperer – Features
Ripstop 100% nylon fabric
Q.Shield Down 800-fill insulation
Low-profile quilted "down channels"
Zips into its own pocket
Single toggle hem
Soft elasticated cuffs
Carabiner attachment loop
Male and female designs
Various versions including vest, jacket, without or without a hood
Weight: 203g to 212g
Prices start at £150
Photo credit: Mountain Hardwear.
Pros: What's good about Mountain Hardwear Ghost Whisperer jacket
Picking up the hooded version of this jacket it feels so amazingly light. And when you put it on it almost feels as if it's not there. Yet despite it being so lightweight – it weighs just 212g – it really is very warm to wear.
Pop it on and within minutes you feel nice and cosy, even on a cold, wet and windy day.
The jacket also benefits from Mountain Hardwear's version of the modern hydrophobic down. Q.Shield Down is, in fact, "down fibres infused with a permanent water repellency that helps to maintain insulating performance even when exposed to moisture".
In other words, the specially treated Q.Shield down resists moisture even when damp and also retains its loft. This is different from traditional, un-treated, down which is rendered almost useless when wet because it clumps soggily together.
In addition, the design of the quilt patterning means that the down is evenly distributed across the jacket, and stays this way, because of the down channels.
The outer fabric doesn't look too robust but on closer inspection, after a bit of jostling around while messing about outdoors, it proved itself to be nice and durable. That's because it's made of hardwearing nylon.
The hood is neatly fitting and stays put when the zip is fully zipped up. There is also a nice soft fabric at the top-back of the zip to stop the zip irritating your chin.
Conveniently, when not in use, the jacket zips into its own pocket and can be stowed in a small corner of your rucksack. Alternatively, you can use the loop for attaching to a carabiner for extra security.
The colours and range of styles are superb and the jacket is great-looking and fitting when on.
Photo credit: Mountain Hardwear.
Cons: What's not so good about the Mountain Hardwear Ghost Whisperer jacket
There is very little not to like about the jacket. If I was to quibble, £250 seems like a lot to pay for such a lightweight hooded jacket but given how warm it is and the obvious design and technology that has goes into this jacket I think it's reasonable value.
I prefer a stuff bag rather than a pocket to stow the jacket. I find the zip on the pocket a lot more fiddly than popping the jacket in a bag. Then again, you can't lose the zip pocket but you can lose the stuff bag.
I would have liked a small inside pocket as well as the outer hand pockets. And thumb loops would have been a bonus but certainly not essential.
Conclusion
A wonderfully light yet really warm jacket filled with water-resistant down. There is very little to dislike and a great deal to like in the Mountain Hardwear Ghost Whisperer jacket.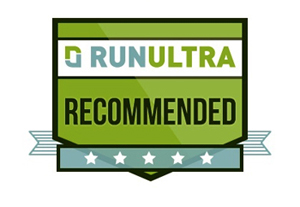 | | |
| --- | --- |
| Scores | |
| Design | 9/10 |
| Features | 8/10 |
| Performance | 10/10 |
| Value | 9/10 |
| Total | 9 |

Other jackets you may want to consider:
Jack Wolfskin Argos jacket
Helly Hansen Verglas jacket
Berghaus Furnace hooded jacket
Arc'teryx Cerium LT jacket
About the writer: Fiona is a keen runner, preferring off-road and hilly to flat and road. She lives in Scotland where the weather is fickle so needs to be prepared for all conditions.
Have you used the Mountain Hardwear Ghost Whisperer jacket? Don't agree with this review? What's your opinion? Add your own comment to this review and share your experience and passion for running with others.
Not a member yet? Sign up here to be part of the RunUltra community and share tips and stories with thousands of fellow runners around the world.
For more jacket reviews have a look at:
Helly Hansen Verglas
Jack Wolfskin Argo
Falke Hybrid
We are a professional review site and our reviewers receive free products for testing from the companies whose products we review. We test each product thoroughly and give high marks to only the very best. We are independently owned and the opinions expressed here are by the reviewer's name shown.
Disclosure:
We use affiliate links in some of our reviews and articles. This means that if you purchase an item through one of these links we will earn a commission. You will not pay more when buying a product through our links but the income will help us to keep bringing you our free training guides, reviews and other content to enjoy. Thank you in advance for your support.