Last updated: 27-Nov-18
By Luke Jarmey
Running packs are perhaps one of those unsung heroes of running product design. It can be rather tricky to produce a bag that is light, able to carry your required kit and at the same time remain comfy, ie not bounce around, whilst you run.
This delectable conundrum gets all the more complicated once these bags become larger and therefore required to carry more weight, often in the form of bulky overnight gear such as sleeping bags and tents.
Here at RunUltra, we'd generally define large capacity in the running world as being 20 litres going up to around 35 litres. A range of different bags have been tested with varying design intentions, from out and out racing, to self-supported adventure running.
Which bag is best for which scenario and is there an all-round king of the packs? Read on to find out.
Montane VIA Dragon 20
One of the smaller capacity packs on the test, the Montane ticks a lot of boxes for multi day running of the more minimal kind.
The main compartment is constructed of a very durable-feeling waterproof fabric with internal taped seams. Combined with its roll top design, this effectively acts as a dry bag of sorts. When you consider the pack comes in at an already light weight 350g, the fact that you don't need to pack a dry bag for all your kit is a bonus.
Whether you like hard flasks, soft flasks or a bladder is often very much a case of personal preference. In my case, I'm all about soft flasks, so I was delighted to see two high quality 500ml Montane-badged genuine Hydrapak soft flasks come included.
These fit nicely into two front pockets, one of which is zipped. Montane have chosen to place these lower down to increase stability. The trade-off here is that they aren't very easy to drink from whilst running, you really have to crane your neck down. However, to alleviate this issue, Montane do sell straws for these flasks.
The design is simple but functional. There's a range of differently sized pockets and it's quick to take on and off, which certainly isn't the case with some other packs. Aiding this is the un fiddly nature of the sternum clip and lower velcro band.
On the subject of that band: it's flexible and very comfy, but I wonder at the long term durability of velcro? To be fair though, it's been faultless so far in 4 months of extended use.
Without a back piece, this is a pack you have to take care in packing to avoid uncomfortable lumps and bumps. Personally, I would rather bear the slight price and weight increase for a removable back piece.
Perhaps the single most impressive aspect of the VIA Dragon 20, was its comfort and stability when running. This is arguably the number one criteria for me in a pack and it was fantastic in this regard. Its ergonomic design, simple but effective size adjustment and stretchy velcro band, all played a part here.
| | |
| --- | --- |
| Score | |
| Design | 9/10 |
| Features | 8.5/10 |
| Performance | 9/10 |
| Value | 8.5/10 |
Raidlight Responsiv 25L
Designed in conjunction with two times Marathon des Sables winner, Elisabet Barnes, it's pretty clear from the offset that the Responsiv 25 is unashamedly designed as a race specific speed demon of a bag.
Constructed from very lightweight ripstop fabric with mesh backing, the pack feels incredibly breathable. Furthermore, its cut and adjustability is first rate. It was probably the least constrictive pack on test and felt like it did very little to impede your movements whilst running.
The two simple and stretchy sternum straps probably help here.
Now, onto that adjustability. This is certainly its most unusual and innovative feature (at least for a backpack). Essentially using a 'BOA' like ratcheting system that Raidlight call its 'micrometic loop control system'. Which yes, sounds like something off Star Trek. The two ratchets are part of a criss-cross wire system on either side of the pack, that contracts with minute adjustability as you rotate the dials.
This really lets you dial in that fit and contributes to the torso hugging feeling of the pack.
I did initially wonder at the durability of the ratchets, particularly if sand or grit got into the mechanism. Well, I used it throughout a record breaking dry and dusty summer here in the Alps and it has performed without hiccup.
I can't attest to the mechanisms durability in a sandy, desert environment. But as the pack was essentially designed and tested at the world's most famous desert race by a X2 winner, it would be fair to presume the positive credentials in this regard.
It's an expensive pack at £170, but you do get two high quality 600ml soft flasks included for that price. Furthermore, they come with straws, making drinking whilst running a breeze.
25l puts it in the middle range, size-wise, of the packs on test. Though you often don't need to carry one on a multi-day race, with careful packing the bag can even accommodate a tent. However, when fully packed like this, the stability is diminished.
This coupled with the lighter weight fabric and lack of a removable back piece, means the Responsiv 25l probably wouldn't my first choice for fully self-sufficient multi day running adventures. However, as a dedicated race pack, it really does perform exceptionally well – and with a ridiculous weight of 280g, you'd be hard pressed to find a better option for competitive use.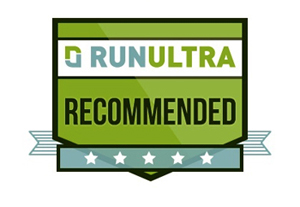 | | |
| --- | --- |
| Score | |
| Design | 9.5/10 |
| Features | 9/10 |
| Performance | 10/10 |
| Value | 7.5/10 |
Salomon Out Peak 20
A very high tech looking option, the Salomon Out Peak 20 actually has 22l of volume, weighs 480g and is surprisingly versatile.
Certainly not a simple pack, it's covered in a rather impressive array of toggles and little straps, which I was initially perplexed as to how to correctly adjust. Not usually one for reading instructions, in this case they would have made a nice inclusion.
Anyhow after some trial and error I got it all adjusted, packed up with all my overnight gear and out on the trails. The fit is very good and the flashily named 'Sensifit' technology does a great job in keeping the pack hugged to your upper torso.
There is so much adjustability built into the pack, I'd be surprised if it didn't conform to the majority of body shapes out there.
I noticed a tiny bit of bob when I was running, but it was marginal and made the Out Peak 20 one of the better performers on test for running comfort.
There are 3 elastic sternum straps, which when done up are extremely comfortable and help with the 'enveloped' feeling. However, for some reason the hooks and loops are tiny and really quite fiddly to do up. Not a big deal if you're hardly ever taking your pack off, but a tad annoying when you do.
I really like the flexible, removable back piece. It clearly doesn't add that much weight, but definitely helps with bag structure and ease of packing with a smaller load. Weight warriors can remove it to save further grams still; a handy feature for racing.
Now one of my favourite features is the compression system. The two draw strings on either side work well in clinching the main compartment down for smaller missions. And then opening right up for those big trips.
The main compartment has a handy fold out compartment divider. When coupled with the two zipper system, it makes accessing kit a breeze. We're not all ridiculously organised human beings and on most packs it can be blooming annoying having to unpack everything to get to that vital item at the bottom!
The pole attachments work well and there are two nicely sized soft flask holders on the front, designed for 500ml bottles. With an almost SWAT-vest-like enthusiasm, Salomon have managed to fit 6 pockets on the front, 4 of them zippered.
The main compartment is made of a very tough-feeling material; whilst the vest portion is a similarly tough but reasonably nice-feeling mesh. It seems built to last, whilst remaining very comfortable. Well done Salomon.
I was told this was designed primarily for hiking, which is surprising, considering it seems to be jam packed full of features making it perfectly suited to running. Furthermore, I can't seem to see any discernible difference between this and the S-Lab Peak 20 pack, which is a favourite of Salomon pros on multi day running missions:
In any case, this is a very good pack for multi day running trips. When packed correctly, you can really fit in everything you'd need. You have a bit of weight penalty over the other packs in its size class. However, a lot of runners will see that as a price worth paying for the versatility.
| | |
| --- | --- |
| Score | |
| Design | 9/10 |
| Features | 9/10 |
| Performance | 9/10 |
| Value | 7/10 |
OMM Classic 32
In a marked departure from the vest style packs on test, the OMM Classic 32 is well, OMM's take on the classic backpack. Without any obvious signs of radical design and relatively quite conservative looking, I was interested to see if this still functioned well for running.
At 32 litres, there's all the space you'll ever need for a multi-day trip. For a shorter day run, toggles let you compress the pack down. Netting on the front is a useful quick access stowage section for jackets etc.
There are two decent-sized, drawstring side pockets, handy for water bottles, a very generous zippered pocket on top and smaller velcro tabbed mesh pocket on top of that. Two large zippered hip pockets round out the extra storage facilities.
So how does it run? Well in short, very well for a traditional backpack. OMM have gone for a tried and tested approach with subtle refinements. Depending on whether the back pad's used or not, it's either 700g or 550g.
There's clearly been some real thought put into the ergonomics of the straps; they have a nice curve to them that really wrap around your body. I've never been a fan of super thin minimal shoulder straps, especially on higher capacity packs, so it was pleasing to see some thick luscious foam used here.
An adjustable sternum strap on a slider rounds out these features, which all do a solid job of stabilizing. In my experience, it didn't run quite as well as the vest packs, with a slightly more noticeable side to side motion and a hair more bounce.
However, I will say this is relatively marginal and in this regard, it's by far the best classic-style running pack I've used.
Now where this pack really shines, is its versatility. First off, you won't look like an absolute plonker wearing it down to the shops or gym. Yes, I know this is supposed to be a running review. But in reality, we aren't all blessed with a gear cave and it's always nice to own kit that can be used for multiple purposes.
It has a gear rail on the bottom and numerous hooks, that can all be used with a range of OMM accessories. In fact, on their website they mention that this bag has been used for skiing, biking, hiking and even summiting Everest!
Hydration wise, you can use it with a bladder and/or stick some bottles in the sides. To be honest, I see this as its main disadvantage in comparison to a vest design. You simply don't have the real estate on the front to carry easily accessible water bottles etc.
That said, the waist strap pockets are useful for energy bars, and if you like using water bladders this set up could very well be sufficient.
As I've alluded to earlier in this group test, I really like removable back supports. You have the option of either saving weight or having more structure when carrying less items etc. The OMM Classic 32 nails it in this regard, by having a removable back support that's actually a fold out minimal sleeping pad.
I'll certainly reiterate the minimal here, but it'll do the job on fast and light excursions.
In summary, this is a great pack for someone who wants a very versatile option, that can be used for all manner of activities.
| | |
| --- | --- |
| Score | |
| Design | 8/10 |
| Features | 8/10 |
| Performance | 7.5/10 |
| Value | 9/10 |

Ultimate Direction Fastpack 35
Now onto one of the largest capacity packs on test, the Ultimate Direction Fastpack 35. This is an interesting one, as it matches high capacity with a vest style design. Would that be a great combination or design ambition gone a tad too far?
Well, after donning the pack and quickly adjusting the straps, I was immediately struck by just how comfy it was. Loading it up and going for a run, this feeling prevailed. Considerable thought has clearly gone into the shape of the shoulder/vest portion of the straps, the curve of the back piece and the placement of the supporting straps.
It results in a truly stable system with minimal bounce. In fact, I'd go as far to say, it was the most impressive on test in this regard. Perhaps on par with the Montane with a light to medium load, but more effective once you start piling in the weight.
I must point out that this is my own experience and different packs will work marginally better or worse with different body shapes.
The pack's back piece is made from their INFIKNIT mesh, which doesn't have any seams or stitching. Basically this means that running without a top on should be comfy. Which it was.
Ultimate Direction specialise in making running packs and this is clear to see. The Storage options on the front are well thought out, with easy space for two 500ml soft flasks. One in a zippered compartment and the other in a draw sting mesh pocket.
Of course the zippered compartment would also be handy for a phone or similar, but I ended up just shoving mine in the better protected waterproof pocket on the back. Another storage option for water are two sizeable mesh pockets on the side, certainly adequate for large hard flasks.
Additional pockets on the front are great for energy bars and other titbits. Straps and loops are included for poles and even ice axes.
The main 35 litre compartment is a roll top design, made of very durable 100D triple ripstop fabric that in my experience seems reasonably weather resistant. I suspect the lack of inner taped seams, would mean a little water ingress in a sustained heavy downpour.
There is a separate compartment on the front with a waterproof zip. Again the lack of taped seams here might mean that it's not 100% waterproof, but still reasonably rain proof.
Back to that main compartment, what I really like is how compressible it is. Rolling it tight and cranking down the side straps massively reduces the size of the pack. You've got 35 litres of space when you need it, and a much smaller looking and feeling pack when you don't.
That said, the weight is the compromise here. At 710g, it's far heavier than some of the other, albeit smaller, vest style packs. However, as the pack piece is removable, you can shave further grams off. Also, weight should be very carefully balanced against comfort.
As when carrying large loads, a heavier, but much more comfortable bag, such as the Fastpack 35, will often feel lighter when running than a lighter bag. It's worth noting here that the Fastpack also comes in a 25l version, which weighs in at 555g. Perhaps a better choice for racing, especially if you don't have to carry a tent.
Whilst the bag on the whole is very easy to use and quick to take on and off, I do find the main compartment's clip design unnecessarily fiddly. Essentially the clips only slot together when both turned a particular side up.
Not a huge deal by any means, but I did find it annoying and I really don't see why they couldn't have just normal style clips, like they used elsewhere on the pack.
Anyhow, that clip niggle aside, this is a fantastic running pack. It feels a lot lighter when wearing than it actually is and works incredibly well with both bigger and smaller loads. Well done Ultimate Direction.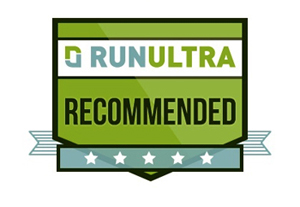 | | |
| --- | --- |
| Score | |
| Design | 9.5/10 |
| Features | 10/10 |
| Performance | 10/10 |
| Value | 7.5/10 |
Inov-8 All Terrain 35
Another traditional style pack and from another respected British brand, inov-8. With 35 litres to play with, the All Terrain 35 is designed not just for running, but fast packing and mountaineering.
Using a roll top enclosure in conjunction with straps on the side, you can compress the size down reasonably well. And when required, the main compartment, as you would expect, is very roomy.
I like the zippered side pockets, which worked well for my tents poles and kept them nicely out of the way. The back panel isn't removable, but it does have zippered access to the main compartment. I'm not always particularly organised with packing, so I'm a big fan of this feature.
The shoulder straps are thin and lightly padded to keep weight down. However, I would have happily taken a slight weight hit for some cushioning, or perhaps a wider strap for better pressure displacement. With a light load, it wasn't a problem, but a heavier load did cause a bit of discomfort.
There are two pockets on the front, adequate for small soft flasks or energy bars.
Now looks, shouldn't really matter. But we're only human, so they do. And in my opinion this is a particularly smart and stylish looking pack. And like the OMM Classic 32, can easily be worn out and about in town.
Adjustability is particular strong point, with nearly every strap able to be independently tweaked. And by using a rather innovative approach to the traditional cross strap system, it feels very stable, especially for a traditional style pack, when running.
However, the middle cross strap slipped nearly every time I took the pack off and had to be readjusted when I put it back on. I did find this pretty irritating. Especially as it's a traditional style pack, so you don't have all the easy access pockets on the front like you do with a vest.
This issue was more pronounced the heavier the load was. Though it's worth bearing in mind that if you're someone who doesn't take the pack on and off all the time, it's less of an issue.
There's a delightful array of attachment points for poles, ice axes and even crampons and a rope making the versatility another strong point. This is a real plus for people who like me who partake in multiple mountain sports but who don't like spending a fortune on separate gear for them all.
All in all, the All Terrain 35 does certain things very well, chiefly multi activity versatility, adjustability and stability whilst running, but it does have some design shortcomings. How minor or major these will be, really come down to your expected load. Lighter bulky loads, it works well with, heavier bulky loads, not so well.
For this reason, the smaller All Terrain 25 litre version might in fact be the more appropriate choice for this design approach.
| | |
| --- | --- |
| Score | |
| Design | 7/10 |
| Features | 8/10 |
| Performance | 7.5/10 |
| Value | 8/10 |

Conclusion
On the whole, the bags tested here all performed well as running packs. Stability and lack of bounce, arguably one of the most important aspects for this kind of use, was good to excellent in all of them. However, other factors made them suited for slightly different scenarios.
It's also worth bearing in mind that a few of the models are available in smaller or larger capacities.
As a dedicated race bag, it's hard to look past the Raidlight Responsiv 25l. Coming in at 280g, that weight relative to its size – and crucially comfort whilst running – is superb.
For an all-round bag on the smaller end, it was a toss-up between the Montane VIA Dragon 20 and Salomon Out Peak 20. I had quite a thing for the VIA Dragon's simple and comfy design which worked very well for me.
But if adjustability and increased versatility are of paramount importance, the Out Peak would be a great choice.
When it comes to a bigger design though, and probably the one bag out of the whole lot, that I would pick to fit in with my personal requirements – this being no racing, but lots of overnight mountain running trips – what would I go for?
It would have to be the Ultimate Direction Fastpack 35. It just performed fantastically in all the most important factors for my intended use. Though heavier in weight and therefore not necessarily the best choice for racing, comfort and stability is amazing.
It's easy to use and great to access items from whilst running. Furthermore, it works really well when compressed down, all whilst giving you the option of a roomy 35 litres when needed.
Have you used any of these running packs? Don't agree with this review? What's your opinion? Add your own comment to this review and share your experience and passion for running with others.
Not a member yet? Sign up here to be part of the RunUltra community and share tips and stories with thousands of fellow runners around the world.
We are a professional review site and our reviewers receive free products for testing from the companies whose products we review. We test each product thoroughly and give high marks to only the very best. We are independently owned and the opinions expressed here are by the reviewer's name shown.
Disclosure:
We use affiliate links in some of our reviews and articles. This means that if you purchase an item through one of these links we will earn a commission. You will not pay more when buying a product through our links but the income will help us to keep bringing you our free training guides, reviews and other content to enjoy. Thank you in advance for your support.
All images Luke Jarmey. See more of his images here: @lukejarmey