Last updated: 20-Aug-18
Most ultra runners know about the brand inov-8. No doubt, many runners own a few pairs of inov-8 trainers, whether off-road or road versions. Now the company has launched their redesigned ROCLITE collection.
A popular choice for hill running, especially when it will be wet and muddy, Roclite shoes have a reputation for great grip and comfort.
With inov-8 you need to choose the right shoe to suit the terrain. I think the Roclites are ideal for soft terrain, mud and hills as well as beaches but not for harder packed trails. You need to choose an inov-8 shoe with less aggressive lugs and more cushioning.
Many people own several pairs of inov-8s for different terrains and conditions. This can be costly although the shoes do generally suit the specific terrains very well.
The new collection includes the inov-8 Roclite 290, 305, 305GTX, as well as Roclite boots 325 and 325 GTX.
I have been testing the 305, 325 and 290 shoes. They are all sold in male and female fit.
The 305 and 305GTX have gaiter clips for fitting inov-8 gaiters.
Roclite collection features
Sticky traction
Next-generation ROCLITE outsole features Tri-C rubber compound and multi-directional claw-shaped cleats, each with a wide contact area, providing an "unrivalled grip over unpredictable terrain and the quick release of debris".
Cushioned ride
Two-piece POWERFLOW delivers 10% better shock absorption and 15% better energy return than standard midsoles.
Good fit
Built around the natural anatomy of the foot, the new ADAPTERWEB met-cradle adapts to the natural movement and swelling of the foot in motion. The 290 features a Y-LOCK system to hold the heel in place and offer support, while in the 305 and 325 it's described as an X-LOCK system.
Underfoot protection
Second-generation META-SHANK is a rock plate that protects the underfoot from sharp rocks, while a strengthened rubber toe-cap shields the toes from obstructive debris.
Three pairs of inov-8 Roclite trainers on test:
Photo credit: inov-8.com
inov-8 Roclite 290
The lightest shoe in the collection that is meant for racing off-road or for people who prefer their shoes to be as light as possible.
Features
Fit: Standard
Drop: 4mm
Footbed: 6mm
Lug Depth: 6mm
Weight: 290g
Price: £105
The shoe feels light and very easy to wear right from the outset. When weighing the 290 and 305 in bare hands there doesn't appear to be much difference but on the foot the 290s do feel lighter and more responsive.
This is a flat, neutral style of shoe and might not suit everyone, especially if running longer distances.
I think that weight has been shaved from the sole and cushioning. It's not that noticeable but that is normal for lightweight racing shoes.
The shoes still look and feel well-made and have great attention to detail. The fit is excellent and easily adjustable and the soles are super grippy. The cushioning is fine, so long as you do not venture on to hard and stony trails where you can feel they stones under the foot.
For longer distance event and training I would prefer to wear the 305s as they simply feel more comfortable.
The standard fit might not suit people with wide feet but for me, with narrow feet, they are great. I would reserve these shoes for events and wear the 305s for training.
I think £105 is a little pricey for racing shoes.
PROS: Grippy soles, comfortable fit, lightweight.
CONS: Price, only for racing, not for hard trails.
Photo credit: inov-8.com
Conclusion
A good choice for shorter races if the terrain will be muddy and soft. They are not ideal for hard packed or stony trails. If short of money, buy the 305s instead rather than as well as.
| | |
| --- | --- |
| Score | |
| Design | 7.5/10 |
| Features | 8/10 |
| Performance | 9/10 |
| Value | 7/10 |
| Total | 7.5/10 |


Photo credit: Fiona Outdoors.
inov-8 ROCLITE 305
Meant for every day off-road running and races. They are designed to cope with multi-terrains.
Features
Fit: Standard
Drop: 8mm
Footbed: 6mm
Lug Depth: 6mm
X-LOCK system holds the heel in place.
Weight: 305g
Price: £115 (GTX version at £125).
The shoes are ideal for wet and muddy hills. We have a lot of these in Scotland and so inov-8 Roclites have been my go to off-road hill running shoes for years.
I think the soles on the new 305s are even grippier than I recall. Plus, there is more comfort in the upper part of the shoe. I wonder if they are less durable and robust though because they have been built with more comfort.
The lacing system gives good support and while I have a narrow foot my heel was kept nicely in place and my foot did not move about.
The footbed and drop feels perfect for me for longer distance training and races.
The soles on previous Roclites have been very long lasting; far more durable than and other off-road brand, so I would trust the Roclites to stand the test of many miles of running.
Photo credit: Fiona Outdoors.
They are not well suited to hard packed trails because there is not enough forefoot cushioning. In extremely muddy conditions, the lugs do not allow all the mud to easily escape.
I have found them to be very good for snowy and icy trails.
PROS: Grip, comfort, lacing system.
CONS: They get clogged in thick Scottish mud, possible less durable uppers.
Photo credit: Fiona Outdoors.
Conclusion
A go-to pair of hill running trainers for me. These are great shoes and ones I have trusted for many years. The updated version is more comfortable and a nicer fit than the last pair I owned. These shoes are best for averagely muddy hills and paths and for wet and slippery slopes, as well as snow. If you want a more waterproof version, choose GTX.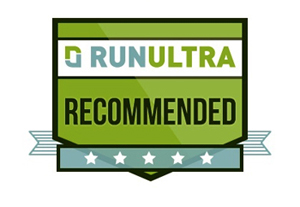 | | |
| --- | --- |
| Score | |
| Design | 9/10 |
| Features | 9.5/10 |
| Performance | 9.5/10 |
| Value | 8.5/10 |
| Total | 9/10 |


Photo credit: Fiona Outdoors.
ROCLITE 325 boot
For trail running and fast walking on multi-terrains. Offer flexibility and ankle stability and are aimed at people taking part in more adventure-style events, as well as runners who walk and run during their outings.
Features
Fit: Standard
Drop: 8mm
Footbed: 6mm
Lug Depth: 6mm
X-LOCK system for holding heel in place
Weight: 325g
Price: £125. (GTX is £135)
This was a first for me, wearing boots to run in. I was pleasantly surprised. I wore the boots for a muddy and wet ascent and descent of a steep local hill. I mainly walked fast although I did break into a bit of a run on occasions.
While my partner slipped and fell a few times in his walking boots, I stayed upright.
The boots felt light and very comfortable from the outset. My feet stayed nicely in place and I didn't need to wear them in at all.
While I prefer less restriction around the ankle for general running, if I were doing an adventure-style event or I wanted to hike fast across difficult terrain, such as grassy tussocks and heather, these would be an excellent choice.
The GTX (Gore-Tex) version make a lot of sense and I think I would pay the extra £10 for that.
They are not ideal for winter conditions in Scotland or for anything too rough because they are generally not robust or durable enough. Too much Scottish heather, rocks and ferns would wear out the uppers, and potentially the soles, in no time.
PROS: Ankle support, lightweight, supportive, grip
CONS: Uppers could be more durable and robust.
Conclusion
I think these boots are best for summer and spring conditions and for fast hiking and running on paths, especially muddy hill paths. They surprised me by being more useful than I had imagined they would be.
| | |
| --- | --- |
| Score | |
| Design | 8/10 |
| Features | 8/10 |
| Performance | 9/10 |
| Value | 8/10 |
| Total | 8/10 |
Have you used the inov-8 Roclite shoes? Don't agree with this review? What's your opinion? Add your own comment to this review and share your experience and passion for running with others.
Not a member yet? Sign up here to be part of the RunUltra community and share tips and stories with thousands of fellow runners around the world.
We are a professional review site and our reviewers receive free products for testing from the companies whose products we review. We test each product thoroughly and give high marks to only the very best. We are independently owned and the opinions expressed here are by the reviewer's name shown.
Disclosure:
We use affiliate links in some of our reviews and articles. This means that if you purchase an item through one of these links we will earn a commission. You will not pay more when buying a product through our links but the income will help us to keep bringing you our free training guides, reviews and other content to enjoy. Thank you in advance for your support.