Last updated: 16-May-19
On Running state that the Cloudsurfer shoe offers "training shoe comfort and racing-flat speed". The shoe is aimed at road running but can also be taken off-road on to hard-packed trails.
I have been testing the On Cloudsurfer shoe on roads and some trails.
Photo credit: On Running
Features include:
On's own CloudTec cushioning system comprising a series of hollowed tubes.
Swiss-engineered Speedboard for "soft landings that convert to explosive take-offs"
Supportive mesh upper
External injected TPU heel counter to reduce weight but keep heel firmly in place
Sole includes an extra layer of EVA cushioning for shock reduction and durability
Neutral shoe
Heel-toe drop: 6mm
Weight: 330g (US M 8.5) women's 265g US7
Price: £135
Photo credit: On Running
Pros: What's good about the On Cloudsurfer shoe
I have a long and narrow foot and usually find a running shoe to be too wide at the forefoot. However, the Cloudsurfer fits me well. As soon as I put my foot into the shoe it feels at home.
The shoe also looks good. We are advised not to buy running kit based on how attractive it is, but when a shoe looks good and feels right it's a bonus. ON sell shoes in bright colours and the design is unusual and modern.
The Cloud sole is interesting and I have been asked many times about the shoe when I am running with other people. It looks fascinating with the smaller pockets of air on the sole of the shoe.
The Cloudsurfer is a neutral running shoe, which I like and the heel cup is supportive but not overly stiff.
It's immediately obvious that there is a lot of cushioning in the sole of the shoe. Walking in the shoe feels comfortable and when running the shoe is nicely cushioned underfoot, especially in the forefoot. It's not spongy, rather it has give but with a good push off.
I think this might be what ON mean when they describe the Swiss-engineered Speedboard for "soft landings that convert to explosive take-offs". I don't feel like it was "explosive" but I did feel as though there was a good push off from the shoe.
I think that with some cushioned shoes you lose some of the momentum of your foot strike because the sole is too soft.
The shoe is fairly lightweight. It's not super lightweight, like a race shoe, but then it is a training shoe and you want a shoe that will be long-lasting and durable. I think ON have got the weight and durability about right.
The shoe is not stiff underfoot, yet nor is it too flexible. It feels just about right for a road running shoe. I really like how I run in the shoe, I feel as though I run with good posture and a nice foot strike. My foot feels mostly well supported by the upper but not overly structured.
The cushioning appears to be more evenly distributed across the sole of the shoe, rather than in one larger area of the forefoot or heel.
The On Cloudsurfer shoe is a pleasure to take out for a run and I would happily run many miles in it.

Photo credit: On Running
Cons: What's not so good about the On Cloudsurfer shoe
The laces in On shoes are frustrating. In every pair I have owned and tested the laces are too narrow and smooth and this means they untie quite easily. I have to tie them in a double knot but even then they work themselves loose. The laces are also a bit too long.
I find that my heels move up and down in the On shoe unless I tie the laces very firmly. It seems to be more noticeable than in shoes made by other brands. I am not sure why this is but I tend to stop half way through a long run to retie the laces and that maintains the support of the upper across the shoe. This is an annoying part about the On shoe but I do like them overall so I put up with the nuisance.
Another issue with On shoes is that stones get trapped in between the mini Cloud cushions and in the channels along the length of the shoe. The company reports that it has tried to change the design of the sole to reduce the number of stones that get caught but I find that the stones on my driveway are almost the perfect size to get trapped in a Cloud shoe sole.
When running on rough ground, rather than pavement, I often pick up a stone or two. The stones are easy to remove but you do notice them sticking out and clicking against hard surfaces.
If you have a very wide foot this design might not suit you.
If you want to wear the shoe on trails, as well as on pavement, you might find the upper is quickly destroyed because there is no rand (layer of protection around the shoe) to protect the fabric upper.
The price tag of £135 seems quite high for a mid-range training shoe.
Conclusion:
On make trendy looking shoes and the modern design of the sole is vey innovative. I like the cushioning of the CloudTec sole and I feel it is an aid to my running. The fit is great for my foot. The price is a bit high but I guess you are paying for the innovative design.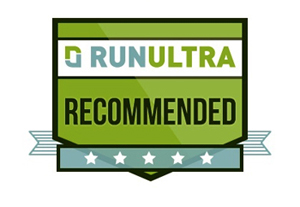 | | |
| --- | --- |
| Score | |
| Design | 9/10 |
| Features | 8/10 |
| Performance | 9/10 |
| Value | 8/10 |
| Overall | 9/10 |
Others to try
Hoka One One Arahi 3
361 Degrees Sensation 3
New Balance Fresh Foam 1080
About the writer: Fiona is a keen runner, preferring off-road and hilly to flat and road. She lives in Scotland where the weather is fickle so needs to be prepared for all conditions.
Have you tried On Cloudsurfer shoes? Don't agree with this review? What's your opinion? Add your own comment to this review and share your experience and passion for running with others.
Not a member yet? Sign up here to be part of the RunUltra community and share tips and stories with thousands of fellow runners around the world.
We are a professional review site and our reviewers receive free products for testing from the companies whose products we review. We test each product thoroughly and give high marks to only the very best. We are independently owned and the opinions expressed here are by the reviewer's name shown.
Disclosure:
We use affiliate links in some of our reviews and articles. This means that if you purchase an item through one of these links we will earn a commission. You will not pay more when buying a product through our links but the income will help us to keep bringing you our free training guides, reviews and other content to enjoy. Thank you in advance for your support.