Last updated: 30-Dec-19
The new On Running Cloudventure shoe series is "made for trail runners on a mission". The brand states: "Cloudventure is a lightweight, fast and engineered shoe to handle anything the mountains can throw at you, whether you're going up or down."
I have tested the shoes on a range of terrain from tarmac to hard-packed forest trails and on the hills.
The new Cloudventure shoe will be available on-line from the end of November. I was chosen to test the shoe prior to launch.
Features
Missiongrip outsole with an enhanced traction pattern and a specially selected grip-rubber compound.
Forefoot grips studs: Triangular grip-pattern built from a newly developed "sticky" rubber.
Midfoot grip studs: To secure your landing on raised ground.
Square Elements: For downhill cushioning and for soft ground bite.
Traction pattern: Zig-zag channels combine with flatter details to prevent slipping on a variety of surfaces.
Two-layer mesh upper for comfort and support.
Waterproof upper option with membrane.
Zero Gravity cushioning for shock absorption.
Specialized Speedboard to "drive you forward when running off-road".
Cloudventure £125.
Cloudventure Waterproof £140.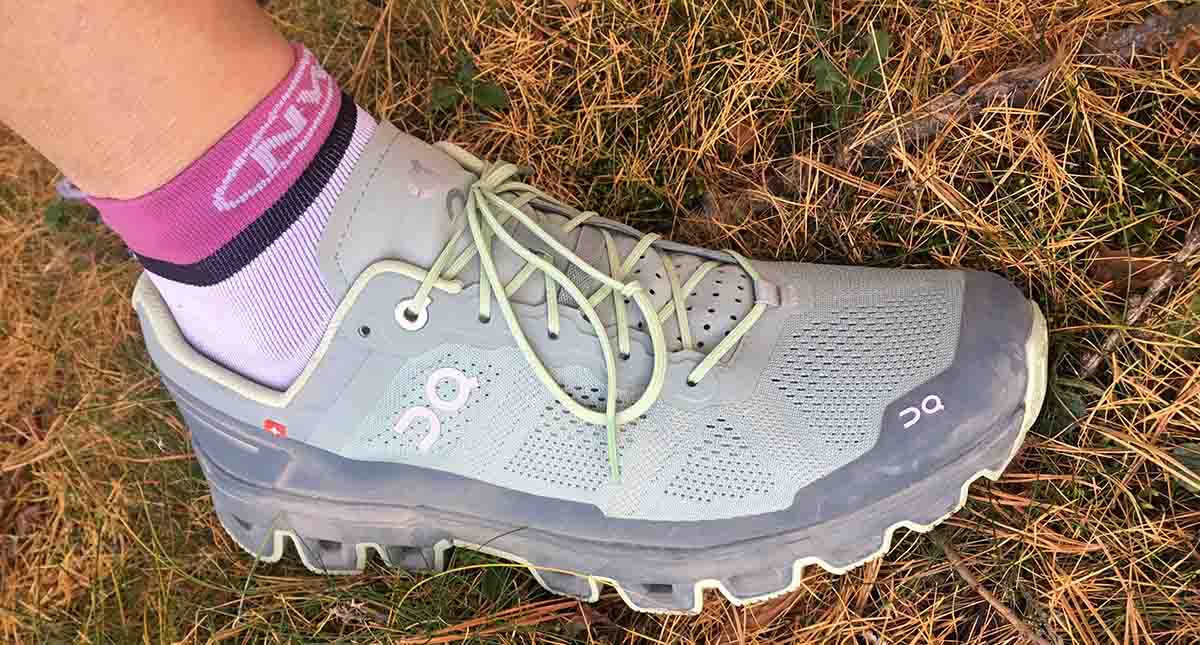 Photo credit: Fiona Outdoors.
Pros: What's good about the On Running Cloudventure shoe
The On Running Cloudventure shoe looks great and feels good when you put it on. It fits comfortably, with no annoying rubs or annoyances. I like the lightly padded tongue and the slight stretch in the upper.
I wasn't sure I would like this shoe because I had tested the On Running CloudAce and found it to be a bit heavy and stiff for my liking. However, the Cloudventure feels like its lighter and more responsive sibling.
The cushioning feels about right: The shoes are not too soft, yet they are also not too stiff. In fact, the cushioning is perfect.
Sole flex feels about right too. I actually prefer a fairly flexible sole for trail running, such as the Salomon Speedcross shoe, but I know that most people prefer a stiffer sole. The Cloudventure sole is fairly stiff but not overly so. It means that you get a supportive run when on trails and hills.
The heel cup looks and feels stiffer than I am used to but when wearing the shoe I didn't find it noticeable. In fact, I like the depth of the heel cup and how well the shoe moulds to my heel. The stiff outer is a benefit when running on rocky terrain because it will offer more support and protection.
But it's the sole that most people will be most intrigued by. On Running have developed a very different sole from other shoe makers with pockets of rubber creating a series of air cushions all over the sole.
There are larger and smaller pockets depending on where On believe you will need more cushioning or give. So, at the heel these "cloud" style cushions are larger, while at the forefoot they are shallower and more compact.
The sole has also been developed with lugs to offer traction for trail and hill running. And there is a "speedboard" that has been developed to drive you forward while running.
The aim is for comfort and grip while running uphill and downhill.
Does it work? Well, I found the shoe comfortable, grippy and cushioned. It felt that wherever your foot landed and whatever it landed on, from stones to mud and larger rocks, you still had a cushioned ride.
The cushioning is not like Hoka trainers, with one big area of cushioning, but rather it is where you might need it. This means the shoes a fairly lightweight even while being robust and durable. It's a clever design.
I felt confident running on almost all terrain (see below) and even on harder packed rails and tarmac. It is good to find a trail shoe that runs well on a variety of terrain because one run is rarely on the same terrain for long.
An added bonus is that the shoe works just as well for trail walking, so I have been using them for both walking and running.
I have not tested the waterproof version so I can't comment on that.
Photo credit: On-Running.com.
Cons: What's not so good about the On Running Cloudventure shoe
I am not a fan of pale green (but I do love red).
The laces are too thin and slippery. I find they form knots and they do not stay tied. I had to double knot them and even then they come apart during a run.
The shoe is not for people who like a minimalist feel. The soles are cushioned and you do not feel a lot of the ground through them.
I know that On Running have said they have changed the channel widths in the soles to prevent stones getting caught but they still do. Annoyingly, the stones on my driveway appear to be the perfect size for On Running channels.
In extreme Scottish mud, Cloudventure do not cope so well. The lugs simply aren't prominent enough to grip.
I am not sure I felt any "drive forward" from the speedboard, but maybe I wasn't sure what I was looking for.
Photo credit: On-Running.com.
Conclusion
It's great to see innovation in the running shoe world and On Running make very different soles.
I like the Cloudventure sole for its cushioning, responsiveness and grip.
There are a few niggles about the shoe but apart from that I have been very happy to wear it for many runs – and walks – over the last month.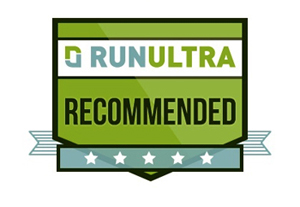 | | |
| --- | --- |
| Score | |
| Design | 10/10 |
| Features | 9/10 |
| Performance | 9/10 |
| Value | 8/10 |
Other shoes you may want to try:
On Running CloudAce
HOKA ONE ONE Torrent Trail
HOKA ONE ONE Clifton 5
Scarpa Neutron 2
Have you used the ON Running CloudVenture running shoes? Don't agree with this review? What's your opinion? Add your own comment to this review and share your experience and passion for running with others.
Not a member yet? Sign up here to be part of the RunUltra community and share tips and stories with thousands of fellow runners around the world.
We are a professional review site and our reviewers receive free products for testing from the companies whose products we review. We test each product thoroughly and give high marks to only the very best. We are independently owned and the opinions expressed here are by the reviewer's name shown.
Disclosure:
We use affiliate links in some of our reviews and articles. This means that if you purchase an item through one of these links we will earn a commission. You will not pay more when buying a product through our links but the income will help us to keep bringing you our free training guides, reviews and other content to enjoy. Thank you in advance for your support.