Last updated: 24-Oct-18
Osprey's new Rev 18 Hydraulics pack is aimed at trail runners. It boasts a "body-hugging" design to keep movement of the pack to a minimum.
Osprey has created a BioStretch body-wrap harness and body-belt, and added two sternum straps, to ensure that the pack stays still while you run.
There's 18 litres of space for all your essentials and an in-built 2.5l hydration bladder.
Other innovative features include a DigiFlip pocket on the harness so you can check your GPS or operate your phone on the move.
Features
Dual PowerMesh harness pockets for gels and bits and pieces
Bungee compression system
Zipped panel access
Zipped scratch-free sunglasses and electronics pocket
Reflective graphics
Zipped stretch mesh body belt pockets, plus internal key attachment clip
Sternum strap buckle with magnet for hydration tube
Weight: 0.52kg (M/L)
Fit: Unisex (S/M and M/L)
UK £90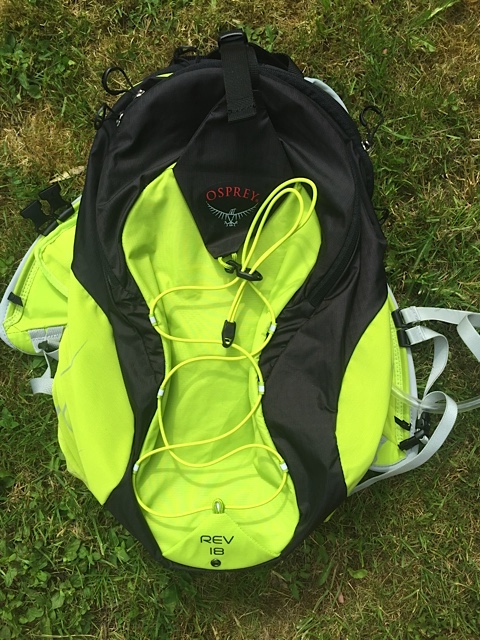 Pros: What's good about the Osprey Rev 18 Hydraulics pack
Osprey are renowned for making packs with seemingly infinite attention to detail, numerous features and for every type of outdoors activity. I have a number of Osprey packs and I like them all very much. The Rev 18 has many more details and features than you could ever imagine in a trail running pack.
The basics are great. Eighteen litres is a good size of pack for a long day of running. There is enough room for spare clothes, food and other essential bits and pieces. At a push you might even fit in a lightweight sleeping bag and bivi bag.
The pack comes with a 2.5l water bladder that fits into a zipped back pocket. The wrap over sealed system for keeping the water tight inside the bladder is very good. It was so tight and sealed that I could hardly prise apart the opening to fill it up. This is what you need, however, because many other bladders end up leaking at the top seal.
The bladder hangs on a loop inside the pack to keep it upright and a tube fits though a slot in the top of the pack. The end of the tube is fastened to a strong magnet on one of the sternum strap clips. The magnet is excellent at keeping the tube in place.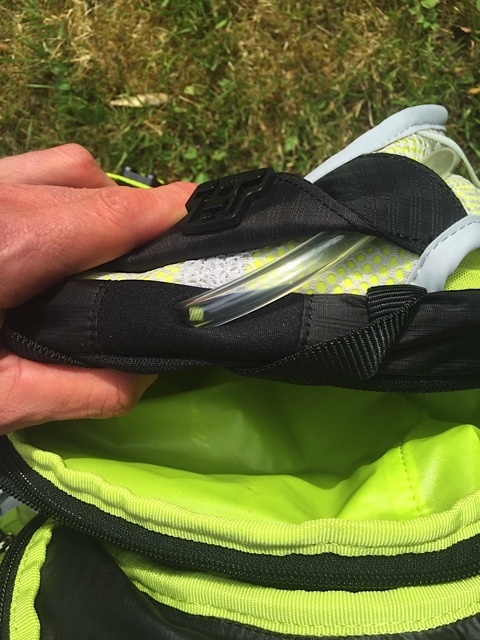 The fit of the pack is also good. Although it is a unisex bag the S/M still offered a great body hugging fit and the pack did not irritate or rub my skin as I ran. The BioStretch body harness fit does as it says and snugly fits the body in all the import areas, such as waist, chest and shoulders.
When I was running the bag stayed pretty much in place. The back pad is lightweight and made of a ventilated mesh. This coped fairly well when I was hot although I confess I did sweat a bit on my back.
I was quite close to the limits of how tightly I could pull the waist straps. I wore it with only one thin baselayer and I am slim but if you are smaller than a female UK10 you might find you can't tighten it enough.
Some of the features that I like include the dual sternum straps for extra chest height security. It wasgreat to have an extra strap to adjust although it might not suit larger chested ladies. (See my points below.)
The design of the side mesh pockets, with a wider side opening, allows you to access a bottle without taking the pack off. This is brilliant.
I can't decide if I like the DigiFlip pocket on the harness, or not. It is useful to have quick access to gadgets but I would normally just carry them in a pocket on the waist belt. The pocket is a good size and big enough to accommodate the length of an iPhone 6 and roomy enough for my Garmin navigator gadget.
However, is helpful to be able to quickly check a Garmin navigator gadget simply by unclipping the pocket and dropping it down. If youneeded to follow directions during a race I can see this being fairly useful although I expect you would most likely have the gadget in your hand.
I like the wide hip belt and the pockets. I use these a lot to stow bits and pieces when running with a pack.
The internal pocket for keeping phones safe and scratch free is very useful, as is the key safety clip in the hip pocket.
Cons: What's not so good about the Osprey Rev 18 Hydraulics pack
With this Osprey pack it almost feels as thought there are too many features and too much going on. Sometimes simpler is better. There are lots of clever and imaginative extras but I don't think I would use them all and I wonder how much of that pushes the price up?
For example, at times, it felt like the top part of the bag, around the shoulder straps, was too busy and annoying. There is a double sternum strap, the hydration bladder tube, a large magnet,the DigiFlip a pocket and a stretch pocket with a gel popped inside.
And when you need to take off the pack you have to undo all this before doing it all up again.
The DigiFlip pocket is also quite heavy when loaded with a gadget.And although it's easy to flip down, trying to clip it backup, especially when you suffer with long sightedness in your later years, is tricky. I found it difficult to read the gadget for such close range, too, without using my varifocals!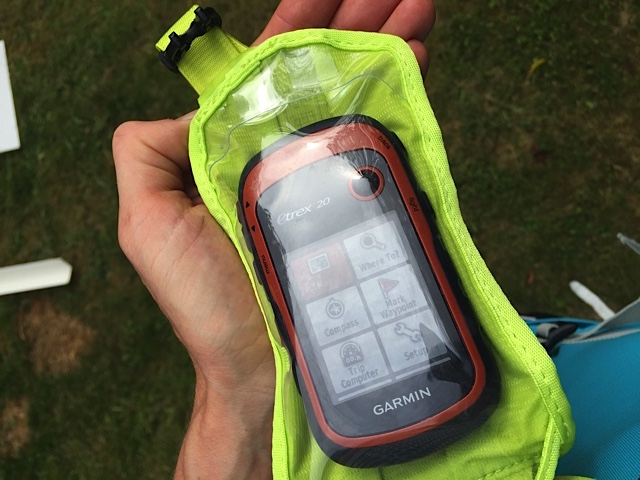 Annoyingly the hip belt pocket is only just about big enough to fit in my iPhone 6. It would be great to see these pockets being enlarged a little.
The stretch side pockets for bottles are good but I found the bottle moved about rather than being kept tight when running.
I'd also like to see some kind of waterproofing rating with this pack. It looks to be waterproof, at least is has a DWR coating, but I can't find exact details about this.
The dual sternum straps set up is a bit of a fiddle. You need to separate the straps so you can more easily utilise the clips. If they are too close together they are tricky to undo. The double set up is not easy to use if you are a larger chested lady. Where on earth would you put both straps?!
I'd also like to see the compression system being wider so you can compress more of the pack, rather than just a fairly narrow centre area.
There are lots of pockets, both with zips and made of stretch fabric, but I don't think I would use half of them. That said, many people will find that it's useful to have more than less pockets.
Conclusion
Osprey describe the Rev 18 pack as "your new trail running partner"! I like this because, like a partner, running packs have to put up with a lot and must have more plus-points than downsides if they are going to stand the test of time.
Osprey packs, in my experience, are hardwearing and very fit for purpose. They have many useful features although, for me, this pack seems to have a few too many. If you like lots of clever details you'll love this. If you prefer a simpler pack you'll end up quite irritated by it. The pack hugs the body nicely and although it's not the lightest pack on the market it does look very well made and of high quality.
| | |
| --- | --- |
| Score | |
| Design | 8/10 |
| Features | 9/10 |
| Performance | 7/10 |
| Value | 7/10 |
| Total | 7.75/10 |

Other packs you may want to consider:
OMM Ultra 15
Inov-8 Race Elite 16
Salomon Skin Pro 15
Ronhill Vizion 20l
All images unless stated: Fiona Outdoors.
About the writer: Fiona is a keen runner, preferring off-road and hilly to flat and road. She lives in Scotland where the weather is fickle so needs to be prepared for all conditions.
Have you used the Osprey Rev 18 Hydraulics running pack? Don't agree with this review? What's your opinion? Add your own comment to this review and share your experience and passion for running with others.
Not a member yet? Sign up here to be part of the RunUltra community and share tips and stories with thousands of fellow runners around the world.
We are a professional review site and our reviewers receive free products for testing from the companies whose products we review. We test each product thoroughly and give high marks to only the very best. We are independently owned and the opinions expressed here are by the reviewer's name shown.
Disclosure:
We use affiliate links in some of our reviews and articles. This means that if you purchase an item through one of these links we will earn a commission. You will not pay more when buying a product through our links but the income will help us to keep bringing you our free training guides, reviews and other content to enjoy. Thank you in advance for your support.