Last updated: 24-Oct-18
Many ultra runners swear by poles for offering increased endurance during long and hilly races. We review three types of poles that are aimed at people moving fast in the hills and mountains, whether running or fast walking.
By Fiona Outdoors and Alice Morrison
Photo credit: Leki.com
Leki Micro Trail Pro poles
Leki state these are the "ultimate trail running folding poles". They are "versatile and extremely light thanks to shafts made of 100% carbon".
The Leki Micro Trail Poles are available in a good range of lengths, from 105cm to 135cm (at 5cm intervals) to suit different heights of user.
They are made of 100% carbon and feel very light (just 191g per pole) yet they are still seemingly robust. I have used a similar pair for the past couple of years and they have proved to be strong and long-lasting.
The poles are easy to put together and pull apart. The poles are held together by a cord wrapped in a thick plastic sheath, which is durable looking. Other poles have much weaker looking attachment cords.
My other Leki poles have the same attaching cord and they are still as good as new.
You slot the poles together in two places and then extend the pole length so it clicks together. To undo, simply press in the small button at the top, pull apart and fold away.
It's the Trigger Shark 2.0 grip and strap that I most like. The strap is like a glove in structure and fits around the hand and over the thumb. This attaches, via a loop and a quick release trigger joint, to the pole at the back of the handle. This means the poles are attached to your hand and you can let go of them if you want. You'll either love this or hate it but I really rate the system.
The straps are an upgrade from my previous Leki poles. They feel softer and more breathable and far easier to adjust. They are also more comfortable because they are a one-piece design. They are really very good.
The glove style straps will not be great if you have huge hands or you wear thick gloves underneath but for most hand sizes and for wearing with thinner running style gloves they are great.
I hold the handles with a light grip and the active strap keeps the poles, well, active. It's difficult to describe except to say that the trigger shark system makes the most of the weight and balance of the pole and offers a superb action and movement when running or walking fast over different terrain.
I also really like the cork handle. It is hard-wearing, long-lasting, lightweight and doesn't get sweaty. But if you prefer a wider grip this is not for you.
There's a downside to the fixed length pole in that you can't adjust to suit terrain or for when you are going up or down mountains.
You really need to use the straps to make the most of these poles and if you lose one you need to buy another one from Leki. It's worth paying attention to make sure you do not lose them.
When folded up into three parts the overall length of the poles is 37cm. This is the shortest of all the poles on test and that is attractive if you need to stow them in a small trail running rucksack.
The poles have a small basket – no snow basket attachment – so they would be rated three season only. I like that there are rubber caps for the metal ends of the poles, too.
The metal tips are good at gripping various types of terrain, including grass and mud.
PROS: Range of lengths; fold up to just 37cm length, lightweight, excellent hand and grip system.
CONS: Narrow cork handle won't suit everyone; fixed pole; three season use only.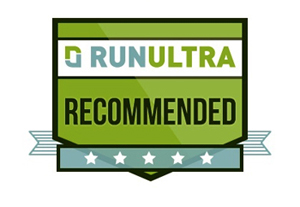 | | |
| --- | --- |
| Score | |
| Design | 9/10 |
| Features | 8/10 |
| Performance | 9/10 |
| Value | 7/10 |
| Total | 9/10 |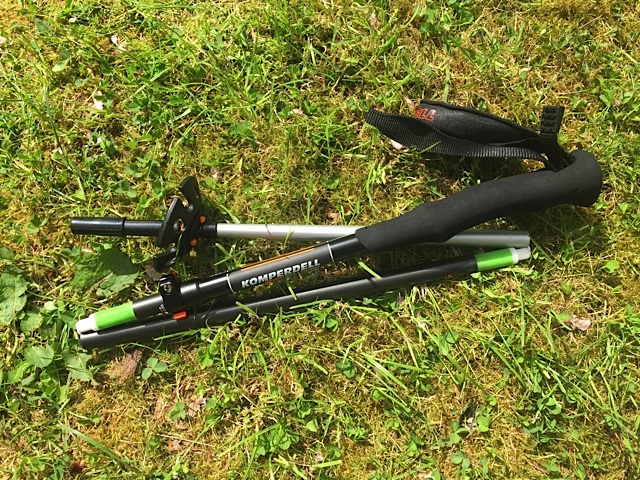 Komperdell Carbon Ultralite Vario 4 poles
Komperdell rates their poles as "extremely lightweight" and very packable.
The poles are 100% carbon and feel strong and light. They are only a fraction heavier than the Leki poles at 192g per pole. The weight and balance of the poles is good.
The poles can be bought in various lengths and they are adjustable by 25cm. For example, the 120m poles can be adjusted to 145cm. This means you can adapt the length of pole to suit the terrain, going up or downhill, or share the poles among people of different heights.
The poles screw together via a "Power Lock 3.0" system, rather than the more common slot and click system. The plastic screw system makes me think the poles will be longer lasting but I have no proof of this.
I do find the screwing in and apart concept a bit of a pain while on the hills because it slows you down but it does offer extra strength.
The adjustable height is done via a telescopic upper section. This is too easy to pull apart by accident and I worry that this section of the pole would become worn. The clip together system might also end up broken and that would render the poles useless.
That said, it has remained as good as new after many miles of walking and running, folding out and away.
The thick foam grip will suit some people but not others. It's soft and comfortable and the padded strap is adjustable. The padding is lovely! The handle seems longer than I'd really require but I guess you can move your hand around on it for speedier shortening of the height grip.
However, the longer grip means that when folded these poles are the longest of the three.
I much prefer the glove set up of the Leki pole but it's personal preference. The Komperdell grip is much more versatile for different hand sizes and when wearing all types of gloves.
The tip of the pole is long and usefully grippy on all kinds of terrain. There are removable baskets that could be used for snowy conditions, too.
The poles have a slightly wider diameter than the others and this might cause a bit of wind resistance but I would expect it to be negligible. I prefer a set of poles that feel robust and strong, rather than lightweight, thin and flimsy.
PROS: Height adjustable; lightweight; strong and secure screw in system; four-season use.
CONS: Screw in system can slow you down; pricey.
| | |
| --- | --- |
| Score | |
| Design | 8/10 |
| Features | 7/10 |
| Performance | 9/10 |
| Value | 7/10 |
| Total | 8/10 |
Photo credit: Black Diamond.
Black Diamond Distance Carbon Z poles
Black Diamond class these poles as their "lightest Z-Pole; ideal for fast-packers, endurance runners and adventure athletes".
These carbon poles are the cheapest and the lightest on test. They weigh just 280g per pair for the 100cm to 295g per pair for the 130cm. They do feel super lightweight and they are very slim.
You can buy fixed lengths, in 10cm intervals, from 100cm to 130cm.
In my opinion, they would be a good choice for summer running but I wouldn't feel confident using them in winter because they simply do not feel robust enough. This is my opinion, rather than my experience.
The handgrip is basic but comfortable and the extra section lower down is useful for when you need to adjust the pole height going up and down hill.The hand strap is minimal and not the most comfortable against bare skin. It's adjustable thanks to a Velcro section.
The poles are very easy to extend and collapse with a quick-release button. I worry the speed-cone deployment system feels a bit weak and might be prone to breaking but so far they have stood up to my use.
The basket at the base is very small but it has a "clipping together" cut-out which is useful when the poles are folded down.
These poles are in the middle of sizes when folded up. The Leki are slightly shorter, while the Komperdells are around 5cm longer.
Alice Morrison also tried out the poles in the hot, rocky conditions of the Atlas Mountains. She describes herself as a "slow but determined runner". This is what she found.
I am 5ft 7in and the 110cm poles suited my height well. I tested them in bone dry conditions but on very technical terrain.
The Black Diamond poles tread a good middle ground between weight and strength. They are 279g (on my kitchen scales), which is very light but they were sturdy enough to carry my full weight on a couple of heavy stumbles down a rocky mountain.
I would have liked another couple of centimetres on the downhill but that is usually the way with lightweight running poles.
I loved the fact that they are so easy to snap together and that they feel completely rigid when they are up. Conversely, they collapse at the push of the little button.
The handles were comfortable, but like all poles, you need to get your hands used to them or you will blister over long distances. The wrist straps were a little fiddly.
The one thing, I couldn't do was get the rubber tips off the bottom. I think when doing this for the first time you might need pliers.
The Velcro strip supplied is handy for keeping them in check in your bag and there are two extra screws secreted in a tiny pocket.

PROS: Super lightweight; sturdy; simple to use, price.
CONS: Fiddly wrist straps; couldn't get the rubber tips off; not proven as to durability in the long term.
| | |
| --- | --- |
| Score | |
| Design | 8/10 |
| Features | 8/10 |
| Performance | 8/10 |
| Value | 10/10 |
| Total | 8/10 |

Conclusion
These poles are all a good bet. They are well made and carefully designed and they all have individual strengths.
The Leki Micro Trail Pro poles are a revelation for runners thanks to the handle "gloves" and the superb balance and weighting.
The Komperdell Carbon Ultralite Vario 4 poles are great poles for both running and fast walking, especially as they are height adjustable.
The Black Diamond Distance Carbon Z poles are a great buy for super lightweight carbon poles that will do the job for you.
All images Fiona Outdoors unless stated.
Have you used any of these poles? Don't agree with this review? What's your opinion? Add your own comment to this review and share your experience and passion for running with others.
Not a member yet? Sign up here to be part of the RunUltra community and share tips and stories with thousands of fellow runners around the world.
We are a professional review site and our reviewers receive free products for testing from the companies whose products we review. We test each product thoroughly and give high marks to only the very best. We are independently owned and the opinions expressed here are by the reviewer's name shown.
Disclosure:
We use affiliate links in some of our reviews and articles. This means that if you purchase an item through one of these links we will earn a commission. You will not pay more when buying a product through our links but the income will help us to keep bringing you our free training guides, reviews and other content to enjoy. Thank you in advance for your support.