Last updated: 17-Aug-18
This review is for the women, although, guys, if you are looking for a great gift for your running lady friend or partner a skort is something to consider.
Skorts are a cross between shorts and a skirt. They combine tight-fitting Lycra shorts/pants with an over skirt.
Increasingly popular with female runners, many now wear them for comfort, looks and because as women it's nice to look different from the men.
Kalenji Trail Skort
Although priced at less than GBP 20, the skort packs in a lot of features and details. There's a wide and comfortable waistband with a draw cord.
A total of four pockets means it's possible to carry gels or small 150ml water flasks in the side pockets and other essentials in zipped front and back pockets.
The back zipped pocket is large enough to carry a small smartphone.
The design is also really pretty. Although it looks like a straightforward black skort there are two frilled panels at the lower front hems. These offer an attractive design and also greater freedom of movement.
There is a good size range from UK 6 to UK 16.
The skort is easy to wear. It is comfortable and lightweight. If you prefer longer inner shorts (these ride up to feel more like pants) or a longer skirt, you'll need to look elsewhere.
The skirt could do with being a little longer at the back to give better bottom coverage!
PROS: Great price; attractive design; lightweight and comfortable; good pockets.
CONS: The shorts end up like pants; skirt is shorter than many; only made in black.
For the price this is a great value and well designed skort. Be warned that the shorts do ride up a bit when running although this won't bother all women.
| | |
| --- | --- |
| Score | |
| Design | 8/10 |
| Features | 8/10 |
| Performance | 8/10 |
| Value | 10/10 |
| Total | 8/10 |

Price (RRP): GBP 17.99. See Decathlon.
Patagonia Strider Skirt
The Strider Skirt is created with Bluesign approved fabric that is made from 91% recycled polyester. That's great to know if you value the sustainability of our planet. The fabric also has Polygiene permanent odour control and is DWR (durable water repellent) treated.
The skirt looks great and comes in several lovely colours. It feels lightweight to wear and has an additional strip of Air Flow mesh all the way around the skirt for enhanced breathability.
The inner shorts are black and they are the shortest of all skorts on test. They are more like pants. Odour resistance is built-in to the fabric of the inner shorts.
Details include a rear envelope pocket (i.e. not zipped); small waistband drop-in pockets at the hips and a draw cord at the waist.
The skirt comes in sizes XS, S, M, L and XL and has a slightly longer back than front to ensure good bottom coverage.
I love the look and feel of the skort. It's very easy to wear and would easily double as casual skirt for a holiday. When running in warm weather you hardly feel like you have anything on. This could be a little disconcerting actually!
I would prefer the inner shorts to be a longer length. This is personal preference as I worry about inner thigh skin chafing. However, I know many women who like the shorts to be short.
PROS: Great colours and design; superb breathability; DWR as extra; flattering fit and look.
CONS: Shorts are more like pants (personal issue with that); I'd prefer a zipped pocket.
At the reduced price this is a great buy. It is lightweight, practical and really comfortable. The shorter inner shorts might not suit all.
| | |
| --- | --- |
| Score | |
| Design | 8/10 |
| Features | 7/10 |
| Performance | 9/10 |
| Value | 9/10 (at discount) |
| Total | 8/10 |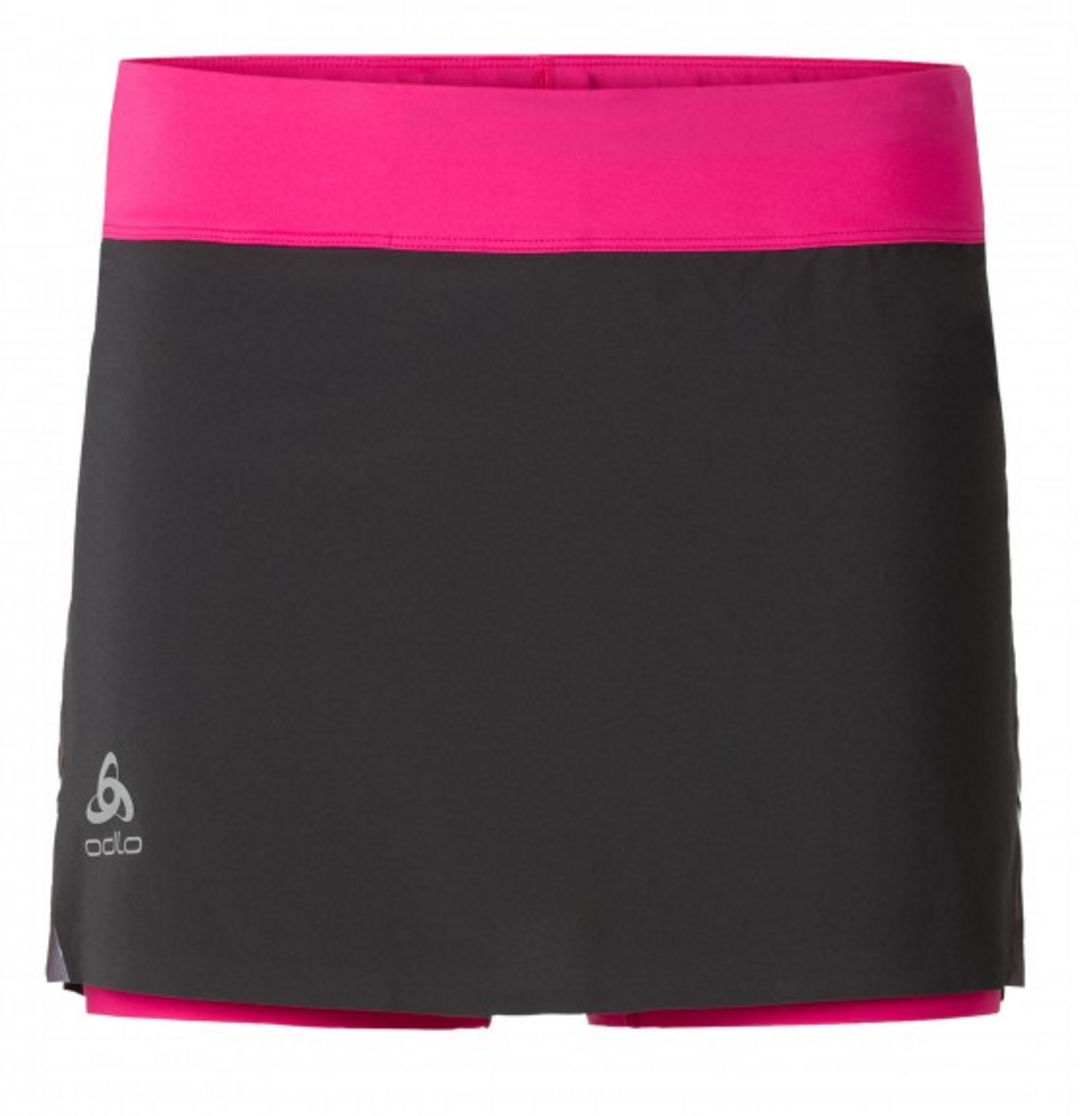 Photo credit: www.odlo.com
Odlo Samara skirt
These are Odlo's words: "The skirt utilises Odlo's lightest than the lightest (LTTL) design and construction to ensure that every possible gram of weight is saved and that every step you run is lighter as a result. Run in the Samara and you feel so light and comfortable you'll think you're flying not running."
The Samara Skirt features Pes Stretch Woven and Soft Stretch Jersey materials.
There's a wide elasticated waistband with an inner drawstring and the inner shorts are slightly longer than the Patagonia and Kalenji skorts.
There's a small, open-top pocket at the rear of the waistband.
There are different colours and patterns to choose from and sizes XS, S, M, L.
The skort is super comfortable to wear. The inner shorts fit well and stay mostly in place when running. There is very little upward movement, which is great because other shorts in skorts ride up to become pants.
The waistband is made from a super soft and stretchy fabric and it's brilliant to wear against the skin.
The skirt is created from a fabric that has a bit of a stretch, too. So rather than being a more floaty skirt design like the Patagonia skort it fits more neatly around your curves.
The design is quite attractive with shiny, perforated side hems (if you like things to be a bit shiny at the edges!).
My biggest complaint about this product is Odlo's over-enthusiastic blurb about the skorts, such as references to "lightest than the lightest". These phrases are meaningless and just annoy me. I prefer products to simply state the facts rather than making silly claims.
PROS: Fits well; longer inner shorts that do not ride up too much; easy to wear; attractive design.
CONS: Pocket is a bit hopeless; over-egged blurb.
If you can find this skort at the internet price it would be an excellent buy. Apart from the annoying blurb, the skort is comfortable and well made. I welcome the longer leg.
| | |
| --- | --- |
| Score | |
| Design | 8/10 |
| Features | 7/10 |
| Performance | 9/10 |
| Value | 9/10 (at discount) |
| Total | 8/10 |
Salomon S-Lab Exo Skort
Finally, a skort with longer and more supportive inner shorts. This meant the skorts are by far my favourites, although I am sure that there will be other women who prefer the shorter legs of the other skorts.
The upper skirt is lightweight and stretchy, while the inner shorts are supportive and comfortable. The fabric is a bit see-through so thankfully there is an inner pant in case you bend over (e.g. for a stretch!).
There are several different colours although this skort seems to be in short supply as it has been very popular.
Extra details include UPF 50, super wide and supportive waistband and two open top back pockets in the waistband.
Sizes as XS, S, M, L and XL.
I choose this skort as my number one. This is because the shorts are long and supportive and it's what I prefer when running. I do not like to worry about skin chafing and I like the support of long tight-fitting shorts. The over skirt adds a flattering feature and the skort feels really good to run in.
The pockets would be better with zips and I would steer clear of skorts with white fabric as it only ends up looking dingy after a few washes.
The price of £120 is way too much.
I am hoping that Salomon bring out new stock for 2017. I'll be buying one of their darker colours (once I've saved up or searched the internet for cheaper!).
PROS: Long and supportive inner shorts; flattering fit; lightweight.
CONS: Price; open-top pockets; lack of availability.
Although pricey this is the only skort on test with longer inner shorts that do not ride up. I would search on-line for a cheaper sale.
| | |
| --- | --- |
| Score | |
| Design | 9/10 |
| Features | 8/10 |
| Performance | 9/10 |
| Value | 5/10 |
| Total | 8/10 |

Have you used any of these skorts? Don't agree with this review? What's your opinion? Add your own comment to this review and share your experience and passion for running with others.
Not a member yet? Sign up here to be part of the RunUltra community and share tips and stories with thousands of fellow runners around the world.
We are a professional review site and our reviewers receive free products for testing from the companies whose products we review. We test each product thoroughly and give high marks to only the very best. We are independently owned and the opinions expressed here are by the reviewer's name shown.
Disclosure:
We use affiliate links in some of our reviews and articles. This means that if you purchase an item through one of these links we will earn a commission. You will not pay more when buying a product through our links but the income will help us to keep bringing you our free training guides, reviews and other content to enjoy. Thank you in advance for your support.