Salomon S-LAB ULTRA 3 V2
Perfection, but now slightly more perfect?
I'm always honest with my reviews and there's no exception here with the Salomons.
Before testing them I was convinced I would hate them. Having been a proponent of zero drop wide toe box shoes, (insert well known brands here) I naturally assumed I wouldn't get on with the notoriously narrow fit of the S-LABs.
After trying them on, the first thing I noticed was the narrow fit. Then it was how stiff they were!
A running buddy of mine told me to give them time to bed in, so I dutifully did and the jury was out.
After a month of running in them…..I absolutely love them!
They have loosened up and feel snug and responsive, not the bear trap that I had initially imagined.
As far as looks go, if I'm honest at first I couldn't tell the difference between version 1 and the new version 2. This thought was compounded when I showed them off to my aforementioned running buddy and he quite bluntly said 'oh S-LAB 3's, I had a pair of them 2 years ago!'
Why would I be reviewing a 2 year old pair of trail shoes? A mistake? No mistake! This is the latest version brought out this spring, hence the V2.
What's good about them?
Upon closer inspection of the new S-LABS I realised that although they are very similar to version 1, they have been improved, albeit in very subtle ways.
The shoe still keeps its sleek upper design which was upgraded from the S-LAB 2. The upper feels super lightweight due to the MATRYX mesh system and the elasticated collar again fits like a glove, literally! The collar is so snug and comfortable that it feels like wearing a wetsuit booty!
The pull cord laces that stash away in the lace pocket were awkward at first but eventually you get used to them and once locked in they are forgotten about. Great for racing with confidence.
For me they are perfect for short to medium distance trail maybe up to 50k. For longer stuff I would favour something with a bit more cushioning as although they loosened up and felt super comfy, they don't have the stack height I would want for going into a 50miler or above. The lugs on the sole are spread out and not protruding so they didn't fair well in really wet muddy English trails. Ideal for warmer weather days though.
Overall I really rate this shoe and I'm a bit gutted that I dismissed them as being too narrow for me over the years.
Don't get me wrong, compared to other brands they are on the snug side, but don't let that put you off trying a shoe that is perfectly formed and gets ever so slightly more perfect with each new version!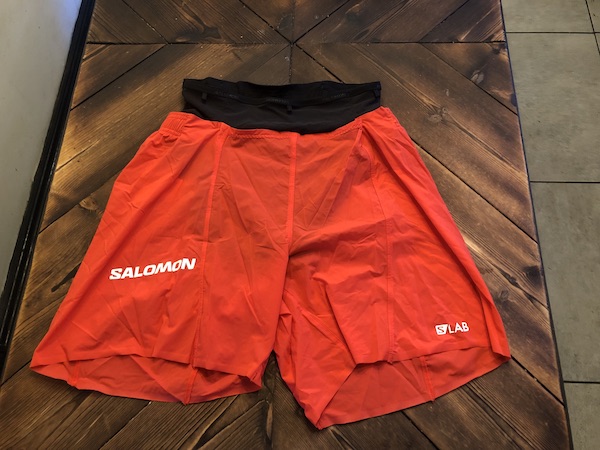 S-LAB SHORTS
First impressions of these shorts were that they looked like Speedos sewn into my grandmas bloomers.
They kind of are if you look closely. The inner part is designed to feel like wearing a snug but comfy pair of pants. The outer is designed to float and feel like they're not even there. Kind of like a giant handkerchief flapping in the wind around you while you dance in your new Salomon branded pants!
All jokes aside, once you put them on you realise what Salomon were intending with this combo.
The inner is very speedo-like but they fit perfectly like they should. The outer works to perfection. It gives the visual effect of being a pair of normal running shorts, but the lightweight material that feels almost like silk isn't even registered on the weight scale. You literally don't feel anything from them.
This gives a lightweight feel that lets you run completely unencumbered, as if you were just dancing in your Speedo's!
They may look strange, but put them on and you soon realise why Salomon are at the cutting edge of apparel technology. At around £100 they are at the top of the affordability range, but as with anything, you get what you pay for!
I would happily dance up a mountain trail in the summer in these!