There are so many race vests on the market these days, it can be so difficult to know what you need. For me, there are 3 key things that I'm looking for – a good fit, enough space, and good, easy access to pockets. This pack scores well for me on all of the above, with a few bonus features on top!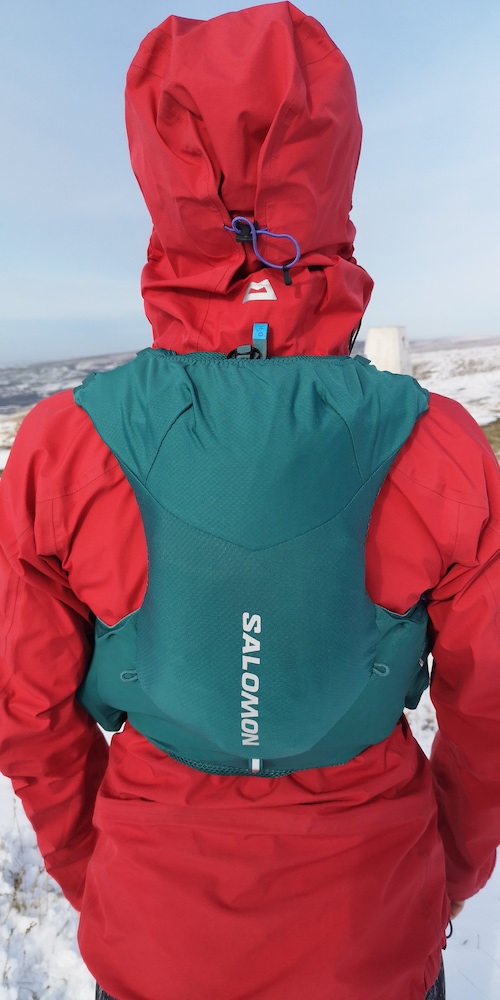 Features
Weight: 235g
Dimensions: 32H, 419W, 1D cm
Volume: 5l
Two 500ml soft flasks with long straws included
RRP: £125 (On offer for £77 on 20/7/23)
The design of the Salomon ADV Skin 5 allows you to stow your kit in the way that suits you. The pack boasts a variety of pockets, including back compartment, trash pocket, internal bladder sleeve, front stretch zipped pocket, two shoulder stretch pockets and stretch top pocket. The pack does not come with a bladder, but with two 500ml soft flasks.
There are a number of different ways in which the vest has been designed to store poles. Salomon claim 7, although only 5 are pictured in the user manual. In any case, you have the flexibility to find a configuration that works for you). Most of these involve utilising the moveable straps, and one involves the use of a custom quiver which is sold separately.
The fact that there even is a user manual is actually surprisingly useful – we all know how to use a bag, but it's sometimes helpful to know what specific aspects of the design were intended for!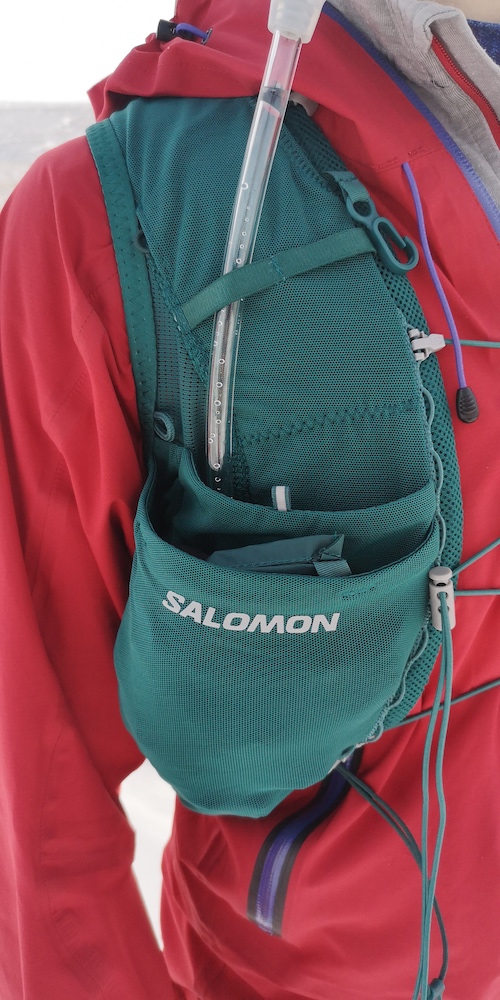 Pros: What's good about the ADV Skin 5
I found that this vest fits really nicely, with no noticeable movement or bouncing. The "Quick Link System" allows for the chest straps to be placed in a range of configurations to optimise fit. The clasps seem a little fiddly at first, but I did get used to using them the more I used the vest. The elastic straps near lower ribs are meant as a pole carrying solution, however I found that when not in use for this purpose, these also helped to create a snug fit. The vest is available in a good range of sizes, from 2XS to L, with a helpful size guide available on the Salomon website.
As well as fitting nicely, the vest is lightweight and breathable with a sleek design. I love the pale teal colour I tried, although at the time of writing the colours available directly from Salomon are pale blue and grey. [Editor's note: as of 20/7/23 the teal is available via the link above at the offer price of £77]
Finally, the most important part: pockets! You can never have too many pockets! Well, perhaps you can, but the ADV Skin 5 does have a good variety, particularly for a small vest, giving you plenty of options when it comes to stowing your kit. At 5l capacity, it is not, of course, intended for the large amount of kit required for longer races, however it easily stows FRA minimum kit, or whatever you need for shorter, summer runs in the hills.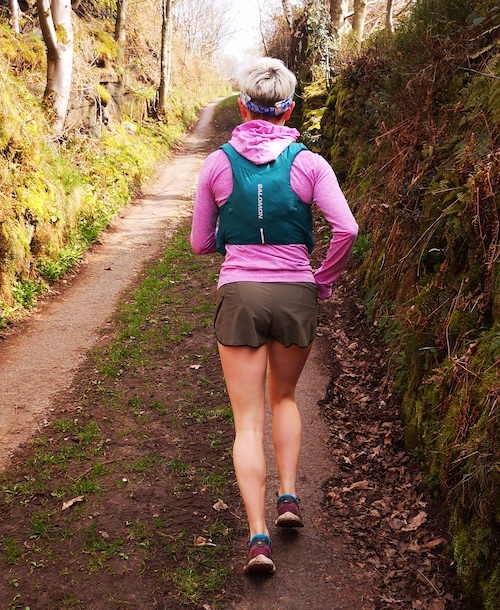 Cons: What's not so good about the ADV Skin 5?
One small, but slightly annoying issue I had was that the bottle straws sit very high. It may well be possible, and even simple, to shorten the straws slightly, but it's not an option I've yet pursued. For the moment, I've found that tucking the mouthpieces into the shoulder pockets provides a decent solution, although this does limit the pockets' availability for stowing other items.
I think the pack would have benefitted from an additional zip pocket – even just a small one. As a personal preference, I like to keep my keys separate from all my other kit so that there's no risk of them flying out when I take other items in and out of the pack. I did have an instance of losing my key whilst removing my phone from the zip pocket. Thankfully I found it again, but it was a panic I would have preferred to avoid!
The one other feature I would like to see is some sort of flap or fastening for the main back compartment. I wasn't worried about losing anything, and I do not expect a race vest to keep my kit fully waterproofed, however I did feel that whatever I stowed nearest the top was a little more exposed to the elements that I would have liked.
Conclusion
Overall, this pack performed well. It fits nicely, has good access to pockets, and has some innovative design features that I appreciated. Realistically, it is too small for me to use for any distance where I would be likely to use poles, however the variety of configurations available allows for various personal preferences. I would recommend this pack for short, self-supported runs, or potentially for longer ones where you're not required to carry all of your kit in one go. The ADV Skin series includes 8 and 12 litre packs, as well as a belt for when you're travelling really light!
Imogen is a firefighter and Mountain Leader based in Glossop in the Peak District. She enjoys eating pizza before, during and after runs, and wears a woolly hat for 9 months of the year.