Last updated: 14-May-19
By Kate Allen
Salomon have brought out their first pack truly designed specifically for women and it's a joy to see a design for us that hasn't just been subjected to the "Shrink and Pink" attitude.
I've always found vests are like handbags. The more room you have, the more stuff you tend to pack in them. Oh look, this pocket isn't filled… I can fit more snacks in there. That zipped compartment is empty, I'm sure I can squeeze the kitchen sink in there…. So, I put that theory to the test with this 8-litre vest.
FEATURES:
Insulated sleeve
2 front stretch pockets
1 internal bladder sleeve with hanging loop
2 front flask pockets with secure loops
2 top stretch pockets
1 main stretch compartment with side zip opening
1 back compartment with mesh pocket
1 low back pocket with 2 side access
1 shoulder pocket
2 side zipped pockets
YKK zipper
Multiple pole holder solutions
Whistle
Extra reflective loop for lamp
RRP £115
Salomon say: "The first truly specific design for women, ADVANCED SKIN 8 SET W has a unique shape that eliminates pressure on the breasts when it is synched down."
Not only have they changed the shape of the vest to fit a women's figure, but the main change appears to be the bottle shape – they are wide and slim and fitted with a flat seam at the bottom, shaped to fit under the breasts and around the sides of the chest.
The flasks also fit very deeply into the pocket and I didn't once feel the need to use the loops over the neck of the flask to keep it in. Although they are under your arms, you don't notice them at all either standing or when running.
The pack is super light (330grams including bottles and sleeve) and the material is a high-wicking.
PROS: WHAT'S GOOD ABOUT THE ADV SKIN 8 SET W?
The vest certainly is comfortable and when I raced in it, there was no movement or bouncing around. I've not used flasks with long straws before and like any dinosaur I was sceptical about this new feature but the straws didn't wave about annoyingly as I expected when slotted into the choice of three loops.
It was a pleasant surprise to be able to sip whilst running without ducking my head down to reach the bottle. Having the straw at mouth level really is more comfortable.
The new fastening system at the front was simple and although it doesn't look very sturdy, the vest is kept in place securely regardless of how much you put in the vest. The way it is designed means you can adjust it to fit you whatever shape you are, thus eliminating any movement, chafing and discomfort.
The number of pockets and compartments is really good. There are two stretchy pockets over the flask pockets but the two zipped pockets just behind them are really useful and surprisingly easy to access, whilst being out of the way.
The rear compartment is a good size to fit some just-in-case essentials. I fitted my waterproof coat, a small first aid kit, tissues, spare battery, charging lead, nutrition bar and, because there was room (!) I thought I'd throw in my waterproof trousers. You know. Just in case.
There is a specific compartment for a bladder which is sold separately, but an insulated sleeve was included. Unless you are planning on being out for very long periods in it, I don't see this feature being used much as the bottles are much more convenient.
The best feature of all? Finding the correct size. No more vague guessing, wondering what on earth "small" or "medium" really means. If you click on the Salomon "find your size" link, you are taken to a page where you can select the correct size according to your bra size!! Mind blown. Something so simple, yet obvious really. Bravo Salomon!
CONS: WHAT'S NOT SO GOOD ABOUT THE ADV SKIN 8 SET W?
The only feature I don't like is the stretchy pockets at the front. It is so easy to stuff everything in there that you use while running. Your phone. And your gloves. And the half-eaten bar you've started but can't finish. And the battery when charging the phone. And suddenly you find you have a pouch the size of a kangaroo's that ends up swaying about and bouncing uncomfortably.
If I'm being really picky, the straps for the cheat sticks, sorry poles, flap about a bit and I had to batten them down but once I did that they caused no issues.
CONCLUSION
This is a great little vest and one I shall be reaching for in the summer months when I don't need to pack the kitchen sink. I would definitely recommend it for those races where mandatory kit is much lighter and you want a comfortable, yet useful, pack to race in or go out for a long run by yourself.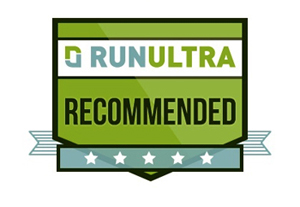 | | |
| --- | --- |
| Score | |
| Design | 9/10 |
| Features | 10/10 |
| Performance | 10/10 |
| Value | 9/10 |
| Overall | 9.5/10 |
About the writer: Kate Allen is an ultra runner and spends most of her free time skipping about in the Peak District. She is also a proud member of the RunUltra team.
All images except where stated Kate Allen.
Have you tried the Salomon ADV SKIN 8 SET Vest? Don't agree with this review? What's your opinion? Add your own comment to this review and share your experience and passion for running with others.
Not a member yet? Sign up here to be part of the RunUltra community and share tips and stories with thousands of fellow runners around the world.
We are a professional review site and our reviewers receive free products for testing from the companies whose products we review. We test each product thoroughly and give high marks to only the very best. We are independently owned and the opinions expressed here are by the reviewer's name shown.
Disclosure:
We use affiliate links in some of our reviews and articles. This means that if you purchase an item through one of these links we will earn a commission. You will not pay more when buying a product through our links but the income will help us to keep bringing you our free training guides, reviews and other content to enjoy. Thank you in advance for your support.