Last updated: 04-Dec-20
As we go into winter, a key item of an ultra runner's wardrobe becomes ever more important: the waterproof jacket.
Not only does it keep us dry (we hope) but it keeps the wind off us and provides us with warmth so it is an essential tool in our wardrobe.
I was looking forward to testing the Salmon S/LAB MOTIONFIT jacket against the best wet weather Britain could throw at it.
Features
GORE-TEX® SHAKEDRY fabric
Self storing "skirt"
MOTIONFIT™360°
Fits over a running pack
Taped seams
Skin fit hood
Fully waterproof zip
Reflective branding
Pros: What's good about the Salomon S/LAB MOTIONFIT 360 Jacket?
At 132g, the first thing I noticed was how small and light this jacket is. The second thing I noticed was the fabric. It has a very tactile, almost rubbery, almost leathery, texture and the technology of the SHAKEDRY fabric is clearly visible to show why water beads on it.
It is close fitting, but without feeling restrictive. I could wear a long sleeve base layer underneath. There are no pockets, but that didn't bother me – any pockets reduce the waterproofness of a coat, and this is designed to be a light jacket, not to be burdened with stuffing the pockets. I also imagine the French designers don't want you to ruin the lovely lines!
Very soggy, but warm and dry inside
The headline feature is really very interesting. It has, for want of a better word, a snow skirt. The GORE-TEX part of the jacket stops at your hips and there is then an elasticated fabric extension which is done up with studs instead of a zipper. Initially I thought this was a way of keeping you warm and dry as I tucked it up inside the jacket.
But no, this is a new system to allow you to shrug off the jacket from your shoulders, on the move, and roll it down inside the elasticated "belt". And when you want it on again, you unroll it and, because of the design across the back with extra folds of material, the jacket fits quite comfortably over a running vest. You really don't need to stop, although it did take me a few goes to get the jacket up and over the vest as it caught on the bottom of the vest a couple of times.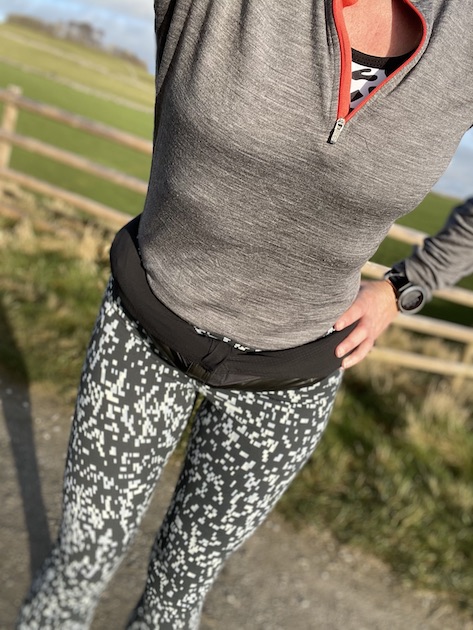 Neatly rolled up around the hips
The other nifty design feature I like is the little strap across the chest that you can snap into a popper to keep the jacket together even when you unzip it for temperature control.
There is no doubt this is properly waterproof. The beading is obvious and despite running for a good few hours in the best the Peak District could throw at me, I remained perfectly dry and warm.
I had not heard of SHAKEDRY before so trotted off to GORE-TEX to do some research:
"GORE-TEX SHAKEDRY™ garments are super light, extremely breathable, and come with the guaranteed to keep you dry™ promise. The unique design with the persistent beading outer face prevents water absorption. Water simply beads up and runs right off the surface, just a couple of shakes remove almost all water. Plus they are totally windproof. Whether you're running through a storm or cycling through a shower, GORE-TEX SHAKEDRY™ garments help you push for your new personal best."
There was one crucial piece of information I needed to know however; what is the hydrostatic head? I couldn't find it on the GORE-TEX or Salomon website so asked GORE-TEX themselves. I was reassured to learn all their materials, including the SHAKEDRY, have a 28,000 h/h. Which, for such a thin bit of material, is really very impressive.
And warm it is too – that rubbery texture really is windproof so the warmth is kept in and with a hat, buff and gloves you are good to go. When I did some interval training, however, I did become rather hot quite quickly and as it was pouring with rain at the time, I was reluctant to remove the jacket and that is where the chest strap really came in handy.
Cons: What's not so good about the Salomon s/lab motionfit 360 Jacket?
The sizing is a little off I think. I am size 10 and ordered the small and while the body of the jacket fits me perfectly well, the hood is like putting on a swimming hat and when I look at the photos on Salomon's website, it definitely appears too tight on me.
The length – being a true Brit, I like to have my bottom covered when it's raining so I was a little anxious to find the jacket sits, elegantly, on my hips. To be fair, when I've worn it raining, I haven't really noticed whether my bum gets wetter than normal so I'm probably nit picking here.
Nifty little strap
Conclusion
This jacket comes with a hefty price tag but it's waterproofness really does set it competitively against a hardshell. Whether it's as long lived remains to be seen. It's not a jacket you can wear more than a base layer underneath (maybe that's my sizing problem) so I'm not going to wear this for a day out on the moors.
It could be perfect for a marathon or 50k-100k race where your pack isn't going to be too full and you are planning to run light and fast. It is lightweight enough to pack away fully in your vest without noticing and would work really well for spring or autumn races where it has the potential to be cold.
But it will be the coat I reach for on my daily training runs. After all, in winter our motivation is tested when you know you are going out into the cold and wet but with this coat in my armoury, I feel much better against the elements.
| | |
| --- | --- |
| Score | |
| Design | 9/10 |
| Features | 9/10 |
| Performance | 9/10 |
| Value | 8/10 |
| Total | 8.75/10 |
Buy it on the Salomon website
About the author: Kate is the Web Administor and Content Manager for RunUltra and in her spare time she can be found running in the hills of the Peak and Lake District.
Have you tried the Salomon S/LAB MOTIONFIT 360 Jacket? Don't agree with this review? What's your opinion? Add your own comment to this review and share your experience and passion for running with others.
Not a member yet? Sign up here to be part of the RunUltra community and share tips and stories with thousands of fellow runners around the world.
We are a professional review site and our reviewers receive free products for testing from the companies whose products we review. We test each product thoroughly and give high marks to only the very best. We are independently owned and the opinions expressed here are by the reviewer's name shown.