Weighing in at just 86g, the Salomon Sense Aero 3" Shorts are a great choice for the summer! Boasting ultimate comfort, freedom of movement and versatile storage, I couldn't wait to put these shorts through their paces on the trails. 
Features
Weight: 86g
Available in sizes XS – XL
3 colour options
Lightweight, 4-way stretch outer fabric
Integrated briefs with easy-access storage
Price: £55
These minimalist shorts are built with comfort and speed in mind. The lightweight stretch fabric provides freedom and comfort, whilst also offering the practicality of a small pocket between the integrated briefs and outer short – perfect for small items such as a key or an energy gel.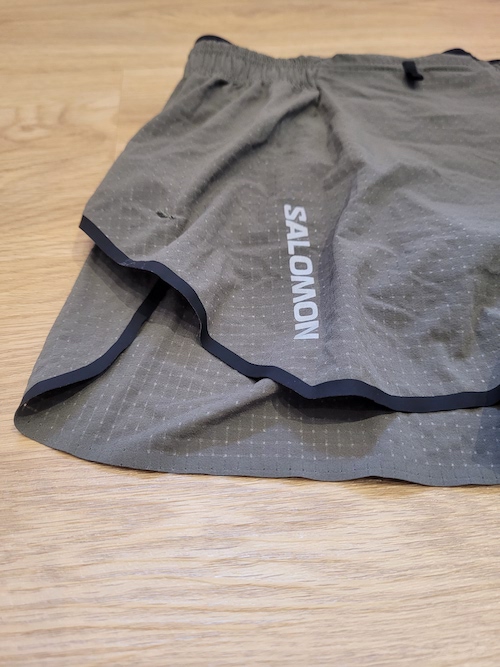 Pros: What's good about the Sense Aero 3" Shorts?
My favourite thing about these shorts is the super-lightweight, quick-drying fabric. It feels lovely against your skin and is perfect for the hotter weather. On one of my test runs, I gave them a proper dunk in a stream (in an attempt to cool off) – they didn't chafe when wet, and dried quickly in the sun as promised. They are also so lightweight that you barely realise you're wearing them – certainly a good choice for when you're travelling fast and light!
The shorts also look good! The racing cut is flattering and I'm a big fan of the "grape leaf" (or what I would describe as khaki green) colour. They fit nicely with the elasticated waist, without the need for a drawstring.
Cons: What's not so good about the Sense Aero 3" Shorts?
For me there was only one shortcoming to these shorts… they are a bit too short! That said, they are exactly as short as described: with a 3" inseam. If you feel this is not too short, I would strongly encourage you to give them a try, as they otherwise perform excellently. For me personally, I did not feel especially comfortable wearing them, particularly if there was a gust of wind! The fabric is incredibly light and flaps up easily, even in the lightest of breezes, so I would have preferred an integrated tight short as opposed to an integrated brief.
Conclusion
Overall, these shorts look good and perform well, and you can hardly ask more from a short than that! The length is a little short for my personal preference, but it has certainly helped me to fade out the stark tan lines created by my 9" tights!
Have you tried the Salomon Sense Aero 3″ Shorts yet? Don't agree with this review? What's your opinion? Add your own comment below this review and share your experience and passion for running with others.
Not a member yet? Sign up here to be part of the RunUltra community. Share tips and stories with thousands of fellow runners around the world.
We are a professional review site and our reviewers receive free products for testing from the companies whose products we review. RunUltra tests each product thoroughly and give high marks to only the very best. The opinions expressed here are by the reviewer's name shown
About the author: 
Imogen is a firefighter and Mountain Leader based in Glossop in the Peak District. She enjoys eating pizza before, during and after runs, and wears a woolly hat for 9 months of the year.