Last updated: 10-Mar-19
The new Saucony Peregrine ISO is the successor to the Peregrine 8. It now includes ISOFIT, which, so the brand claims, "adapts to your foot to give a custom feel".
The shoe is meant for trail and grass and I tested it on a mix of terrains with lots of mud and wet rocks, too.
Photo credit: Saucony
Features:
EVERRUN: "A breakthrough in cushioning." Saucony states: "Livelier and more responsive, with smoother landings and stronger take-off."
PWRFOAM midsole for a "smooth ride and added rebound"
PWRTRAC outsole for "optimal grip and traction across multiple surfaces"
Offset: 4mm
Heel Stack Height: 22.5mm
Forefoot Stack Height: 18.5mm
Weight: 261g
Male and female fit
Width choice: Medium and wide
Price: £110

Pros: What's good about the Saucony Peregrine ISO shoe
The Peregrine running shoe, through all its various incarnations, has always been very comfortable. It feels a bit like a slipper when you put it on. You can immediately feel the cushioning in the sole and the upper nicely hugs the foot, although not too tightly. It is stretchy but firm.
There is a choice of male and female designs and widths, too, which many runners will appreciate.
The heel cuff around the ankle is cushioned and the tongue, which sits at an absolutely perfect length – not too long and not too short – is padded. The lacing system also allows for a snug fit.
The heel cup is also quite sturdy and people who like a stiffer rear end to a shoe will like this.
I felt confident the shoe would be comfortable when running and I was right. I have no idea if the design details of EVERRUN and PWRFOAM actually make a difference but the shoe does feel like it is made to fit my foot.
The shoe is fairly lightweight and has a flexible sole with more cushioning underfoot than many other trail shoes. Most of the cushioning seems to be in the back of the shoe, which is a bit odd, although if you like to feel the trail under your feet as you run this could be a good thing. I do like to feel what I am treading on, so I found that this shoe suited me.
This is not to say that the forefoot is too light on cushioning, but simply that the rear end has more cushioning. This took a little time to get used to but after a short while I didn't notice the difference and enjoyed running in the shoe.
The traction of the Saucony Peregrine ISO is excellent. I ran on grass, wet rocks, through mud and puddles and I had no concerns about slipping over. I made sure that I ran on steep sections too, just to be sure but they still felt grippy.
An advantage of the Peregrine traction and cushioning is that you can run on a mix of terrain from muddy grass to tarmac. It's good to have a shoe that will cope with a variety of terrains.
I felt like there was grip all over the base of the shoe to the very outer edges. In fact, the studs flare slightly at the edge of the shoe and this could be why it felt like the traction was so good.
The grip on rocks and mud didn't seem as good as the inov-8 Mudclaw G 260 that I tested recently as it's a softer style of grip and a different material but for a shoe that does well on a wider mix of terrain the Peregrine is a great choice.
There is a solid and robust rand (layer of protection) around the heel and the sides of the shoe, which offers extra protection if you run on rocky trails. This means the shoe should be relatively long lasting.
The price of £110 seems good compared to other shoes and brands.
Cons: What's not so good about the Saucony Peregrine ISO shoe
The high comfort of the shoe – like a slipper – might mean some people do not get out of the house. I can see people putting on the shoe, feeling comfortable and relaxed and sitting back to watch the TV!
I am not sure I like the 4mm drop from heel to toe. In fact, it felt more than 4mm. The shoe felt a bit clumpy at the back end on harder surfaces, although I seemed to forget about this the longer I ran.
Although it felt like I had laced the shoes quite tightly when I was running I noticed the heel was a bit loose around my ankle. It didn't rub but I would have preferred it to stay more secure.
There is a solid and robust rand around the heel and the sides of the shoe, but not so much at the toecap. I think this area might lead to the shoe wearing out at the front end.
The studs on the base do get a bit clogged up with thick mud. We have quite a lot of thick and sticky mud in Scotland so it might be an issue if this is your usual terrain. It takes a while for the studs to free themselves when running.
The light blue colour stayed looking nice for… about four minutes. A darker colour, such as the black, will look better for longer.
I really do not like made-up words that some brands use because they must think us consumers are impressed. EVERRUN, PWRFOAM and PWRTRAC are annoying words and pretty meaningless, especially as Saucony has to explain what they mean on their website. I prefer brands that take a straightforward approach to features and descriptions of their products.
Conclusion:
This is a good all-round shoe for a variety of off-road trails and paths. It is a comfortable shoe to wear and includes some great features. Buy a darker colour if you want it to look better for longer.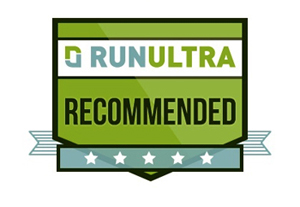 | | |
| --- | --- |
| Score | |
| Design | 9/10 |
| Features | 9/10 |
| Performance | 9/10 |
| Value | 9/10 |
| Overall | 9/10 |
Others to try
inov-8 Mudclaw G 260
inov-8 Terraultra G 260
Vivobarefoot PRIMUS TRAIL SG
Brooks PureGrit 7
About the writer: Fiona is a keen runner, preferring off-road and hilly to flat and road. She lives in Scotland where the weather is fickle so needs to be prepared for all conditions.
Have you tried the Saucony Peregrine ISO shoes? Don't agree with this review? What's your opinion? Add your own comment to this review and share your experience and passion for running with others.
Not a member yet? Sign up here to be part of the RunUltra community and share tips and stories with thousands of fellow runners around the world.
We are a professional review site and our reviewers receive free products for testing from the companies whose products we review. We test each product thoroughly and give high marks to only the very best. We are independently owned and the opinions expressed here are by the reviewer's name shown.
Disclosure:
We use affiliate links in some of our reviews and articles. This means that if you purchase an item through one of these links we will earn a commission. You will not pay more when buying a product through our links but the income will help us to keep bringing you our free training guides, reviews and other content to enjoy. Thank you in advance for your support.