Last updated: 17-Jan-19
SKINS are a brand well-known for designing compression clothing for runners and other athletes. Their latest collection is the DNAmic ULTIMATE, which includes what they call "performance-boosting DNAmic Gradient Compression tech" for "support and stabilisation" of leg muscles.
I have been testing the SKINS DNAmic ULTIMATE Starlight women's tights during a range of runs, both in the cold and when temperatures (in Scotland) have hit as high as 10C on a winter's day.
Features
DNAmic ULTIMATE Gradient Compression
Warp knitted mix of yarns for a "carefully calculated level of stretch to offer controlled compression and durability"
SKIN Fit sizing based on an "unique Body Mass Index/anthropometrical algorithm"
Biomechanically positioned panels and seams
50+ UV protection
HeiQ for temperature control "like a second skin".
360˚ reflective logos
Small non-zipped internal waistband pocket
Designs for men and women
Four different sizes for women
Nine different sizes for men
Full length and 7/8ths length versions
£110
www.skins.net/uk/

Photo courtesy of: SKINS
Pros: What's good about SKINS DNAmic ULTIMATE Starlight tights
If you like compression clothing then chances are you will have considered, or tried, SKINS. The new DNAmic ULTIMATE Starlight tights have been made with what SKINS describe as their "most advanced compression technology to increase muscle oxygenation, stabilise active muscles and reduce blood lactate build up, which enhances performance and speeds up recovery time".
I have worn a number of SKINS products over the years and while I can't be sure they offer better compression benefits compared to other brands, I do think they aid muscle support and recovery.
I find that the compression makes my muscles feel well supported and sometimes even gives me a bit of an energy boost. I don't know if this is maybe all in my head but I do seem to run well when I am wearing SKINS.
The length of the full Starlight tights is great for me. I have long legs and all too often other brands stop a bit shy of my ankle.
The general shape and cut of the tights is good although you do need to get used to them being so tight. SKINS believe the compression works best when the fabric is tight against the skin.
There are various panels that create sections of greater compression and these appear to have been well thought out by designers. For example, there is greater support in the areas of the glutes, hamstrings and calves.
The fabric is soft and silky yet also durable looking. I have owned some other pairs of SKINS tights for more than a decade and while they have lost a bit of elasticity, they are still good enough to wear for a run or hike. The seams are still intact and the fabric has not worn thin.
This brings me to the cost. SKINS are not cheap but they do last a very long time so, in my opinion, they make a good investment.
There is another feature of the fabric, the HeiQ temperature control detail, which SKINS claim: "When cold, it keeps you feeling warm. When hot it cools you down and keeps you dry."
The temperature control feature is difficult to gauge because I can't compare how my legs would feel on a run compared to wearing another pair of tights. However, on the whole, I think the SKINS DNAmic ULTIMATE Starlight tights do keep my leg temperature fairly even. Unless it's very cold and windy, I haven't noticed my legs feeling too hot or cold while running and have tested them in a variety of weather conditions.
There are some areas of reflectivity for night running, which is a good feature, although see my points below.
The addition of UV50+ is a nice touch if you plan to run in full-length tights in sunshine.
There is a range of nine sizes for men, which is excellent, and four for women. See below for my further comments.

Photo courtesy of: SKINS
Cons: What's not so good about SKINS DNAmic ULTIMATE Starlight tights
Sometimes I feel that brands give too much of an over-sell on new products. I can't tell if the new compression technology is any better than the last version. As consumers, I worry we are being encouraged to buy something new when the older version was just as good? Who knows?
It is also hard to know if recovery is improved with one type of compression technology over another. There are so many variables when running including the terrain, distance, how hard you've been training, what you eat and drink etc.
The fit of the SKINS seems to have changed a bit over the years. I don't think my shape has changed much but I find that SKINS for women are tighter and higher around the waist then they used to be. I much prefer a lower waist so I am not a big fan of the latest design because the waist rises up too high for me. However, I do know that many women like a higher waist so I expect they will like the fit.
The "unique Body Mass Index/anthropometrical algorithm" feature suggests a size based on your height and weight but I think I am probably somewhere between a size small and medium so the feature isn't that useful for me.
While there are nine different sizes for men, there are only four for women. It would be good to have a wider range for women, too.
The claim of 360-degree reflective visibility is true but a little far fetched. While there are some great reflective details on the front area of the tights, both at the waistband and the shins, there is only a small logo at the rear and quite high up.
Also, I wonder how much of the front waistband reflective will be visible once people add a running top or jacket. I think the reflective details need to be redesigned to be more visible.
I would like to see a zipped pocket rather than a non-zipped inner pocket on the waist band. Placing anything in the pocket that is not flat creates an annoying rub on the lower back.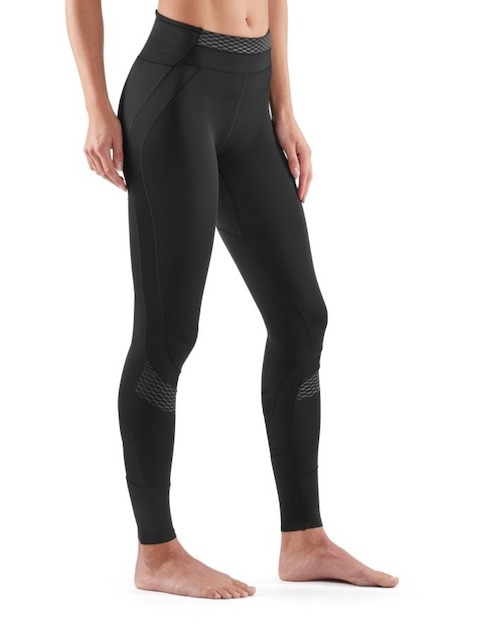 Photo courtesy of: SKINS
Conclusion
SKINS are a reliable brand and highly regarded for compression technology. I do find that they give great support and, on balance, aid muscle endurance and recovery. This latest version is well designed in general although there are a few small features that could be improved. It would be great to have a wider range of sizes for women.
| | |
| --- | --- |
| Score | |
| Design | 9/10 |
| Features | 8/10 |
| Performance | 9/10 |
| Value | 8/10 |
| Overall | 8.5/10 |
Others to try
SKINS Compression DNAmic thermal tights
Nike Speed tights
2XU Elite MCS Compression Tight
Reebok Women's Compression Tight
About the writer: Fiona is a keen runner, preferring off-road and hilly to flat and road. She lives in Scotland where the weather is fickle so needs to be prepared for all conditions.
Have you tried the SKINS DNAmic ULTIMATE Starlight tights? Don't agree with this review? What's your opinion? Add your own comment to this review and share your experience and passion for running with others.
Not a member yet? Sign up here to be part of the RunUltra community and share tips and stories with thousands of fellow runners around the world.
We are a professional review site and our reviewers receive free products for testing from the companies whose products we review. We test each product thoroughly and give high marks to only the very best. We are independently owned and the opinions expressed here are by the reviewer's name shown.
Disclosure:
We use affiliate links in some of our reviews and articles. This means that if you purchase an item through one of these links we will earn a commission. You will not pay more when buying a product through our links but the income will help us to keep bringing you our free training guides, reviews and other content to enjoy. Thank you in advance for your support.