Last updated: 16-Aug-18
I know of few pleasures greater than stepping out in a new pair of socks. Those runs are always good runs. Here I test out four sets of socks designed for different terrains and distance. Prepare yourself for a veritable smorgasbord of socks.
Bridgedale Speed Trail
Overall score: 8/10
Features
Merino ventilated construction
Mapped T2 anti-compression padding at key pressure points for impact protection
Extended above ankle cuff
Fibre Content

22% Merino Wool/Laine Merino
21% Coolmax™/polyester
55% Nylon/polyamide
2% LYCRA®/Elastane
I liked the natural feel of these socks. They had good breathability and overall are quite a thick sock so were very suitable for rocky, rough trails. The slightly higher ankle height prevented any slipping down.
Under the mid-section of the foot, there is a stretch panel so these will fit all different shapes with no problem. They washed very well and the merino did mean less smell at the end of the day.
I would use these for longer trails and trails where you are going to do a mixture of walking and running. The extra thickness made them very good for any kind of hiking cross-training too.
Bridgedale Qw-ik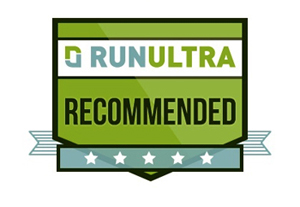 Overall score: 9/10
Features
Merino running sock suitable for road or trail running
Crew length fit with lightweight T2 padding providing underfoot padding and protection
Fibre Content

46% Nylon/polyamide
26% Coolmax®/polyester
26% Merino Wool/Laine Merino
2% LYCRA®/Elastane
Great socks in two words. Very cool and comfortable. Again, they have that natural feel due to the merino and have enough padding but are not too thick. These socks are good on the trail but also on the road. I particularly liked the weave on the top which let in maximum air flow. The heel had plenty of reinforcement to cope with any bashing.
I would use these socks on the trail or on the road when you are going for a long, steady run. They kept my feet dry and cool and I had no rubbing whatsoever.
Hilly Marathon Fresh
Overall score: 8/10
Features
Polygiene – permanent odour control
Mid-level anatomical cushioning in key pressure zones for optimum comfort
Upper foot venting
Under toe seamless construction
Fibre Composition

97% Polyamide
3% Elastane (LYCRA® SPORT)
Photo credit: Alice Morrison.
A very different type of sock, this one. They are designed for 5km to marathon distance and for road running. Snug to the foot and thinner material but still with very good padding to protect vulnerable areas.
A more technical sock with good wicking abilities. When I took them off after a 10km road run, I braced myself and had a sniff and they didn't smell too bad so the anti-odour was working.
I would use these for road running up to marathon distance. They felt good on my foot and in my road trainers.
Hilly Ultra Marathon Fresh
Overall score: 9.5/10
Features
Polygiene – permanent odour control
High abrasion resistance
Mid-level anatomical cushioning in key pressure zones for optimum comfort
Vented upper and arch grip
Under toe seamless construction
Anti-Slip Grip
Anatomical protective ankle fenders
Front and back alignment tabs
Fibre Composition

74% Polyamide (Nylon)
11% Merino Wool
11% Polypropylene
4% Elastane (LYCRA® SPORT)

UK Retail £13
Photo credit: Alice Morrison.
I am a fan of Hilly socks and that warm, fuzzy feeling when I unroll a pair has definitely been extended to these ultra marathoners. They felt great on my feet. They were a good, snug fit onto the foot with padding in the heel and toe sections.
The anti-slip grip worked and I felt that they helped keep my foot in place in my trainer. I liked the front and back alignment tabs too. I was running under a hot sun and about half way through I realized that my feet still felt pretty cool – a very good sign.
I would use these socks for long trails and for race running. They have the right mix of technical and comfort.
Conclusion
As with all things, it depends on what kind of running you are doing as to what kind of socks you prefer. This group of four reviewed above covers a wide variety of needs from trail to road.
Alice Morrison is a novice ultra runner who loves the challenge of difficult trails and terrains. She lives in Morocco and splits her trail training between the rocky Atlas Mountains and the desert.
Have you used any of these Bridgedale or Hilly socks? Don't agree with this review? What's your opinion? Add your own comment to this review and share your experience and passion for running with others.
Not a member yet? Sign up here to be part of the RunUltra community and share tips and stories with thousands of fellow runners around the world.
We are a professional review site and our reviewers receive free products for testing from the companies whose products we review. We test each product thoroughly and give high marks to only the very best. We are independently owned and the opinions expressed here are by the reviewer's name shown.
Disclosure:
We use affiliate links in some of our reviews and articles. This means that if you purchase an item through one of these links we will earn a commission. You will not pay more when buying a product through our links but the income will help us to keep bringing you our free training guides, reviews and other content to enjoy. Thank you in advance for your support.