Ultimate Direction Adventure Vest/Vesta 6.0 RunUltra Review
Dan and Kate review the latest Ultimate Direction Adventure vest, each reviewing the male and female specific versions. Please scroll down for Kate's review.
Vest Review by Dan Stinton
If you don't like the word zip or, even more importantly, don't like zips then I suggest you stop right now because the Ultimate Direction Adventure Vest 6.0 has lots of them. Another thing it has lots of is storage capacity. Of course, that's relative to what you need to carry but, as running vests go, this is up at the larger end with a generous 17 litre capacity spread throughout 13 exterior pockets.
Features
Large 17l storage capacity
Front bottle pocket and zippered rain resistant phone pocket
Integrated rain cover
Pole storage
Cost: Around £130
Here's what you get: starting at the rear of the pack there are two main zipped compartments. The one closest to your back contains a usual hoop to hang a bladder and whilst the manufacturer's blurb suggests space for up to a 2.0 litre reservoir, I comfortably fitted a 2.5 litre (albeit by another manufacturer). This section of the pack also includes a built-in rain cover that stretches over the whole pack and is secured by two hooks at the bottom. The second rear zipped compartment is suitable for some of your larger, less frequently needed pieces of kit and contains a smaller internal zipped pocket with key clip. This is one of the things I want with any running pack: a completely secure area you can stow away your keys that you're not generally accessing for anything else.
Also on the back of the pack is a stretch mesh pocket where you could easily stuff a waterproof jacket. At the bottom of the main pack is a further pocket that can be accessed both sides (of course by zips!). By this I mean you can reach right through and then, on the left-hand side is a further small zipped pocket. Plenty of zips and plenty of pockets, and that's just the back!
The Adventure Vest 6.0 came with one standard 500ml flex bottle designed to be stored on the right-hand side of the pack in a bottle pouch. Above this, on the shoulder strap, there's quite a large/deep zipped pouch which I thought seemed a little strange, but it turns out this is designed for holding GPS location devices (there's an aerial hole at the top of it).
On the left-hand side shoulder strap is a smaller zipped pouch, and below this is a small whistle tucked away in a tiny little whistle pouch keeping it nicely in position, something I've not really seen before. The left-hand shoulder strap also houses a zipped water resistant "phone pocket". My phone measures 16cm x 7cm and it held this comfortably. On both sides, underneath the bottle or phone pocket are, you guessed it, two more zipped pockets.
The main pack outer pack material is a non-stretch silicone coated nylon. The pack uses a cinch system operated by pulling two cords at the base of the pack (which you can easily do whilst wearing it). These cords attach to a small network of cords hidden at the base of the pack and pull everything together nicely. The main pack can also be tightened using the zig zag elastic cords threaded across the rear of the pack.
The Adventure Vest 6.0 is part of the Signature Series that includes the Mountain Vest 6.0 (13.5 litres), Ultra Vest (10.3 litres) and the Race Vest (6.3 litres). Equivalent packs are also available specifically designed for women, called Vestas.
What's good about the Adventure Vest 6.0
I'm 5'11" with a 38/40" chest and opted for a size "large" which fitted me perfectly with the bottom of the pack lining up with my lower ribs. All of the seams have really nice, soft edging which no doubt helps with the overall comfort.
The front buckle system is nothing fancy – simple adjustable clips that work without any drama. All of the zipped pockets have small cords attached so they're not fiddly to open, although attempting to reach round to the "accessible" rear pockets was a stretch for me, almost resulting in shoulder dislocation (a slight exaggeration but not what I would call accessible).
The storage locations worked well for me, and with so much choice it's very easy to organise your kit. There is plenty of storage upfront for those items you'll need access to regularly and the spacious rear of the pack will accommodate all but the most demanding of days out.
When properly fitted and in use the pack kept the weight steady and secure without any noticeable bounce and didn't rub at all on long days out. The inner mesh seemed breathable and worked well even when fully loaded.
What's not so good about the Adventure Vest 6.0
It's hard to fault a pack because of its size, but it's worth making the point that 17 litre is probably way more capacity than is needed for the mandatory kit on the majority of ultras, so it's likely suited to unsupported days out or races requiring more than the usual equipment.
Whilst the pole attachments work well, when stowing them through the loops at the base of the pack I found that this resulted in the poles swinging side to side and actually jabbing my running buddy on a few occasions which they understandably moaned about!
Dan's Conclusion
Whether you prefer "stretch" type vests or a fixed material will be a matter of preference, with the Adventure Vest falling into the latter camp. You may get a little more versatility out of a stretchy material vest if you're regularly carrying different loads, and Ultimate Direction have opted for a design that veers towards a more traditional rucksack with a non-stretch material and lots of secure zipped pockets.
17l isn't the kind of capacity I'd generally need, so I did find myself during the review period carrying much more than I would normally, but that's probably good for my training. This is a great pack that I've really enjoyed using but will have its own place for certain types of races and requirements. With the other vests in the range also having decent sized storage capacity (13.5, 10.3 and 6.3 litres), I'd likely opt for one of those for the majority of events, reserving the 17-litre for a big day out.
Dan rated the vest a solid 9/10 for all aspects.
Vesta Review by Kate Allen
I was delighted to review this new, ladies-specific, vest from Ultimate Direction. I've tried many vests during 9 years of ultra running, and Ultimate Direction is a brand I have grown to love.
A vest is a very personal item of gear in the ultra runners arsenal and what each person looks for in one is individual to them. What they want to carry is dependent on the type and length of race or run they are undertaking. The items you need to carry for a trail marathon are different to what you need for a mountain ultra, for instance. What I personally rate about UD vests is the number of pockets on the front (snack access!!) and the lack of movement when running.
Features
Weight (w/o Bottles): 279 g / 10.58 oz
Volume: 16.5L / 1037 in3
No. of Exterior Pockets: 13
Reflectivity: Yes
Reservoir Compatible: Yes
Primary/Body: 100% silicone coated nylon
Secondary: 82% nylon 12% spandex
Type: Mono mesh with sil nylon woven and stretch woven pockets
What they say
The Adventure Vesta 6.0 delivers maximum capacity with dedicated pockets for trail essentials, GPS units, and a deployable rain fly that is ready for any kind of adventure. A narrower cut in the shoulder straps and back offers a more tailored fit for smaller frames than our vest version.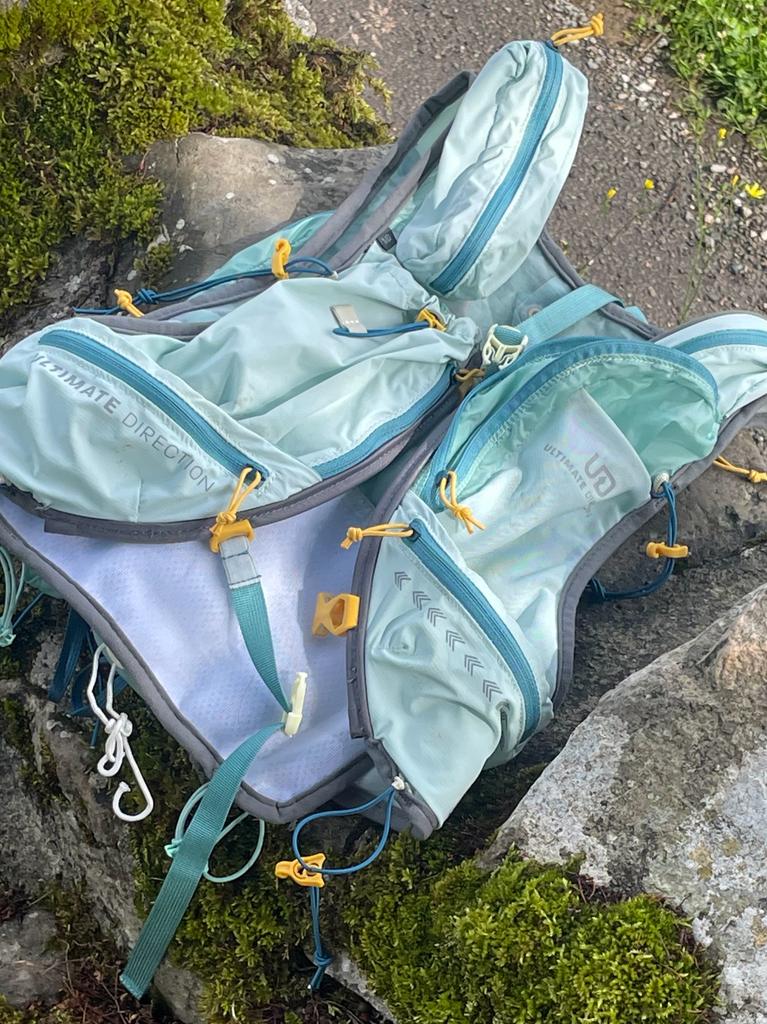 The Vest
This vest is for the big stuff. As its name suggests, it's for adventures. The Spine. Self-sufficient Rounds in the mountains. The only thing it doesn't have room for is a tent, but someone could well argue that point with me!
At the front there are two large pockets on either side. One is specifically for a 500ml bottle (included with the vest) and one is multipurpose. I don't use a bladder, so I would put another bottle in here.
The phone pocket is hidden underneath the bottle pocket. There's a whistle with it's own pocket to tuck away into (try getting that back in when the pocket next to it is full!).
Below, there are elasticated and zipped pockets, to fill with snacks and items that you need regular access to.
At the rear are two main compartment zippered pockets. One for your main gear, the other is designed for a bladder, but can hold anything else. There's an elasticated outer pocket for you to stuff things into, plus bungee cords. There are the lateral zipped pockets, but like Dan I found them hard to reach while wearing. I've learned over the years that crew are always more than happy to grab something for you.
This is a list of what I got in the Vesta
Dry bag filled with:

Spare hat, gloves and buff

Emergency food (a gel and a flapjack)

Waterproof coat and leggings
Snacks
Two 500ml soft flasks of water
Spare battery pack and lead for phone
Garmin 64s GPS unit
Compass
More snacks
Poles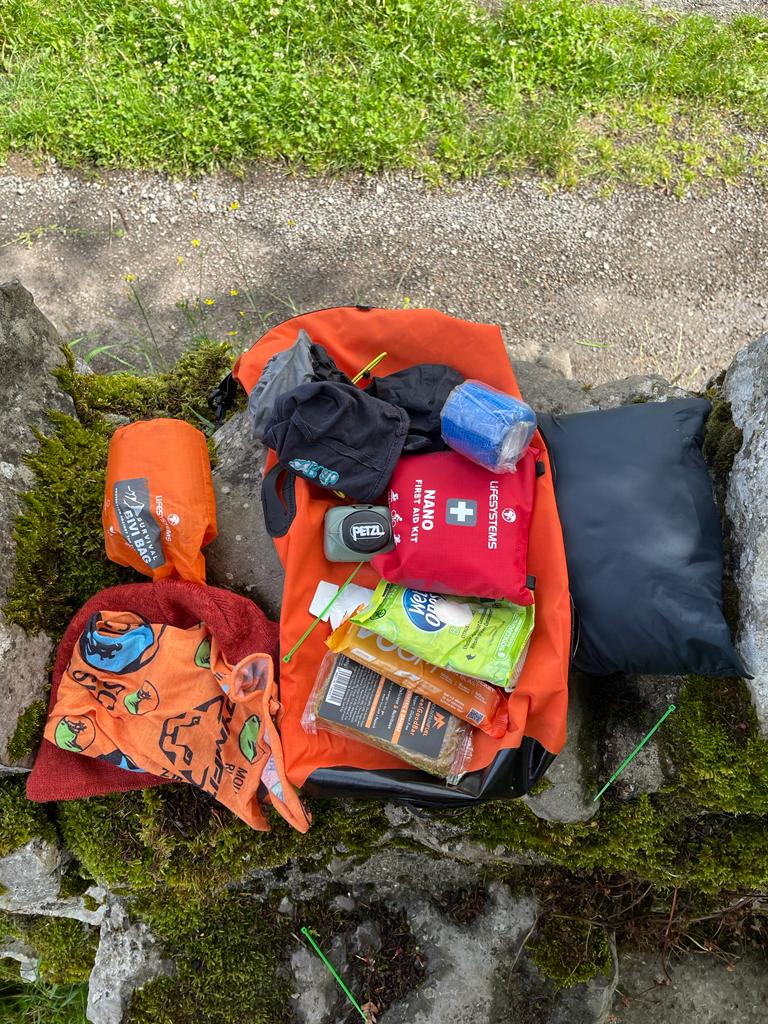 Fit
Ultimate Direction say the only difference to the men's version are the shoulder straps and the back is more tailored. The "comfort cinch" system works so well in drawing the vest around your torso. It's nice also to see it's not just been "shrinked and pinked" (or should it be "shrunk and punked?). Colour options are Ice Blue and Onyx and it weighs just 300g.
Poles
Dan's complaint about the poles swinging was something I wanted to avoid. I moved the elastic straps and retied them at the very bottom of the vest. If you double up the elastic, that provides a stronger hold around the poles. When cinched tight, they are pressed against the base of the outer vest compartment so they don't swing at all.
What's good about the Ultimate Direction Adventure Vesta 6.0
I've used this pack for several months now, including a few races and it's definitely my go-to vest. There's nothing I'd change about this vest. I had my original Ultimate Direction Mountain vest for 6 years before it grew so many holes in it I was at risk of leaving a trail of snacks behind me like Hansel and Gretal on an ultra. I have every expectation of using this vest for as long.
What's not so good about the Ultimate Direction Adventure Vesta 6.0
I don't have a criticism of the vest, but more of Ultimate Direction. Please open a UK website! There are several UK shops and websites that you can find this vest in, but there's no specific UK, or even European, website to go for information, help or support.
Conclusion
It's worth noting Dan and I are at the opposite ends of the running field. He runs fast and light, while I run slow and, because I'm out for longer, my packs are necessarily heavier. As someone who regularly carries the kitchen sink, at the amusement of my friends, this vest is perfect for me. But even when one doesn't want to carry everything, it's flexible enough to fit well whatever is in it.
Join us!
Have you tried the Ultimate Direction Adventure Vest or Vesta yet? Don't agree with this review? What's your opinion? Add your own comment below this review and share your experience and passion for running with others.
Not a member yet? Sign up here to be part of the RunUltra community. Share tips and stories with thousands of fellow runners around the world.
We are a professional review site and our reviewers receive free products for testing from the companies whose products we review. RunUltra tests each product thoroughly and give high marks to only the very best. The opinions expressed here are by the reviewer's name shown
About the authors:
Kate Allen is co-owner and Editor of RunUltra. In her spare time she can be found running with her dog Mac around the hills of the Peak and Lake District.
Dan Stinton is a former Editor of RunUltra. He's a Peak District based runner collecting mud and scrapes in and around Glossop, and he likes nothing more than escaping into the Dark Peak and then writing about how difficult it was.
Links
Other reviews similar to the Ultimate Direction Adventure Vest/Vesta you might like: