Last updated: 24-Oct-18
Designed by and for women, the Ultimate Direction Ultra Vesta 4.0, is a high-performance running vest which is extremely light with stretchy fabric but does not compromise on details.
I carried three litres of water, a rain jacket, iPhone, keys and cash, snacks including a big sandwich and there was still adequate space for extra layers under the bungees.
Features
Sliding rail sternum straps
Extensive front storage
Trekking pole holder
Comfort cinch ™ technology
Materials: 4-way stretch woven mesh; 30D coated nylon ripstop; Micromono mesh; 150G flex mono mesh
Bottles Included: 2 Body Bottle 500s, Volume Capacity: 616.34 in3 / 10.1 L
Weight With Bottles: 11.22 oz. / 318 g
Weight Without Bottles: 7.76 oz. / 220 g
Sizing at Bottom Ribs (Women's): XS/SM: 26 – 38 in. / 66 – 97 cm and MD/LG: 32 – 41 in. / 81 – 104 cm
RRP: $134.95
Photo credit: Alice Morrison.
PROS: What's good about the Ultimate Direction Ultra Vesta
Quite simply – it fits. I have a chest and normal woman-shaped shoulders (i.e. not massive and slightly sloping) and that can be a problem when sourcing a really comfortable running vest.
This one fits really well. It has good squidgies at the back you can adjust and the front straps go above and below your boobs, which may not be great for glamorous selfies but means no nasty nipple chafing!
The position on the back is also good. I find it sits lower than a lot of other packs, which I find more comfortable.
I really like the front storage pockets. I can get my iPhone in and out without having to demonstrate the shoulder flexibility of a yoga master. Also, they are big enough to stash cash, suntan cream, a bar of something tasty, and a small fluffy dog in (ok that last one was just to test if you are concentrating).
There are also loops for your running poles on the front of the vest. I have collapsibles and tried them out on the front which was a bit weird at first but did make access super easy.
The back has a large zipped pocket and two small zipped pockets; one with a key ring and emergency hair band – v useful. There is also an open stuff pocket and a bungee strap set for extra kit. A great little detail here is that there are tiny elastic hooks at the top so you can have some extra security in that stuff pocket.
Warning, though.. I did lose a banana by sticking it in the bungees without pulling them tight enough which led to a mini psychological crisis on the trail. If ONLY I had watched the video I would have realised that there are little hooks on the side you can slip the bungees over to make them even tighter.
The bladder pocket and fastener work well and they supply two soft bottles with the vest. I have slightly gone off soft bottles but was able to get my 750ml hard bottles in the holders without difficulty due to the stretchy fabric.
A nice little touch is that you can close the bottle holders with a little strap if you want to put something smaller in there for security.
There is a stiffer mesh for placement against the back which holds well.
CONS: What's not so good about the Ultimate Direction Ultra Vesta
The material on the packaging areas is so light, I am worried that it might tear. It has not so far and I have taken it out on a number of runs and stuffed it with all sorts of misshapen bits and pieces, but I think care needs to be taken.
My jury is a little bit out on running poles at the front. Whipping them out and stashing them quickly was an advantage but I wasn't sure about having them right there beside my arms. I need to get used to that.
I am a fan of hard bottles and would have loved that as an option at point of sale.
It's not cheap. At $134.95 (around £102) it's at the same level as other similar products.
Photo credit: Alice Morrison.
CONCLUSION
The vest is now my go-to for both running and day-long mountain hiking. It is extremely well-designed. Stuffed full of features, every single detail seems to have been considered.
It is a thought to splash out that much cash, but this is one vest that I think would fit all shapes and sizes because it has the cinch technology.
If you look at the runner in the video she is small and slight, whereas I am the opposite but it clearly works for both of us. For me, it is a winner.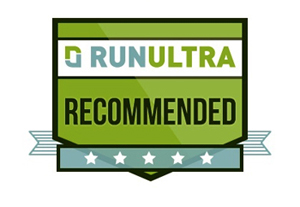 | | |
| --- | --- |
| Score | |
| Design | 9.5 |
| Features | 9.5 |
| Performance | 9.5 |
| Value | 9 |
| Total | 9.3 |

For more, check out our big vest review here.
Have you used the Ultimate Direction Ultra Vesta pack? Don't agree with this review? What's your opinion? Add your own comment to this review and share your experience and passion for running with others.
Not a member yet? Sign up here to be part of the RunUltra community and share tips and stories with thousands of fellow runners around the world.
We are a professional review site and our reviewers receive free products for testing from the companies whose products we review. We test each product thoroughly and give high marks to only the very best. We are independently owned and the opinions expressed here are by the reviewer's name shown.
Disclosure:
We use affiliate links in some of our reviews and articles. This means that if you purchase an item through one of these links we will earn a commission. You will not pay more when buying a product through our links but the income will help us to keep bringing you our free training guides, reviews and other content to enjoy. Thank you in advance for your support.